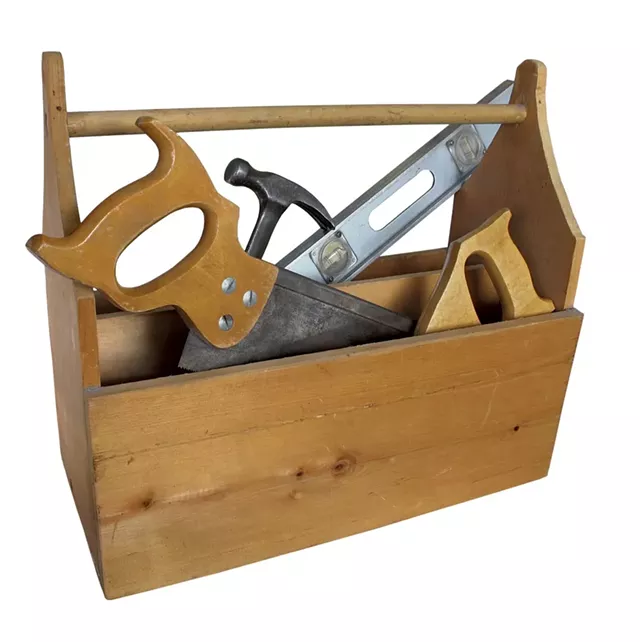 I'm trying hard to be a handy dad, but my 4-year-old twin daughters don't always appreciate my efforts.
Last summer, I had nearly finished framing a wooden playhouse in my backyard, and was feeling pretty good about it, when one of them stepped into the empty space between the two-by-fours.
"What's this box, Dad?" she said.
"It's going to be a playhouse for you and your sister," I told her.
"Oh," she said.
Then she ran over to where two sawhorses stood with a tarpaulin hung over them. I was using it to shelter some stuff I wanted to keep outside while I completed the playhouse.
She lifted one of the tarp flaps and looked inside. "Can this be our playhouse?" she asked.
"For now, sure," I said. "But the one I'm building is going to be much better."
"Okay, Dad," my daughter said, her voice muffled inside what was, in her eyes, a perfectly acceptable playhouse.
At this point, a parent unwilling to waste time on projects destined to go underappreciated would've abandoned the playhouse and saved the lumber for something else. Me, I steeled my resolve to finish it.
Projects like these are important to me. As I sawed, hammered and drilled into that week, I ruminated on the reasons why.
I'm actually not that handy, but I should be. My father was a carpenter for part of his professional life.
But it was a trade he took up after he'd left the home I shared with my mom and four siblings. He and I were estranged for all the years when he might have imparted his knowledge. By the time we'd reconnected, it was way too late. My entire carpentry apprenticeship amounted to one semester of seventh-grade woodshop. (Thanks, Mr. Brown.)
You can put me in the category of men who know what kind of dad they don't want to be. I've decided to be one who makes and fixes things for his kids, even if my approach is more trial and error than "measure twice, cut once." Don Quixote just back from the hardware store — that's me.
But that's not the only reason I've decided to be a maker/tinkerer dad. When I began that playhouse, I wanted my daughters to see me building it for them so that they might see themselves as belonging to the ranks of builders and fixers.
When I look at all the odd jobs that need to be done around our house, and when I acknowledge the self-esteem boost that I get when I make something sturdy and useful out of raw materials, I see a terrific opportunity for my daughters to develop a sense of agency and independence in the world. The real world — you know, the one where pictures fall off walls, toilets clog and tires go flat.
After a while, when my girls realized that the "box" in the backyard wasn't going away, they started to take more interest in its construction. While they lacked the fine motor skills to do much construction, they delighted in picking up hammers and driving nails into boards while I labored nearby.
They hit their little fingers a bunch, just as I'd warned them they would, but they seemed to accept these injuries as part of the learning curve. When it came time to paint the playhouse — a task they could perform reasonably well — they were primed to pitch in.
Now, whenever I head down to the workbench in the basement they're often right behind me, eager to take tools down from the pegboard and try them out on the scraps of wood scattered about. This past winter, I was pleasantly surprised to see them, without my prompting, pick up their kid-size shovels to help me clear the snow off the backyard skating rink I built. (It was remarkably easy to put together but looks quite impressive, if I do say so myself.)
This brings us to another summer season — one, I hope, of building and fixing things together. The project I have in mind could be a springboard to a universe of possibilities.
Down in the basement, next to my wobbly workbench, there's just enough room to fit another one. My daughters and I will build the new one stronger, so it doesn't wobble. And we'll make it the perfect height for them.