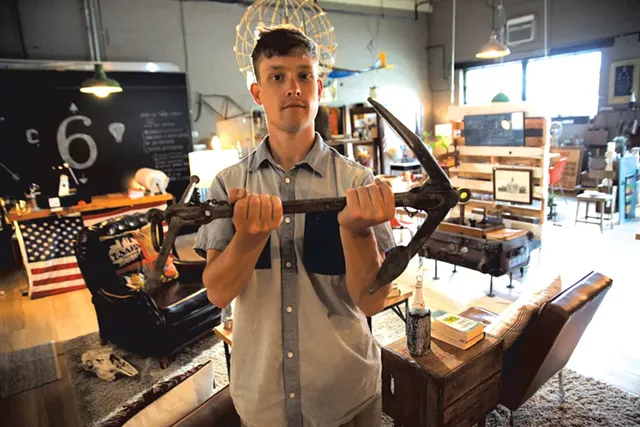 Matthew Thorsen
Joseph Wiles, owner, Deep 6
The Burlington furniture and home goods shop Deep 6 is captivating: An air plant floats in an Erlenmeyer flask; Thoreau's Walden goes for a ride in a wire basket fastened to the body of a toy bike; a steel tripod becomes an industrial lampstand. These and other whimsical constructions are the hybrid creations of 24-year-old Joseph Wiles.
He opened the Flynn Avenue store in June with the help of a small business loan. Within the weathered brick walls, Wiles displays his inventive handiwork alongside ready-to-go flea market finds. Think vintage cameras, a rewired traffic light, military speakers turned into lampshades, a curated selection of vintage books and a refurbished cast-iron sewing table.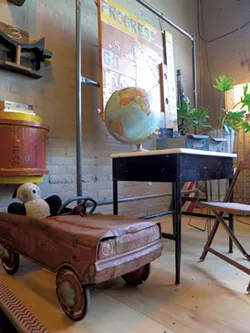 Seated amid trunks-as-tables and fanciful lighting, the blond maker says he's always been drawn to artifacts of the home. He enjoys what he calls "the nuance of everyday life" and seeks to make beautiful "the things that are there for you, and you use them, but you don't normally think about them."
That attention to detail and function stems from his eye and also his education. Wiles, a Vermont native, graduated from Massachusetts College of Art and Design in 2014 with an industrial design degree. One of his teachers at Vermont Commons School, Wiles notes, had nudged him toward that field. He could have focused on pure fabrication, dreaming up completely new items, but instead gravitated toward remaking found objects, giving them fresh faces and new functions.
Wiles' constructions are inspired by a Vermont-y desire to promote recycling and a fascination with what he calls "schoolhouse aesthetics," as well as classic American design. Consider the numbered locker baskets he uses as wall shelves, or the orange plastic school chairs drawn up to a wood table on hairpin legs. Both items, discarded by their previous owners, show off clean lines and practical functionality. And both look completely suited to their new, modern setting.
At the same time, those slippery plastic chairs will remind some of taking tests in high school. A set of time-burnished wooden rulers might have been plucked from a 1950s classroom. Black-and-white photos, curling at the edges, enhance the yesteryear sensibility.
Nostalgia permeates Wiles' work, and he cites one of his favorite film directors, Wes Anderson, as a major influence. "[His films] really showcase everyday objects in a simple, artistic way that really shows the true nature of nostalgia," Wiles noted in a press release when he launched his business. In fact, many of Wiles' creations would be right at home in a film like The Life Aquatic With Steve Zissou.
That's because the designer has a thing for nautical themes. It's the source of the name Deep 6. Originally a mariners' term, it denotes anything deeper than six fathoms, below which an object would be difficult to recover. The term became idiomatic over time and is now used as a verb to indicate that something has been nixed or halted or is beyond reclamation.
Now, suitably, Wiles is repurposing the term for himself. He's giving trashed or abandoned objects a makeover — and, he hopes, new homes. As he puts it, "I try to make everything belong."
Most of the items at Deep 6 are refurbished or found items from flea markets and estate sales, but Wiles also features works by local crafters and artists. His mom, Laura, has fashioned pillows made from old T-shirts, as well as sophisticated beanbag-style seats and burlap covers for bench seats. Colorful folk-art-inspired paintings by Lisa Lillibridge line the walls.
Wiles plans to continue showcasing local artists and, in the future, aims to sell ceramics and plants, too. Meantime, he'll keep foraging for cast-off trash and turning it into treasures.