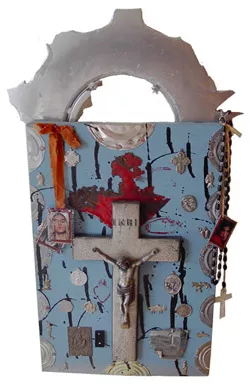 EXHIBIT: "Objects of Focus: Shrines, Dolls & Fetishes," mixed-media works by 12 local and national artists. Nina Gaby Studio & Gallery, Brookfield. Through May 15.
ARTWORK: "Aura de Christo" by Orlando Ortiz
The ride to Brookfield can be bumpy in the waning days of Orange County's mud season, but the historic town, population 1200, is worth a visit. Vermont's first library was founded there in the 1700s, and Brookfield boasts the state's only floating bridge, initially constructed in 1820. Nina Gaby Studio & Gallery is a newer attraction -- a compact visual art venue that opened on January 1. For her current show, "Objects of Focus: Shrines, Dolls, Fetishes," artist/curator Gaby selected quirky, mostly mixed-media works by a dozen artists from Vermont and elsewhere.
Fiber artist Anna Ferri divides her time between Brookfield and Cambridge, Massachusettes. Her untitled mixed-media tapestry in this show is a dramatic 4-foot vertical. Its Asian-influenced, central painted panels reflect time Ferri spent in China. Gold and bronze fabric appliqué designs surround the painted areas. The outer edges are bands of black-and-gray-checkered cloth. The mysterious image has a shrine-like presence.
Gaby suggests that the show highlights how we humans "amass objects, relationships, rituals, religious artifacts and dogma" in order to feel safe, connected or in control. Her "Fetish Totem 1: Fierce Attachments" is an aggregation of greeting cards, texts, an antique nude photo and other prosaic items attached to a thin, gold-painted box about 3 feet high. Gracefully looped copper wires run along its sides.
Gaby also makes talismans, and molds from old dolls that are attached to tiles. "Juanita Takes Off" has little silver legs and painted sticks for its arms and neck.
Tiffany Ownbey of North Carolina uses antique doll parts, many from the early 19th century, in a very different way. Her reconfigured doll assemblages have juxtaposed textures, as she adds the heads to disparate pieces of metal or papier-mâché bodies. The wall-hung "Porcelain Headed Doll" has a tiny head attached to a flat, fanned-out yellow dress. Large, rusty weights have been added as legs. Ownbey also makes purely papier-mâché fetishes. One such figure, entitled "Hungry," is appropriately gaunt; red cloth is stuffed into its open rib cage -- perhaps designed to ward off hunger?
Artist Orlando Ortiz, from Rochester, N.Y., draws inspiration from Mexican retablo household shrines. He decorated "Des Colores" -- a peaked, adobe board shrine painted red -- with whimsical tchotchkes. Swags of beads frame a flowery plastic cross, and on a shelf beneath the cross are a little plastic globe, a smiling skull, a small toy basket and other items. Ortiz' silver-and-pale-blue "Aura de Christo" is a little less festive. Its cross is a hefty crucifix surrounded by scrap tin, small religious medals and spatters of black and red paint.
An untitled installation by Diane Turenne of Worcester, Vt., is the most conceptually complex piece in the show. She presents a 7-foot-tall cross made from weathered wood and spangled with 18 color photographs documenting a ritual event: the burning of her wedding dress on a similar cross. Bits of charred fabric dangle from Turenne's installation. To differentiate her cross-burning photos from those of the Ku Klux Klan, she has decorated hers with white Christmas lights. Her ritual and the installation that describes it clearly have deep personal significance.
Gaby's objective with "Objects of Focus" has been "to provide both the viewer and the artist a means of examining what lies behind an image, the archetype, the energy. By entering into this dialogue with the object, we can pause and focus for a moment on something beyond us or it."
The show's selections perfectly focus on her intent.