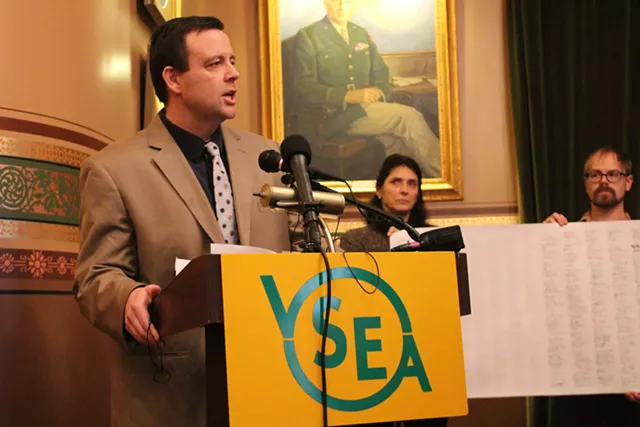 Paul Heintz
VSEA executive director Steve Howard at a Statehouse press conference in February.
For months, the union representing state workers has been battling Gov. Peter Shumlin's administration over a new two-year contract. Next winter, when legislators return to Montpelier — and face an eight-figure budget hole — they'll surely consider cutting state jobs, as they did last session.
So what's the Vermont State Employees' Association doing to protect its 5,500 members? Why, engaging in a bitter, internal leadership fight, of course!
On Friday, a group of VSEA staffers called on the union's board of trustees to oust executive director Steve Howard. Analyst Adam Norton, who represents those staffers in a union within the union, presented the trustees with a letter saying they had decided "overwhelmingly to cast a vote of no confidence in the leadership of VSEA's executive director."
The letter, obtained by Seven Days, levels a harsh indictment of Howard's 16 months on the job. It describes the union boss as "divisive," "defensive," "condescending," and unwilling "to listen, consider and thoughtfully discuss the opinions of his staff."
The board, which was meeting for the first time since the election of a new president and several new trustees, considered a resolution to dump Howard when his contract expires in June. Instead, the trustees tabled the discussion until their January meeting.
On Sunday, Howard defended himself in his own letter to the board, arguing that he's been working to build "a more accountable, transparent and responsive union." He wrote that he was "surprised" that the board had broken with its usual practice of allowing the accused to hear the allegations of his accuser.
"From my perspective, I am the one who is being disrespected," Howard wrote.
Both Norton and Howard declined Seven Days' requests for comment. VSEA spokesman Doug Gibson wouldn't say much more.
"This is an internal union matter," Gibson said in a written statement. "All parties are working together to try and resolve any issues or concerns."
But according to half a dozen people with knowledge of the situation, Friday's fracas was just the latest flare-up between two competing factions within the organization: those who want a more aggressive, member-focused union, and those who want to work strategically with political leaders to protect state jobs.
If this sounds familiar, that's because it's all happened before. Two years ago, complaints from VSEA employees prompted the board to fire Howard's predecessor, Mark Mitchell. Days later, it reinstated him. Mitchell ended up staying on the job for another 10 months before leaving of his own volition.
Here's the difference: Mitchell, a lifelong union activist, represented the more aggressive wing of the union and enjoyed antagonizing the Shumlin administration and legislative leaders.
Howard, who hails from the strategic faction, is cut from a different cloth. The lifelong Democrat represented Rutland in the Vermont House for 12 years, chaired the Vermont Democratic Party and ran for lieutenant governor in 2010. When the administration threatened to cut more than 300 state jobs last session, Howard used his Statehouse relationships to protect most of them, agreeing to an early retirement incentive instead.
According to Howard's supporters, hard-liners on the board and staff are conspiring to ax him so they can replace him with one of their own: former organizing director Kristin Warner, who resigned from the union last week.
In her own letter to the board last Thursday, Warner wrote that she had been "marginalized and dismissed" by Howard.
"I have chosen to leave VSEA because it has become increasingly clear, under the current staff leadership, that I am no longer able to do the work in this union that I was brought here to do," she wrote. "The progress made over the last three years stands in great jeopardy."
Warner also declined to speak to Seven Days, but in a brief written statement, she said, "There is no attempted coup against Steve Howard. My choice to leave VSEA is not newsworthy."
Maybe not. But it certainly is newsworthy that the union charged with fighting for state workers is expending so much energy fighting with itself. We'll see if there's any left for its members.
He's Syri-ous
Peter Galbraith returned to Townshend on Monday after a brief trip to the Syrian towns of Qamishli and Amuda, near the Turkish border. The freelance diplomat had been offering Kurdish leaders "advice and guidance on how to negotiate," should Syrian President Bashar al-Assad agree to talks to end his country's four-year-old civil war.
"Do you know the No. 1 reason people don't succeed in negotiations? Because they don't know what they want," Galbraith observed, adding, "This also applies to the Vermont legislature."
That insight might come in handy if the former two-term state senator runs for governor next year, as he told VTDigger.org's Mark Johnson last week he was "leaning strongly" toward doing.
Why on earth would he do that?
"I don't see that many of the issues I think ought to be addressed are being addressed," he said, citing his desire for tax reform, health care reform and limits on large-scale renewable energy projects.
But surely the former ambassador to Croatia and son of economist John Kenneth Galbraith has better things to do than slum it in the Statehouse, where many of his ex-colleagues found him to be anything but diplomatic. Halfway through his conversation with Seven Days, another phone rang. It was Al Jazeera, hoping to talk to him about his "friend" Ahmed Chalabi, the Iraqi politician who pushed the U.S. to topple Saddam Hussein. Chalabi died Tuesday.
When Seven Days goaded Galbraith and suggested that he wouldn't actually challenge former transportation secretary Sue Minter, former senator Matt Dunne and House Speaker Shap Smith (D-Morristown) for the Democratic nomination, he shot back, "You're wrong."
Though he self-funded his previous campaigns, Galbraith said he would limit his personal investment in this one, so long as his opponents declined contributions from corporations, lobbyists and political action committees, which they've all said they would not do.
"I'm a practitioner of mutual restraint, not unilateral disarmament," he said.
Don't expect a quick decision about Galbraith's plans.
"I guess I'm old-fashioned, but I somehow don't see the need for 18-month campaigns for a 24-month job," he said. "I don't think people are paying attention."
Quote Notes
Six months into Sen. Bernie Sanders' (I-Vt.) improbably successful presidential run, Burlingtonians appear to be growing accustomed to the hordes of national reporters searching for the real Bernie Sanders.
So when CBS News' Jim Axelrod was spotted in the Queen City on Monday, the only surprise was that he was joined by Sanders, who is an infrequent visitor these days.
Axelrod was just the latest of his breed to descend upon the state, in search of a dateline — and a scoop. There was the New York Observer reporter who tailed Sanders at Brattleboro's Strolling of the Heifers parade; the Guardian reporter who hunkered down in his mayoral archives at the University of Vermont; and the New York Times reporter who asked for Sanders impersonations in a line for Dave Chappelle tickets outside the Flynn Center for the Performing Arts.
The countless recent Sanders profiles feature quotations from many of the same characters: brother Larry Sanders, longtime friends Huck Gutman and Richard Sugarman, adversaries Peter Diamondstone and Rich Tarrant, the occasional ex-alderman, and, of course, the local political scientist.
"I've already given, what, 60 friggin' interviews?" University of Vermont professor Garrison Nelson exclaims. "Five this week!"
Clearly the national media have learned that Nelson, who has taught at UVM for 48 years and known Sanders for 40 of them, is always good for a colorful quote.
"Bernie's the last person you'd want to be stuck on a desert island with," he told the New Yorker's Margaret Talbot. "Two weeks of lectures about health care, and you'd look for a shark and dive in."
The cantankerous prof says he doesn't mind fielding calls from the national media but "get[s] tired of the same questions." He says he'll no longer answer those concerning Sanders' gun control record, alleging that he's been "misrepresented, misquoted."
"I spent a lot of time with the Washington Post, during which I basically explained how the [National Rifle Association] did not elect Bernie Sanders," Nelson says. "What's the headline? 'How the NRA Elected Bernie Sanders!'"
The next time a Post reporter asked him for an interview, Nelson recalls, "I basically said she can eat shit, as far as I'm concerned."
Nelson's been through this all before — when former governor Howard Dean was surging toward the Democratic presidential nomination in late 2003. Back then, he found himself explaining to national reporters that Dean was actually a moderate-to-conservative governor, not the liberal firebrand into which he'd evolved.
"I said the Howard Dean you saw on the campaign trail is not the Howard Dean who governed Vermont for 11 years, for which your newspaper bashed the shit out of me," Nelson says, referring to the work of the late Seven Days columnist Peter Freyne.
Lauren-Glenn Davitian, executive director of CCTV Center for Media & Democracy, remembers well when national Republicans swooped in and bought copies of every Dean tape in Channel 17's archives. After the Dean campaign and the New York Times followed suit, the Times' Katharine Q. Seelye wrote a story quoting the gov praising rival George W. Bush years earlier and touting his own conservative credentials.
Now that Sanders is running for president, Davitian hasn't noticed similar interest in the organization's archive of 880 Sanders tapes dating back to the early '80s.
"We haven't had a lot of people coming in to look at the archives," she says. "There's nothing to find. I mean, Bernie's said the same thing since '82. There are not skeletons, because that's just the way he is: consistent."
Another frequent source for national writers is Greg Guma, a local journalist and 2015 mayoral candidate who wrote one of the few books in existence about the candidate: The People's Republic: Vermont and the Sanders Revolution. He says he's hawked plenty of copies since the campaign began.
Guma claims he's had "real misgivings" about his many media appearances, which have included two Skype interviews with CNN from his Maple Street apartment. As a Sanders supporter, he says, "My first rule of thumb has been to tell the truth but do no harm."
Another Sanders chronicler, Steve Rosenfeld, has been far more reticent. After serving as the candidate's press secretary during his 1990 campaign, the former Addison County Independent reporter penned what he calls "the only non-sycophantic book out there about Bernie."
Rosenfeld declined to rerelease Making History in Vermont this year, he says, in part because the original publisher went out of business and he's not sure who now owns the copyright. He says he also doesn't want to "rekindle these old fights." When the book first came out, in 1992, Sanders and his allies bashed Rosenfeld for violating their trust and getting some facts wrong.
"My book is ancient history. It's not relevant to today's campaign," Rosenfeld says. "And the bottom line is, what Bernie is doing is really good for the country by raising the issues he's raising, and I don't want to get in the way of that."
Media Notes
Garrett Graff is coming home.
The Montpelier native and son of longtime Associated Press bureau chief Chris Graff made a name for himself in the Beltway as founding editor of FishbowlDC and, at age 28, the ludicrously young editor of Washingtonian magazine. He joined Politico in July 2014 and spent the last 10 months as editor of Politico Magazine.
Last week, Graff announced via social media that he's leaving the mag — and D.C. — and moving to Burlington, where he and his wife, Katherine, have bought a house.
"It's always been where my heart is, and it's the place that made me the person that I am today," he says of his home state. "Plus, of course, Vermont today is the most exciting and vibrant it's ever been."
So what exactly does Graff plan to do in his new, old home?
"I'll have more to say in a couple weeks," he says. "Stay tuned!"
Disclosure: Paul Heintz's partner, Shayla Livingston, is a state employee and member of the VSEA's legislative committee.