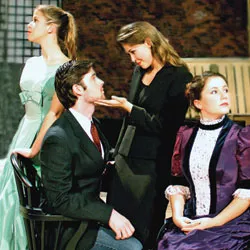 Actors Sam Durant Hunter as Torvald (center) and, from left, Elinor Reina, Julifer Day and Kari Buckley as "Nora" for UVM Theatre's reimagined production of Ibsen's A Doll's House.
If 19th-century Norwegian playwright Henrik Ibsen had somehow survived to vote in the last U.S. presidential primary, who knows whether he would've cast his ballot for Barack Obama or Hillary Rodham Clinton? Watch any production of A Doll's House, however, and it's hard not to think he'd have been a Pelosi partisan.
In the University of Vermont Department of Theatre's production of Ibsen's most revered work, currently running at the Royall Tyler Theatre, the audience is invited to ponder the women's movement by walking in the boots of one lady who stood on liberation's doorstep more than a century ago — and then time-traveling with her, sort of, to the present day. This innovative staging preserves the heart of Ibsen's play while underscoring its enduring themes in ways that appeal to today's audience.
The play's protagonist is Nora Helmer, a dutiful wife circa 1880, whose happy home is rocked by the news that her deepest, darkest secret may be revealed to her husband, Torvald. Although her secret probably saved Torvald's life years earlier, learning it would injure his pride and perhaps prove fatal to their marriage. Now, when every detail of her domestic existence appears to be in its proper place — especially her submissive, cloistered self — the consequences of Nora's past deed are about to catch up with her.
In the wrong hands, a play about confinement runs the risk of simulating that sensation, undesirably, for its audience. In this respect, A Doll's House is a pretty big gamble. Ibsen has served up a thick slice of 19th-century European bourgeois life layered with the concerns of bankers, a doctor and a housewife. The play's action is limited to a single domestic setting, and the characters' relations are bound by rather formal discourse. What's more, the UVM production clocks in at two hours and 45 minutes, including two intermissions.
But, as the opening sequence reveals, director Gregory A. Ramos has gone to remarkable lengths to loosen the play's constraints. To a recording of the Beatles' "Across the Universe," in a splash of what look like projected stars, cast members literally set their stage in an artful bit of choreography from Ramos. The actors' graceful movements draw the audience into the play's imaginary world while establishing important dramatic terms unique to this director's vision.
Specifically, we grasp that Nora has been "fractured" — Ramos' word — into three Noras. One, played by Kari Buckley, fills the role as Ibsen scripted it. Another, played by Elinor Reina, is Nora reimagined as a 1950s housewife. In the third Nora, played by Julifer Day, we recognize the contemporary neo-Nora next door.
Ramos' gamble pays off, thanks to three strong Nora performances. Among them, Buckley stands out. The role calls for a wide range of emotions, and she hits those notes most credibly of the three, with the greatest seeming ease — and with vigor equal to her predicament.
Reina and Day are also solid as the '50s-era and contemporary versions of Nora, respectively. Perhaps because their roles are recent inventions, they lack the depth of Ibsen's original. Still, these players hit their marks. Reina's hand wringing and flitting about in fits of pique evoke the disobedient housewife whose punishment is imminent. Day brings a modern stridency and sensuality to her performance, embodying a pointed anachronism in Ibsen's polite society.
The play's temporal experimentation is not always successful, though, mainly because Torvald remains fixed in time and place while his Nora time-travels from scene to scene. At least that's the effect of Sam Durant Hunter's performance. Hunter is a fine Ibsen-era Torvald. He patronizes and belittles his spouse(s) with utter obliviousness to the demeaning effect of his attention. He coos pet names for Nora — "squirrely bird," "songbird" — in a maddeningly unctuous melody.
Hunter's other dominant mode, however — the stentorian head of the household — can seem mismatched with his more modern Noras. Their diversity invites a more modulated regard than Hunter delivers. Also, Hunter doesn't venture far outside a circumscribed emotional zone, making Torvald's obtuseness as tiresome as it is infuriating.
The three key supporting players round out the cast somewhat unevenly. As Torvald's ex-schoolmate Nils Krogstad, Stefan Kostolitz successfully embodies a desperate man driven to extremes. But his role requires more than the seething anger he musters. Andrew Friedland plays Dr. Rank, current friend to Torvald and confidant to Nora, and he delivers a passable performance — strongest toward the end, as this man of science reckons with destiny. As Kristine Linde, Nora's long-lost friend, Allison Brown exudes confidence and poise while playing, ironically, the most powerless character in the play.
While A Doll's House may sag in spots, it's a spectacle to behold, with captivatingly original technical effects. Jeff Modereger's scenic design is the most obvious example. His Helmer house sitting room breaks with the tradition of countless productions of Ibsen's masterwork in its backdrop, which contains 20 or so closed white doors suspended from stage floor nearly to theater ceiling. Where do they lead, and who will walk through them?
Martin A. Thaler's costume designs portray authentic denizens of Ibsen's day while creating convincing interlopers from two other periods. The Noras' outfits share a shade of purple, but their individual styles come off as historically accurate — right down to their lingerie. John B. Forbes' lighting design and Stefan Jacobs' sound design color this production in subtler but harmonious ways.
These technical flourishes amplify the play's moods and serve the director's aim to make its message resonate currently. That message is hard to miss. One half expects to hear a certain Nancy Sinatra song at the climax. Still, the production values bolster a stable cast, adding dynamism to a dusty old drama that speaks powerfully to the persistent problem of gender inequality.