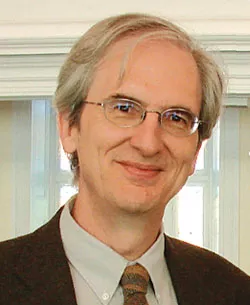 When Richard Riley took over directing the Burlington Choral Society from David Neiweem last summer, the first thing he did was re-audition all 88 of its members. Many hadn't stood for an audition since they'd joined years, even decades, before. "It was scary for them," admits Riley, 58, a spry Baltimore native who speaks in a slightly high-pitched voice.
The move signaled Riley's commitment to the highest level of musicianship. It's an attitude he learned as a freshman at Marlboro College from his teacher, Blanche Moyse. The Swiss-born violinist cofounded the Marlboro Music School and Festival in 1951, when southern Vermont was virtually devoid of classical music. Later, as a conductor, she formed the acclaimed Blanche Moyse Chorale entirely from local, nonprofessional singers.
"Blanche trained at the highest level in the European conservatory tradition. She didn't believe you lower your standards for amateurs," Riley explains.
Before taking the BCS job, Riley recently had an opportunity to carry on Moyse's legacy at the Brattleboro Music Center, a community-based enterprise his mentor founded in 1952, where he served as director and then chief fundraiser from 2006 to 2010. In the decades between those Moyse encounters, Riley's life took an unexpected turn.
After two years at Marlboro, he decided to pursue music full-time and transferred to the New England Conservatory, where he earned a degree in early music and developed as a bass singer. Riley went on to the Peabody Conservatory of the Johns Hopkins University for a choral conducting degree and continued to perform as a bass soloist. But, at 28, he caught pneumonia during a Christmas visit to his wife's family in Burlington, and the virus paralyzed his right vocal cord. Riley assumed he could no longer sing — at least to his own high standards as a soloist — so he turned to music management and teaching, including a nine-year stint on Cornell University's music faculty.
Then, having moved to East Montpelier for the BCS job, he decided on a whim to try singing again in a local Unitarian church choir, "using my funny, one-vocal-cord voice," as he puts it. To his surprise, he found not only that he could warble effectively but that he had missed doing so deeply.
"Everyone has always known that singing confers astonishing health benefits," Riley declares, sounding bemused that it took him 30 years to act on that advice. He soon realized that not singing regularly all those years had "really affected my sense of identity and vitality."
For his debut with the BCS as its first new leader in 17 years, Riley has chosen a work that speaks directly to the singer-conductor's newfound vitality and high standards alike: King Arthur, the rarely performed 1691 semi-opera by English composer Henry Purcell.
This fun, mostly lighthearted piece was originally a popular Restoration-era "spectacular" — that is, a theatrical extravaganza, penned by John Dryden, in which the music was merely incidental. Riley calls King Arthur "firmly outside the canon of choral-society repertoire" and admits that even he hadn't heard of it until the 300th anniversary of Purcell's death in 1995.
The name King Arthur, of course, calls up images of the wizard Merlin and the beautiful Guinevere. But "the story is not the one that everybody knows," Riley says with a laugh. "The premise is totally ridiculous: An evil spirit has put Britain in a deep freeze." He adds, "Arthur pursues his blind betrothed, Emmeline. Who's ever heard of Emmeline?"
Riley had to condense Dryden's original libretto using three editions (there is no definitive one) to arrive at a story an audience could follow during 90 minutes of music. It includes brief plot summaries that will be narrated by Andrew Massey, the internationally known conductor currently heading the Middlebury College Orchestra, who, fortuitously has a native British accent. The chorus will sing in costume; the soloists, who include the Northfield-based soprano Mary Bonhag and Richmond tenor Adam Hall, will all sing multiple roles.
With the story brought under control, audiences will be able to enjoy Purcell's music accompanied by a 15-piece orchestra. The Baroque composer's creation runs the gamut, says Riley, from "silliness to unbelievably affecting pathos." To set the wintry scene, singers affect the sound of shivering in their voices. Yet there are also sublime moments, such as the patriotic song "Fairest Isle."
In the end, Riley says, audiences will be "knocked over by the wisdom of the music."
King Arthur, by Henry Purcell, performed by the Burlington Choral Society. Sunday, November 18, 4 p.m. at Cathedral Church of St. Paul, Burlington. bcsvermont.org