Ask most Vermonters outside the Champlain Islands what they eat when they visit the area, and they'll tell you it's a wasteland. Sure, they may recall, with the misty glow of a vacationer, a particularly fine meal at the North Hero House Inn & Restaurant or Blue Paddle Bistro. But these same informants might be hard-pressed to offer any other island dining recommendations.
Are the islands really a food desert? Online searches turned up a few worthwhile destinations, but I decided to discover the culinary landscape for myself. I thought of my journey as a parallel to Samuel de Champlain's: I would explore the shores of the lake named for him, learning all I could from the natives.
Using the Thomas Mott Homestead Bed & Breakfast in Alburgh as a home base (and source of a gorgeous breakfast of peach-stuffed French toast and homemade yogurt), I spent 32 hours wending my way up Route 2 and back, discovering both new and lesser-known dining destinations, farms, producers — and one place to pick up a fresh smoothie while filling your prescription.
I excluded from my survey some obvious choices: the well-stocked convenience stores that serve campers, as well as most of the islands' long-established seasonal snack bars, which we've already written up in our annual snack-bar survey.
Those who seek a touristy meal featuring $30 plates of frozen fish can still find it on the Champlain Islands. But for a tour of some of their best culinary surprises, keep reading.
82 Route 2, South Hero, 777-6357
Eben & Tessa Hill of Broken Arrow
"We're starved around here. Bacon is microwaved," says Eben Hill. He knows something about good food. In his career as a bartender, Hill has worked for six James Beard Foundation Award-winning chefs, including Mario Batali at Lupa Osteria Romana and Tom Colicchio at Craft. Most recently, Hill poured drinks at Burlington's Juniper and nika.
On August 1, Hill returned to his native South Hero to feed locals, including himself and several generations of his family, the kind of food he believes we all deserve to eat. At his new food trailer, Broken Arrow, beef in burgers is grass-fed and comes from just a few miles up the road at Grand Isle's Canamak Farms. Most veggies, including greens and heirloom tomatoes, come from Pomykala Farm, also of Grand Isle.
Broken Arrow is the reincarnation of Hill's Red Barn Café, which he closed at South Hero's Allenholm Farm two years ago. (It's since been replaced by a stand called the Accidental Farmer.) Many menu items will ring bells for Red Barn diners, including Hill's carnitas tacos.
Recent travels with his wife (and café assistant), artist Tessa Hill, have enhanced the chef's skills with Central American fare. The pair of overstuffed tacos' ancho-braised pork falls apart in piggy ecstasy, combined with tender mangos and crunchy cabbage slaw. Doused with cumin-soaked Costa Rican Salsa Lizano, the dish is transporting.
That's Hill's intention. "Every time I cross this bridge, I'm in the Caribbean," he says of driving to his beloved northern islands. Anyone who orders right at Broken Arrow will feel the same way.
Capsand Creamery
Available at Wednesday South Hero Farmers Market and Snow Farm Vineyard tasting room. Special orders through capsandcreamery@gmail.com.
Christine McMillan realizes that her life has taken an ironic turn. Having left her job as a diabetes researcher and moved to Vermont with her husband to raise her young children, she's making candy for a living. She began selling sweets as Capsand Creamery late last year.
McMillan raises Nigerian Dwarf goats and has crafted cheese from their milk for her family for several years. Unwilling to make the necessary investment to become certified for commercial cheese manufacturing, she instead began turning the milk into ultra-creamy caramels, chocolates and fudge.
The goats prance and wag their tails as McMillan enters the barn to greet them. Perhaps their happiness helps make the fudge and salted caramels so rich. More likely, those qualities come from their milk's exceptionally high butterfat content, which exceeds that of other goat breeds, says McMillan.
The grass-fed critters aren't just milk producers and affectionate pets. McMillan's farm, currently home to 15 goats, is the primary place on the islands to buy the tiny Nigerians. If you see a smiling Capra near Lake Champlain — especially one with ice-blue eyes, a trademark of many Capsand kids — chances are it was reared on McMillan's farm.
308 Route 2, South Hero, 378-5442, remediesvt.com.
A hundred years ago, the presence of a soda fountain at most pharmacies wasn't anomalous. Pharmacist Michelle Godwin misses the days when soft drinks were believed to have curative properties. But she realizes that Coke and 7-Up — the former once made with coca alkaloid, the latter with lithium nitrate — no longer qualify as health food.
Instead of serving ice cream and nerve tonics, Godwin opened her small pharmacy last month with a juice bar inside. Her inspiration, she says, was an integrative nutrition course that reminded her of the prophylactic steps customers can take to stay healthy. The pharmacist chose a spot with room for a yoga studio upstairs, and plans to add nutrition courses and scheduled walks to her store's offerings. She also aims to serve salads and soups at the juice bar as healthy, quick-serve options.
But for now, juice and smoothies are the thing — along with coffee drinks made from Speeder & Earl's and Vermont Coffee Company roasts. The coffee and smoothies combine in Michelle's Remedy, the pharmacist's own favorite, which blends espresso with cocoa powder, peanut butter, banana and almond milk. A harried urbanite looking for a liquid break from campsite fare will find it here.
35 Bridge Road, North Hero.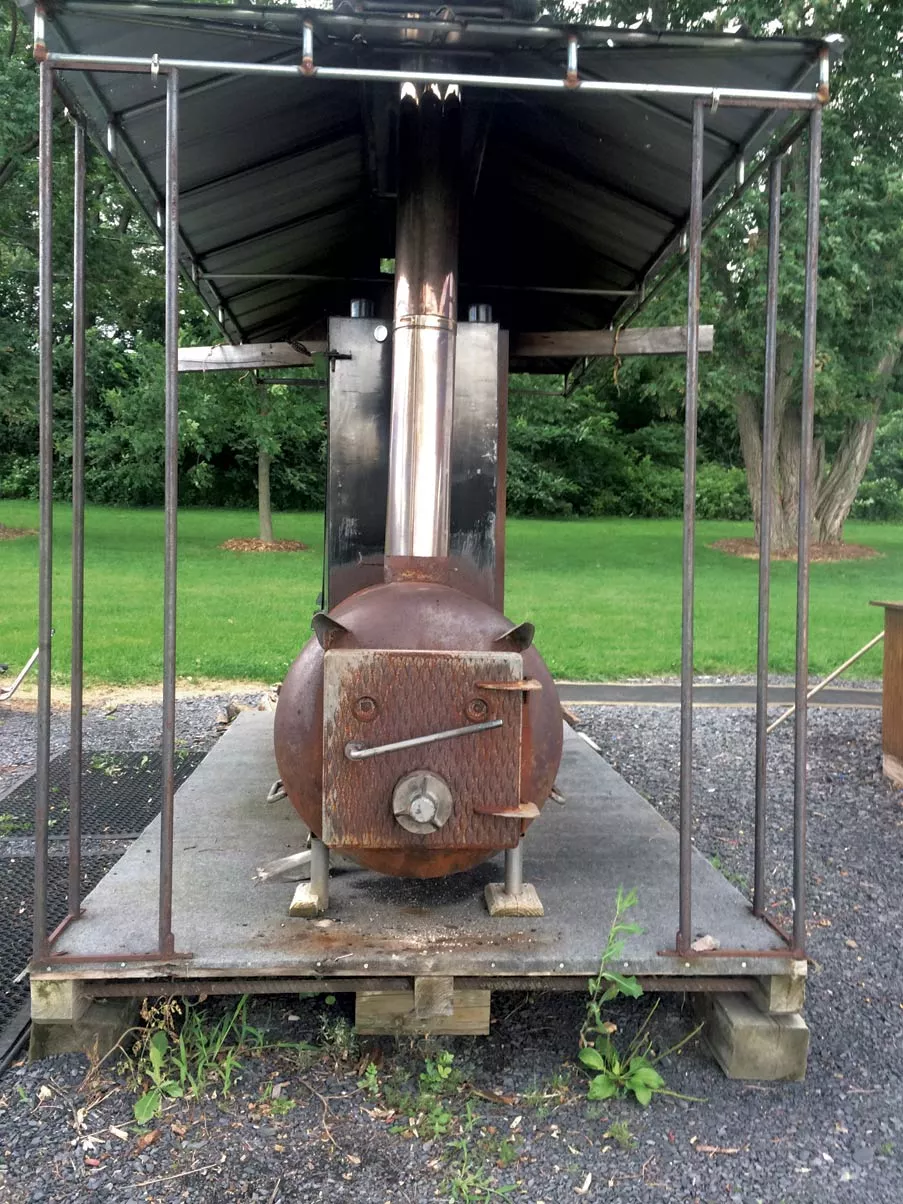 Smoker and pulled pork at Papa Pete's
A pig goggles its eyes at guests as they approach this snack bar, at the end of Bridge Road between Alburgh and North Hero. The oinker's round belly is metal, not flesh. The real pork lies within, smoking low and slow, while the faux pig's creator slings fresh burgers, chops fries and tends the garden out back.
Pete McDonald also built the big white rectangle known as Papa Pete's Snack Bar, before opening in 2007. But don't call him a renaissance man. "I'm just a Vermonter with too much time on his hands," he says, taking a languid drag on his cigarette.
McDonald's relaxed attitude doesn't extend to his food. The only thing on the menu that's ever frozen is fish. The burgers may not come from Vermont like Broken Arrow's, but most of the veggies are grown out back or sourced from island farms. The cheese curds on the poutine come from Canada, for the appropriate north-of-the-border squeak.
Photos Courtesy Of Alice Levitt
McDonald smokes and serves ribs on Fridays and Saturdays, but pulled pork is always available. His secret rub flavors the crisp bark of the exterior, while a whiff of smoke penetrates into the meat's moist layers. Paired with hand-cut sweet-potato fries, the $6.25 pulled-pork sandwich makes an addictive meal. But save room for a creemee sundae, a refreshing accompaniment to a dip in the lake just feet away.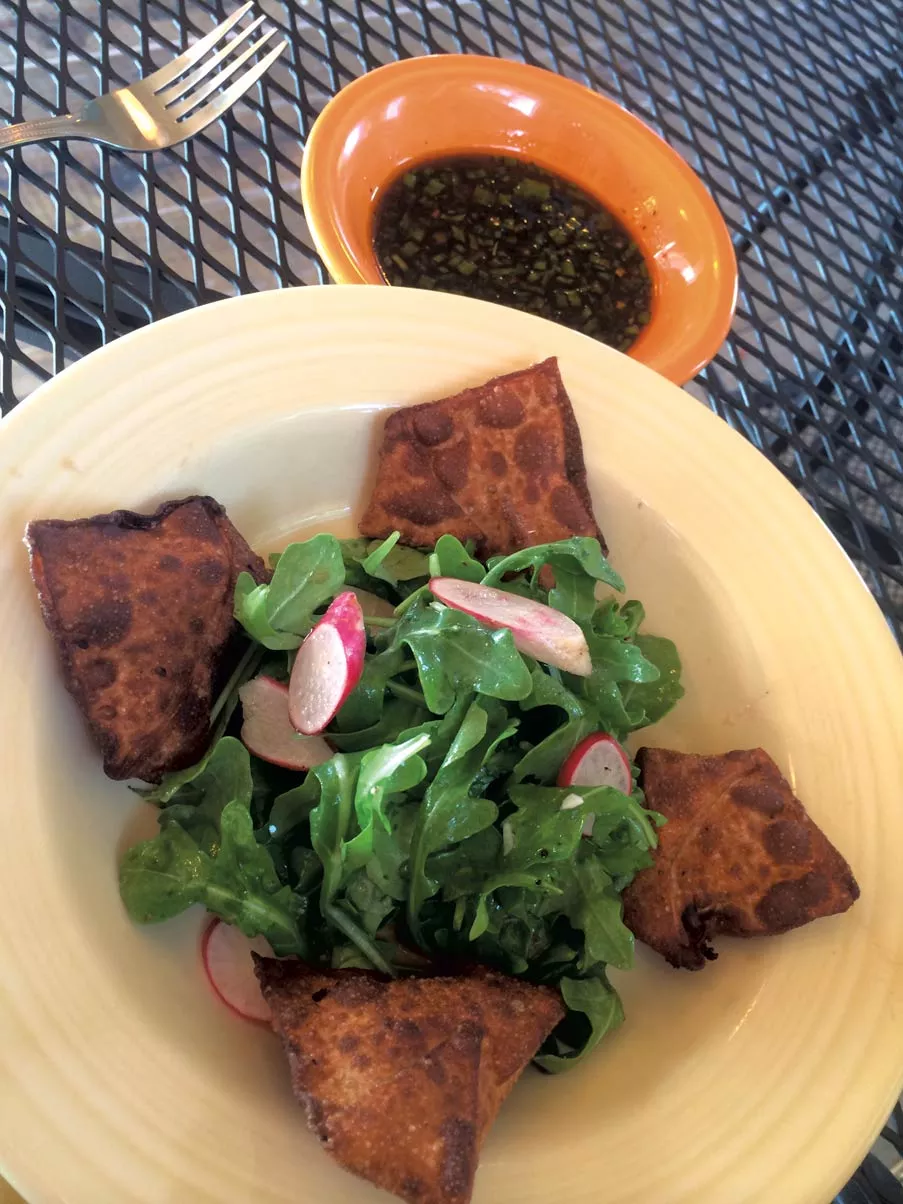 Pork dumplings at Zach's Café at the Gallery
"I left Burlington. I could have worked at Farmhouse [Tap & Grill], but..." Zach Labelle trails off. He's too polite to put into words that he's happier doing his own thing. The restaurant where he has cooked for three years even bears his name. "We knew pretty early on we wanted him to stick around," explains co-owner Jim Holzschuh.
Zach's is just one room in the expansive gallery and store that is Grand Isle Art Works. During the day, shoppers examine arts and crafts from more than 75 Vermont artisans, while Labelle whips up soups, sandwiches and breakfast from local ingredients.
By night, when the café is normally closed, Theme Night Thursday dinners allow him to flex his culinary muscles. Once a week year-round, Labelle prepares a three-course, prix-fixe meal for $25. Themes have included exotic Middle Eastern and Korean menus and homey Southern barbecue.
On a recent Chinese night, Labelle begins the meal with four spicy, exceptionally juicy pork-and-shrimp dumplings tucked into a salad of Pomykala Farm arugula and shaved radishes tossed in Shaoxing rice wine.
Both Labelle and Holzschuh are chatty, and the latter says his young chef has attracted a pack of blue-haired groupies with his enthusiastic handshakes and painstaking explanations of each preparation as he serves it.
Of course, the quality of the food doesn't hurt. A massive cut of Crescent Bay Farm pork shoulder falls apart in its braise of anise and cinnamon with preserved black beans and oyster mushrooms. Dessert is a refreshing collection of artistically arranged fruits: Florida mango, star fruit and dragon fruit, all lightly dressed in anise syrup. It's an appropriate end to dinner in a gallery.
Labelle allows guests to enjoy creativity on a plate as well as on the walls, with nary a hint of that fusty island old guard. Expect no microwaved bacon here. This is nouvelle Champlain Islands cuisine.
The original print version of this article was headlined "Nouvelle Island Cuisine"