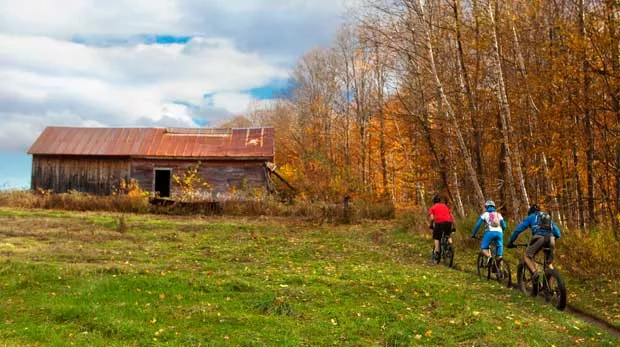 photo courtesy of Ben Haulenbeek
Kingdom Trails
Savvy Vermonters know that the very best way to see this state's famous fall is not from inside a car. On a bicycle, you can pedal your way to the most picturesque spots at your own pace. Plus, the area is rich in paved trails and well-maintained mountain-biking routes. Here's a sampling.
Missisquoi Valley Rail Trail, St. Albans to Richford
From the open farmlands of St. Albans to the forests of Richford, this 26.4-mile, mostly crushed limestone route is off the beaten path for most leaf peepers and yet has a family-friendly, steady grade. You're more likely to see horses or cows than camera-toting tourists, and there are plenty of places to stop for bike repairs, ice cream or a scenic vista for a photo or two of your own. Download trail maps and find other trip-planning tips at mvrailtrail.com.
Kingdom Trails, East Burke
photo courtesy of Ben Haulenbeek
Riders receive the royal treatment at this 100-mile-plus network of interconnected cross-country mountain-biking trails in the bucolic Northeast Kingdom: twisty singletrack, fiery foliage and even a bike patrol to help with busted tires and first aid. Try the legendary Sidewinder, Kitchel and Webs on the Darling Hill side, or don body armor to try the bone-rattling descents on Burke Mountain. Don't forget your helmet!
The Kingdom Trails Association has more information, as well as links to guides and rentals, at kingdomtrails.com.
Burlington Bike Path, Burlington
This flat, paved route on an old railroad bed that parallels Lake Champlain for 7.5 miles from Oakledge Park to the Winooski River is a carnival of commuters, joggers, dog-walkers and in-line skaters — some 150,000 people use the path each year. But it's still one of the city's best spots for killer views and a calorie-burning ride. To catch a bit more solitude, and sunrise on the lake, go early in the morning. Learn rules and tips at enjoyburlington.com.
Catamount Outdoor Family Center, Williston
This 500-acre spread, just seven miles from the airport, boasts the oldest, largest and longest-running mountain-biking race series, which is held on Wednesday nights. That's a testament to the fat-tire fever here; you'll find the trails — mostly rolling terrain, plus some technical singletrack — open weekday afternoons and weekend days through October 14. On-site bike rentals from $15 per day; daily use rates from $3 per day (kids 5 and under are free). For more info, visit catamountoutdoor.com.
Fellowship of the Wheel Mountain Bike Trails, Chittenden County
In the nooks and crannies of woods around Burlington, the nonprofit Fellowship has built more than 100 miles of trails over the last decade. Among trail director Andy Weis' favorites are Sunny Hollow, an 88-acre park in Colchester, and Williston's Mud Pond, a 3-mile, lollipop-shaped trail.  A base membership of $35 per year gives riders access to detailed maps of Burlington-area trails, which are typically closed after 0.75 inches of rain. Find more info at fotwheel.org.
Sleepy Hollow Inn Ski & Bike Center, Huntington
It's anything but sleepy at this year-round recreational hub, which has more than 10 miles of intermediate to advanced singletrack, connecting to trails in the Hinesburg Town Forest and Carse Lands maintained by Fellowship of the Wheel. Don't miss riding up Skywalker for a break at the rustic Butternut Cabin. Trails are open from sunrise to sunset with a self-pay kiosk; $6 for adult mountain bikers; Fellowship members ride free. Later on, check out the cross-country skiing. More info at skisleepyhollow.com.
Stowe Recreation Path, Stowe
Bridges across the West Branch River — along with swimming holes, restaurants, bars, picnic spots and art galleries — abound on the paved, 5.3-mile, award-winning and free Stowe Recreation Path. Pedaling along here is one of the best ways to avoid the cars that can jam up Mountain Road, especially during the fall foliage season. Download a map — which also has bike rental locations — at gostowe.com.
Trapp Family Lodge, Stowe
The picturesque trails that draw cross-country skiers to this Austrian-style resort in winter are now open for mountain biking, too, until November 1 (or whenever frost comes to stay). You'll find more than 25 miles of trails, much of it beginner and intermediate friendly. Afterward, refuel with a linzertorte from the DeliBakery or a pint of Golden Helles lager from the lodge's own brewery. Trail passes are $10 per day for non-guests; on-site bike rentals are available. For more info, visit trappfamily.com.
Millstone Hill, Barre Town
This unique network of relatively new, crowd-free trails allows you to mountain bike among 50 historic quarry sites, whose ice-containing grout piles and cool waters create natural air conditioning on Indian-summer days. Among the 90 miles of routes, there are options for every ability, along with central Vermont views stretching up to 75 miles. Day biking passes for adults are $10 per person; on-site bike rentals are $40 for a full day or $25 for a half day. Find more information and maps at millstonetrails.com.
More Resources
TrailFinder catalogs more than 200 biking and hiking trails around Vermont, and offers a free iPhone app for downloading trail maps. Visit trailfinder.info.
The nonprofit Vermont Mountain Biking Association links riders to 18 clubs, lists upcoming events and connects newcomers to nearby chapters. Visit vmba.org.
Découvrez quelques-unes des randonnées cyclistes les plus spectaculaires du Vermont
Les Vermontois futés savent que l'habitacle d'une voiture n'est pas le meilleur endroit pour admirer les fameuses couleurs de l'automne dans leur État. À vélo, on peut visiter les endroits les plus pittoresques à son propre rythme. En outre, l'État présente un bon réseau de routes asphaltées et de pistes de vélo de montagne bien entretenues. En voici un échantillon.
La Missisquoi Valley Rail Trail, de St. Albans à Richford
Des paysages ruraux de St. Albans aux forêts de Richford, cette piste de 42,5 kilomètres recouverte principalement de poussière de roche se trouve à l'écart des circuits traditionnels des amateurs de couleurs d'automne. Pourtant, elle est accessible aux familles grâce à son parcours sans difficulté majeure. Vous aurez plus de chances de voir des chevaux ou des vaches que des touristes caméra en bandoulière et vous pourrez vous arrêter à plein d'endroits pour faire réparer un bris mécanique, déguster une crème glacée ou jouir du panorama et prendre quelques photos. Pour télécharger des cartes de la piste et obtenir des conseils sur la planification de votre expédition, visitez mvrailtrail.com.
Kingdom Trails, East Burke
Les cyclistes ont droit au traitement royal sur ce réseau de plus de 160 kilomètres de pistes de vélo de montagne cross-country dans la région bucolique du Northeast Kingdom. On y trouve des sentiers tortueux, un feuillage flamboyant et même des patrouilleurs à vélo prêts à donner les premiers soins ou à réparer une crevaison. Parcourez les pistes légendaires Sidewinder, Kitchel et Webs du côté de Darling Hill, ou revêtez vos habits les plus épais pour dévaler les pentes enivrantes de Burke Mountain. N'oubliez pas votre casque! La Kingdom Trails Association fournit plus d'information ainsi que des liens vers des guides et des services de location sur le site kingdomtrails.com.
Piste cyclable de Burlington
Cette voie asphaltée et sur terrain plat, aménagée sur une ancienne emprise de chemin de fer, longe le lac Champlain sur 12 kilomètres entre Oakledge Park et la rivière Winooski et est fréquentée par des hordes de joggeurs, de promeneurs de chiens, de patineurs à roues alignées et de résidents qui la prennent pour aller travailler. En tout, quelque 150 000 personnes l'empruntent chaque année. Elle n'en demeure pas moins l'un des meilleurs endroits de la ville pour jouir de superbes paysages et brûler des calories. Les lève-tôt profiteront d'un peu plus de solitude et pourront admirer le lever de soleil sur le lac. Vous trouverez les règlements et des conseils sur le site enjoyburlington.com.
Catamount Outdoor Family Center, Williston
Dans cette aire de 500 acres située à une dizaine de kilomètres de l'aéroport se tiennent les compétitions de vélo de montagne les plus anciennes, les plus étendues et les plus longues tous les mercredis soirs.  Véritable sanctuaire du pneu large, le centre, qui renferme des pistes vallonnées surtout et quelques pistes plus techniques, est ouvert les après-midi en semaine et toute la journée les fins de semaine, et ce, jusqu'au 14 octobre. On peut louer des vélos sur place pour 15 $ par jour. Tarif quotidien à partir de 3 $ et entrée gratuite pour les enfants de 5 ans et moins. Pour en savoir plus, allez à catamountoutdoor.com.
Fellowship of the Wheel Mountain Bike Trails, Chittenden County
Dans les coins et recoins des forêts autour de Burlington, cette association sans but lucratif a aménagé plus de 160 kilomètres de pistes au cours des dix dernières années. Le directeur Andy Weis a une prédilection pour Sunny Hollow, un parc de 88 acres à Colchester, et la boucle Mud Pond de Williston, d'une longueur de presque 5 kilomètres. Moyennant des frais d'adhésion de base de 35 $ par année, les amateurs ont accès à des cartes détaillées des pistes de la région de Burlington; les pistes sont habituellement fermées lorsque les précipitations atteignent 20 millimètres. Plus de renseignements à fotwheel.org.
Sleepy Hollow Inn Ski & Bike Center, Huntington
L'ambiance est au rendez-vous dans ce centre de plein air ouvert toute l'année qui compte plus de 16 kilomètres de pistes de niveaux intermédiaire et expert raccordées aux pistes de Hinesburg Town Forest and Carse Lands entretenues par la Fellowship of the Wheel. Ne ratez pas l'ascension de la piste Skywalker pour découvrir  Butternut Cabin, un petit chalet rustique. Les pistes sont ouvertes du lever au coucher du soleil; le tarif est de 6 $ pour les amateurs de vélo de montagne adultes (kiosque autopayant). C'est gratuit pour les membres de la Fellowship. En saison, on peut y pratiquer le ski de fond. Plus de renseignements à skisleepyhollow.com.
Stowe Recreation Path, Stowe
Les ponts sur la rivière West Branch – ainsi que les bassins naturels, les restaurants, les  bars, les aires de pique-nique et les galeries d'art — abondent le long de la Stowe Recreation Path, une voie asphaltée de 8,5 kilomètres gratuite et primée. La parcourir à vélo est l'un des meilleurs moyens d'éviter les embouteillages sur Mountain Road, en particulier pendant la période des couleurs d'automne.  Pour télécharger une carte  — ainsi qu'une liste d'endroits où louer des vélos —  aller à gostowe.com.
Trapp Family Lodge, Stowe
Les pistes pittoresques qui attirent les amateurs de ski de fond à cet établissement d'inspiration autrichienne en hiver sont maintenant ouvertes aux vélos de montagne jusqu'au 1er novembre (où jusqu'à ce que le gel s'installe). On y trouve plus de 40 kilomètres de pistes, surtout pour débutants et intermédiaires. Après l'exercice, on peut reprendre des forces en dégustant une linzertorte de la DeliBakery ou une lager Golden Helles brassée sur place. Le tarif quotidien pour accéder aux pistes est de 10 $ pour les visiteurs; on peut louer des vélos sur les lieux. Pour plus de renseignements, aller à trappfamily.com.
Millstone Hill, Barre
Ce réseau unique de pistes relativement nouvelles et peu fréquentées permet de circuler en vélo de montagne parmi une cinquantaine d'anciennes carrières où les piles de rebuts renfermant de la glace et les eaux froides créent un système de climatisation naturel les belles journées de l'été indien. Les cyclistes de tous les niveaux y trouveront leur compte sur les parcours qui s'étendent sur 145 kilomètres et embrassent des paysages du centre du Vermont s'étirant sur 120 kilomètres. Un laissez-passer pour adulte coûte 10 $ par jour; on peut louer des bicyclettes sur place moyennant 40 $ pour la journée ou 25 $ pour la demi-journée. On trouvera plus de renseignements et des cartes à millstonetrails.com.
Ressources complémentaires
TrailFinder répertorie plus de 200 sentiers pédestres et voies cyclables au Vermont et permet de télécharger les cartes gratuitement au moyen d'une application pour iPhone. Aller à trailfinder.info.
La Vermont Mountain Biking Association, organisme sans but lucratif, regroupe 18 clubs cyclistes, présente les événements à venir et fait le lien entre les nouveaux venus et les sections locales. Aller à vmba.org.
The original print version of this article was headlined "Wheels Up"