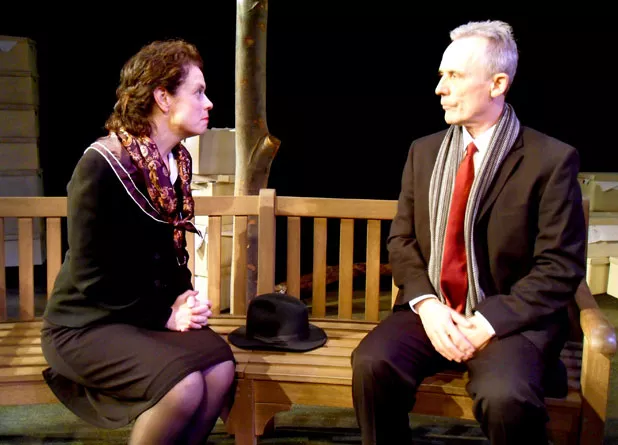 Playwrights retain control over all changes when their scripts are produced for the stage. Cutting a line of dialogue requires permission, not to mention modifying scenes or characters. Writers' estates wield the same power to authorize or forbid alterations as long as works remain under copyright. Theater companies can set Hamlet in, say, Hitler's Germany because Shakespeare's centuries-old plays are in the public domain. Had the Bard been born in 1964 instead of 1564, his barrister would be awfully busy.
For Northern Stage's current production of Lee Blessing's two-person play A Walk in the Woods (1988), English director Nicolas Kent got the author's assent for a major change: making one character female. Set in Geneva during early '80s nuclear arms talks, the Cold War drama focuses on informal discussions between a veteran Soviet diplomat and a green American negotiator, now Joan Honeyman instead of John. Kent's gender-remixed version creates tremendously engaging theater. Credit outstanding performances, especially Steven Crossley's magnetic portrayal of Andrey Botvinnik, for making Blessing's sharply written script soar.
The story is loosely inspired by history: a real "walk in the woods" that two arms negotiators took in 1982. In the play, the single stroll turns into four — one in each season, from late summer through early spring. Outside the stuffy confines of formal conference sessions, Andrey wants to decompress and enjoy "frivolous conversation." Joan remains preoccupied with finding a way to advance the stalled agreement. "I'm here to make a treaty with you, not a friendship," she declares.
Andrey's jovial demeanor frustrates Joan, who attempts to maintain a rigid focus on business. "Formality is simply anger with its hair combed back," Andrey muses. His terms for bringing her proposal to his bosses? Engaging in a little light banter. "Do you know what I'm dying to hear an American talk about?" he asks. "Mickey Mouse. Cowboys. How to make a banjo."
Joan is shockingly bad at small talk, but she tries. As the seasons pass, however, the American idealist comes to learn what the Russian realist already knows: The rapid rate of weapons development always outstrips the glacial pace of diplomacy. And, rather than actually wanting a treaty, their leaders may have them on an endless "quest for the appearance of the quest for peace." The question to be resolved: Do these realizations affect Joan's willingness, and Andrey's ability, to endure more seasons of formal talks and informal walks?
Blessing's play feels surprisingly timeless, despite the period setting and political themes. The story already brews an intriguing mix of tensions between the lead characters. The wily, worldly Russian and earnest, inexperienced American duel over defining their relationship. Are they adversaries? Colleagues? Friends?
The gender shift is a brilliant twist. It adds a compelling new dynamic to their battle of wits. A Russian man of Andrey's generation treats a younger woman with an instinctive chivalry and protectiveness. He mentors her with an extra level of care and respect. Meanwhile, Joan works to keep her guard up in a tough, male-dominated profession.
Steven Crossley's portrayal of Andrey Botvinnik resonates with charming authenticity. He balances the diplomat's urbane and earthy traits. Wearing fancy Italian suits, he has a polished physical carriage. But his hands are animated when he talks, with an unmistakable Russian lilt in his voice. The most effective, and affecting, aspect of Crossley's performance is how Andrey reacts to Joan. Each crooked smile or mischievous gleam in his eye captures how the Russian has come to delight in debating with people, but not about policy.
Near the play's end, Joan admits that she is "a pretty serious, stiff, even priggish type of person." Myriam Cyr embodies this elegantly. In Joan's conservative business suits, she keeps a straight back and square shoulders, in contrast to Andrey's more relaxed body language. Her brow furrows deeply when Joan gets frustrated. Cyr communicates the idealist's intelligence and intensity while still creating a likable character. And Cyr and Crossley have excellent timing together, making the tricky dialogue feel effortless.
Ken Goldstein's minimalist scenic design keeps the focus on the actors. At center stage sits a long teak park bench, which curves slightly so the characters face each other as they talk. The wood's warm reddish-brown hue stands out from the set's stark gray-scale palette. Bare, silvery tree trunks rise from the black stage floor with white cardboard file boxes piled beside them. Tiny details reflect seasonal shifts: colored leaves scattered on the ground for autumn; small wildflower patches for spring.
Jessica Risser-Milne's well-tailored costumes also stick to neutral colors: black and navy suits for Joan, refined grays for Andrey. Wardrobe and accessory changes show the passing seasons clearly, as the characters' coats, scarves and hats reflect the temperature of the Swiss mountain air.
While a female weapons negotiator was "unthinkable at that time," according to Kent, the character's gender feels natural now because we've become accustomed to women in high-profile diplomatic positions. Just last week, it was Secretary of State Hillary Rodham Clinton who announced the breakthrough nuclear arms reduction deal between Russia and the United States. The new version of A Walk in the Woods works so well that what now seems unthinkable is to turn the clock back.