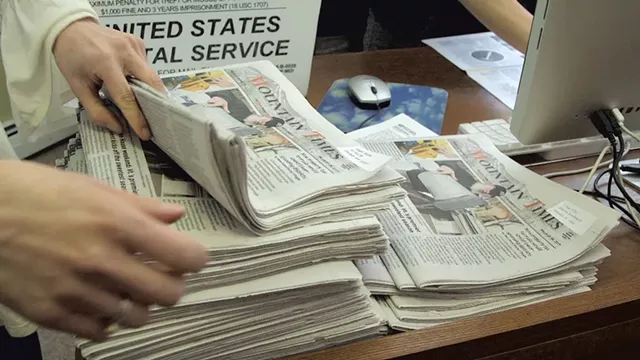 Eva Sollberger
Mountain Times staff preparing to mail copies to subscribers in 2017
"If you don't survive, we're all in trouble. Because who's going to tell this story?"
That's the question that prompted Ernie Pomerleau to support Seven Days and other Vermont media outlets during the coronavirus pandemic. As many companies and organizations slashed advertising at the end of March, the Pomerleau Real Estate president and CEO increased it.
In addition to sponsoring full-page inspirational messages in Seven Days — as well as "native" or branded content campaigns like the one you're reading right now — Pomerleau has also been advertising for the past two months in the Burlington Free Press, the Newport Daily News, the Caledonian Record and the Barre-Montpelier Times Argus; in community weeklies in Shelburne, Charlotte, Essex, Colchester and Burlington's New North End; and on local TV channels 3, 4 and 5.
Meanwhile, the pandemic-related economic shutdown triggered newsroom layoffs, furloughs and closures across the country, affecting outlets from BuzzFeed to the Atlantic Monthly. Vermont's four dozen weeklies and 11 daily newspapers were hit hard. Many have reported staffing cuts; some have ceased printing and distributing their papers altogether.
On May 28, the Vermont Press Association sent letters to state leaders urging them to include its members in any marketing campaigns that emerge from the governor's coronavirus relief package. Many members are working "at a pace never seen before, while at the same time suffering economic losses like never before," it said.
For local newspapers, the stakes have never been higher.
The deadly duopoly
The Middlebury-based Addison County Independent used to appear twice weekly; editor-publisher Angelo Lynn eliminated its Monday edition at the end of March and consolidated that into its larger Thursday edition. He'd considered the move for years and pulled the trigger because selling papers was difficult when stores closed during the shutdown.
Lynn also owns the Mountain Times in Killington and the Reporter, which covers Brandon, Pittsford, Proctor and West Rutland. Strong local newspapers like his are "kind of a victim of our past successes, in a way," he said during a phone interview. "People just can't imagine that their local newspaper isn't doing well after decades or generations of serving their communities without fail," he said.
The pandemic has taken a toll on Vermont media outlets that are sustained by local advertising. But the bigger problem predates the coronavirus crisis.
Vermont's media landscape has been shifting since the advent of Craigslist, the free online forum that replicated much of the "classifieds" in print newspapers. National digital platforms such as Indeed, match.com, and especially Facebook and Google have eroded other once-reliable revenues, too.
"While Google and Facebook have siphoned ad dollars away from all publishers, local news publishers have been the hardest hit," reads a Wall Street Journal report from May 4, 2019. "The tech giants suck up 77 percent of the digital advertising revenue in local markets, compared to 58 percent on a national level, according to estimates from Borrell Associates and eMarketer."
Government regulators are now scrutinizing the Google and Facebook duopoly. The Department of Justice is on the verge of filing antitrust charges against Google, the New York Times reported in May. And authorities in Australia hope to force Google and Facebook to compensate news publishers, since the tech companies have benefited from being able to sell ads around news content without having to pay to produce it.
It's not that people don't understand the value of journalism, Lynn explained. They do.
Local politicians and community groups always seek media coverage of their events and campaigns. And their local outlets deliver. Yet when it comes to paying for advertising, those politicians and community groups often turn to global digital platforms, Lynn said. People need to understand the effect this has on local media.
As ad dollars have migrated away from newspapers, many papers have slashed their staffs. A 2020 Pew Research Center study found that, from 2008 until 2019, U.S. newspaper newsroom employment fell by 23 percent.
While the newsrooms at Lynn's papers have grown over the past decade, he said all newspapers have to find new ways to raise revenue, including seeking donors, offering memberships and charging more for content. But that won't be enough on its own.
"Those of us who have maintained strong news teams may not be able to support that same effort without local advertising dollars. There's not enough reader support in a small market to fund all of what we do. It certainly helps, but if the business community also comes through, we'll continue to be a vibrant force that builds and strengthens our communities."
From Record to Roundabout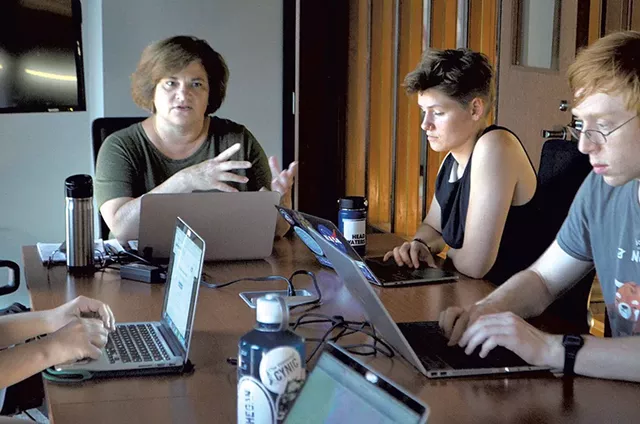 File Photo
Lisa Scagliotti with students last summer
The Waterbury Record, owned by the Vermont Community Newspaper Group, was an early casualty of the pandemic; its final issue was published on March 26. In May, one of its writers, Lisa Scagliotti, started an online news site called the Waterbury Roundabout.
A veteran journalist, Scagliotti began her career as a reporter for the Burlington Free Press. She covered Vermont's largest city while Bernie Sanders was mayor and did a stint in the paper's now-defunct Montpelier bureau. She's worked for several daily and weekly newspapers since.
In addition to her roles as editor and publisher, Scagliotti is also the Roundabout's lead writer. The other reporters are mostly University of Vermont students who work on the site for college credit; there's a high schooler, too. "What we're doing is very bare-bones," she explained.
Right now, Scagliotti volunteers her time. Between writing stories, she's been doing research and attending webinars, trying to figure out whether to set up the site as a business or a nonprofit.
Fortunately, she said, local businesses are asking about advertising on her site. Now that they can reopen, they want to start communicating with their customers again. They're interested in doing that through a hyperlocal site like hers, which has been covered by both Seven Days and Vermont Public Radio and generated a lot of buzz.
Readers have even asked about a possible print edition. There's still demand for one.
But Scagliotti said she's not optimistic about that. If the site could generate enough money to print a newspaper, she said, they'd still have the Waterbury Record.
Support your local newspaper
The cost of putting out a print newspaper and the advent of mobile digital devices has nudged news outlets online — to eliminate the cost of printing and distribution — and to not-for-profit governance, which allows them access to money from foundations and other charitable entities. Observe: VPR and VTDigger.org, which both attract reader and advertising or "underwriting" support.
But the rise of successful nonprofit media outlets in the state doesn't have to signal the demise of small independent newspapers. The fact that VPR and VTDigger have been able to build robust donor networks is an indication that Vermonters are willing to pay for news.
Newspapers can seek support from readers, too, through subscriptions and membership campaigns, as Seven Days, the Addison Independent and the Valley News have done. More than 1,300 Seven Days readers have become contributing Super Readers over the past two months. A plea from the Valley News raised more than $100,000 in a few weeks.
And there are still many business owners, like Ernie Pomerleau, who understand how local media contributes to the vibrancy of a community and are sustaining it with good old-fashioned advertising. Businesses and organizations large and small have run multi-week campaigns in Seven Days during the crisis, including Ben & Jerry's, Seventh Generation, Old Spokes Home, A Little Something, Girlington Garage, the Automaster, GBIC, Main Street Landing, Hannaford and Sweeney Design Build.
Ben & Jerry's first ad, on April 15, was headlined: "Local media matters now more than ever."
"There's no substitute for good, local journalism," it reads. "It shines a light on what's hidden in the shadows. It holds those in power accountable. And it's essential to a healthy democracy."
The message explains that Ben & Jerry's has purchased a series of full-page ads in Seven Days over the next two months to help the company continue to report on the impact of the virus on Vermont and Vermonters.
"We encourage you to join us in being there for Seven Days as it continues to be there for us," it concludes.
That goes for your local community newspaper, as well.
To advertise in Seven Days, contact Colby Roberts at colby@sevendaysvt.com.
To advertise in the Addison Independent, visit addisonindependent.com or call 802-388-4944.
To make a financial contribution to Seven Days, become a Super Reader. Or send a check with your address and contact info to: Seven Days, c/o Super Readers, P.O. Box 1164, Burlington, VT 05402-1164. For more information, email superreaders@sevendaysvt.com or call 802-865-1020, ext. 36.