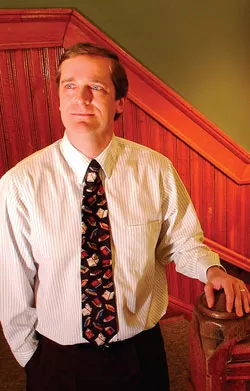 Jeb Wallace-Brodeur
J. Kevin Graffagnino
The executive director of the Vermont Historical Society is about to be history. J. Kevin Graffagnino, who took the top job at VHS in 2003, announced last month that he'll be leaving at the end of October.
In November, Graffagnino, 53, will become director of the William L. Clements Library at the University of Michigan in Ann Arbor. The Clements Library houses a wealth of Revolutionary War-era material — no doubt a draw for Graffagnino, who has studied and written extensively about the Allen brothers and their impact on Vermont.
Some of the nation's most prominent historians rely heavily on the Clements collection. When the last director retired, Pulitzer Prize winner and John Adams author David McCullough gave a lecture in his honor.
Graffagnino, who grew up in Vermont, says the Clements job is the only one that could lure him away from the Green Mountain State.
"It's one of the greatest opportunities, professionally, for someone who does what I do," the historian explains. "This is like being the baseball coach at UVM, and the Red Sox say, 'Come coach at Fenway.'"
Graffagnino has had a successful run at VHS. During his five-year tenure, the Society opened its renovated "Freedom & Unity" exhibit at its museum in Montpelier, and has published several books on Vermont history. VHS has also received increased support from private donors, as well as from the governor and the Vermont legislature.
But the organization's most notable recent achievement was winning a 2007 National Medal of Honor from the Institute of Museum and Library Sciences; VHS was one of 10 recipients. Graffagnino and two other VHS representatives accepted the award at a White House ceremony. A photo of them with First Lady Laura Bush can be seen on the VHS website.
"There are 140,000 museums and libraries in the country," Graffagnino notes. "You make the top 10, that makes you feel good."
VHS trustees have named former trustee Nicholas Ward interim executive director while they search for a new E.D. As for Graffagnino, he's preparing to move to Ann Arbor. He says, "It reminds me of a big Burlington."