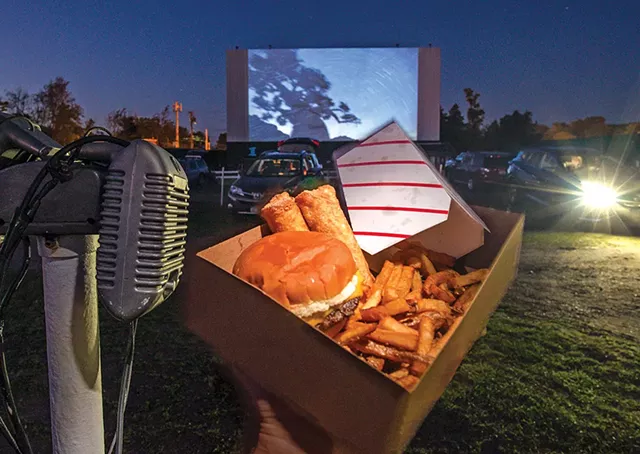 Glenn Russell
Sunset Drive-In
Sunset Drive-In
155 Porters Point Rd., Colchester, sunsetdrivein.com
So, the main attractions at this summertime spot are the movies projected onto four screens, rain or shine. But the cheap dinners from the snack shack go way beyond popcorn. Old-fashioned burgers, fries, hot dogs and ice cream will keep you and your date from nodding off during a long double feature. If that's not your speed, pack a picnic of wine, cheese, chocolate and strawberries (grab them in season from nearby Sam Mazza's Farm Market) and let the wooing begin.
A Single Pebble
Traditional preparation and presentation distinguish Chinese dishes such as mock eel — a fave of the Food Network's Alton Brown. Sunday's leisurely dim sum tasting menu is perfect for canoodling.
Drifters
156 N. Winooski Ave., Burlington, driftersvt.com
Dating on a budget? $5 cans of Citizen Cider and super-cheap tallboys of mass-market brews complement kimchi ramen bowls and barbecue pulled-pork sliders at this cozy neighborhood joint. Check out the backyard beer garden.
Honey Road
Three James Beard Award nominations distinguish Church Street's busy Middle Eastern bistro, where the masterful mezze include baba ghanoush and braised lamb. If the weather's warm, grab a seat on the sidewalk patio and let evening fall around you.
Monarch & the Milkweed
A skilled pastry chef dishes out food that's as upscale as it is approachable. Think melty grilled cheeses, crackly fried chicken, crisp Waldorf salads and desserts worthy of love letters.
Pascolo Ristorante
83 Church St., Burlington, pascolovt.com
Share a bowl of handmade pasta with your sweetheart. The stellar wine list and low-lit dining room set the scene for a romantic spaghetti smooch, à la Lady and the Tramp.
Pizzeria Verità
The downtown pizzeria is a hit for its thin-crust, Neapolitan-style pies. But it's also a lively bar where the lights are low and the cocktails strong enough to keep the conversation flowing — even on an awkward first date.