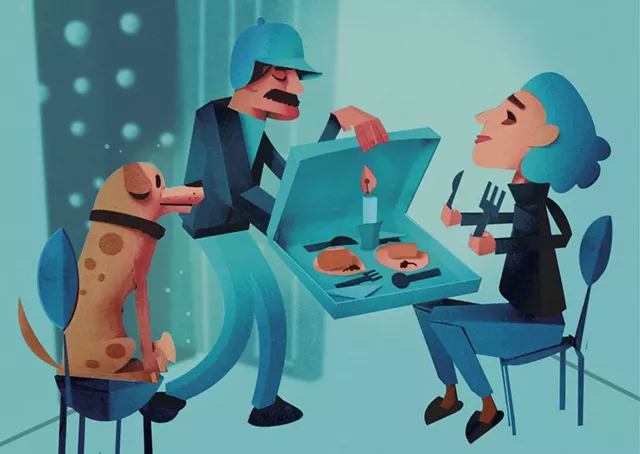 The weather delivered the usual — snow, cold and wind — on the Saturday night I decided to eat dinner via Mr. Delivery, a restaurant delivery service. My editor had proposed riding along with a Mr. Delivery driver, but I opted to go user-friendly and give the service itself a shot.
Mr. Delivery's website announces, "We're in 49 hungry cities across the USA and growing!" A yellow icon pops up on the screen asking, "Hungry? We Can Help!" About 35 restaurants populate the company's Burlington site, including Papa Frank's in Winooski, My Little Cupcake and Ahli Baba's Kabob Shop in Burlington, and Everest Indian-Nepali Restaurant in South Burlington.
My first step was to create an online account. This barrier to entry is one I typically choose not to scale, but in the interest of journalism I pursued. Though my daughter cautioned me against broadcasting the password I chose, in the spirit of YOLO I'll reveal it. (I've since deactivated my account.)
Having run through Bob Dylan's lyrics to access my digital world, I looked elsewhere and chose the obvious: "food." When Mr. Delivery rejected it for being too short, I doubled down and typed in "foodfood." The digital restaurant gates opened wide.
It was a soup kind of night, so I clicked on downtown Burlington's Gaku Ramen and ordered Japanese cucumber salad and vegetable shoyu with a couple of add-ons: a soft-boiled egg and miso mushrooms. The website told me to expect my meal — which came to $37.09 with delivery fee and driver's tip — in 60 to 90 minutes.
A dozen or so emails kept me posted on the status of my order, which arrived in 50 minutes. The driver had pulled away by the time I discovered that my bag contained pork buns and pork ramen, not the vegetarian meal I had ordered.
I called Gaku Ramen, where a staffer apologized and turned over critical info: the phone number to call to get my money back. The number rang up a call center in Cape Town, South Africa, where I spoke to a friendly and efficient woman who arranged for a refund. She told me it was 32 degrees Celsius (about 90 Fahrenheit) in Cape Town. No need for delivery there.
On a different evening, take No. 2 with Mr. Delivery was a success. A very good spinach empanada and rice-and-bean bowl with tofu ($28.27) arrived in about 45 minutes from Dale Boca Café in Winooski. My at-home taste test, complete with garlicky black bean soup, served to jumpstart my intention to visit the Argentinean restaurant, which opened in December.
One of our dogs almost left with the Dale Boca delivery guy, but she decided to stick around and even joined in the meal. I found her licking a container of super-good chimichurri sauce, doing her best to snap the top off.
Ahli Baba's was on my Mr. Delivery short list, so I called them to ask about the delivery aspect of their business. Cook George White said the restaurant gets about eight orders during the day shift, mostly from University of Vermont students. (Business drops off when UVM is not in session.) With more than one meal per order, White estimated that the daytime delivery business brings in about $150. "It's a pretty steady thing," he said.
I've since learned of other players in the Burlington food-delivery game, including Uber Eats and DoorDash. The latter service lists about 45 restaurants on its website, including Bleu Northeast Seafood and Butch + Babe's in Burlington, as well as Zen Gardens in South Burlington. Fried clams, seafood chowder and a steak at the doorstep? Our dogs could get into this.