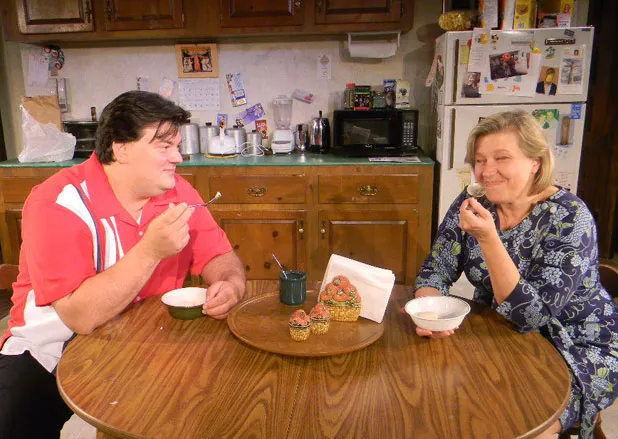 Emily Mikesell and Stephen Pelletier
The Aqua Royal Red Hats are settling into their seats. The dowagers remove their trademark fashion accessories for the sake of politeness. Another faction, from the Albany Jewish Community Center, takes up a sizable number of tables at TR's Restaurant, the Teddy Roosevelt-themed dining room at Holiday Inn Resort Lake George-Turf. Some sit at floor level, others on carpeted risers.
Shortly servers will bring out Caesar salads, lightly dressed in tangy, garlicky cream and just enough grated Parmesan. However, the entrées that follow are far from the main event. That would be a performance of Jon Lonoff's 2004 farce Skin Deep. The play's the thing at Lake George Dinner Theatre, though the food, served at tables surrounding the floor-level stage, is certainly part of the attraction.
What we're witnessing here — at 11:30 a.m. on a Thursday — is no longer a common way to dine out in America. According to Lake George Dinner Theatre owner and producer Terry Rabine, there are 17 Actors' Equity dinner theaters remaining in the United States. This is one, though it is not among the 26 members of the National Dinner Theatre Association, which must be active for at least eight months of the year and pay their performers (who don't need to have Equity cards). Lake George is disqualified from membership because it puts on shows only during the tourist season — July through October.
Compare those numbers with the national total of 147 theaters in operation in 1976, the year Lake George Dinner Theatre, formerly a summer stock company, moved into its current digs at the Holiday Inn. Today, the dinner theater is a dying breed, much like drive-in movies and carhop service. Greater Burlington once had its own, called Five Reasons Dinner Theater, in the building that now houses Franny O's bar; it closed in the 1980s. One of New England's last dinner theaters, the nonprofessional Amesbury Playhouse in Massachusetts, was forced to shutter just last July.
The Lake George Dinner Theatre is alive and well, though it can sometimes feel encased in amber. Diners choose their meals when they order tickets. Upon arriving for lunch or dinner, they're given colored stubs to place on the table to remind servers of their choices. The blue slip of paper is decorated with a kitschy drawing of a fish, while a pink one displays a country-cute piggy with the word "pork."
The resort's executive chef, Michael Squires, spearheads the preparation of as many as 135 plates for each meal, often with two meals (and shows) a day. When we dined at the dinner theater, butter-poached broccoli was the vegetable du jour. Halved baby potatoes came buttery, too, and lightly crusted with salt. Broiled salmon was tender and low on fishy taste. Grilled beef medallions were lean and cooked medium-well by default, but seasoned artfully enough that they didn't taste like shoe leather. According to the online menu, the beef was supposed to come in Bordelaise sauce, while the salmon should have had Hollandaise with dill. Both were actually slathered in Béarnaise sauce, which only added to the orgy of butter — not necessarily a bad thing, but certainly redolent of the swinging '60s — or the fusty '50s.
Of course, it's unlikely anything too newfangled would fly here. "My sense is an awful lot of my audience is retirees," says Rabine, understating the matter.
The audience's current demographics are what you'd expect at a weekday lunch. But the producer says younger people don't seem too enthusiastic about visiting his theater on nights and weekends, either, and he sees this as an industry-wide trend. "Younger audiences are where the audiences are falling off a bit. That's one of the reasons performing arts in general are suffering. It will pass," Rabine says with certainty. "We'll see better numbers with our stronger business model. When the economy is difficult, like it has been now for dozens and dozens of years, this happens."
How does dinner theater have a "stronger business model" than theater sans dining? Rabine points to the camaraderie of people sharing a meal, including small groups of people who find themselves mixing with strangers at the large tables. Since he became involved with the theater as a young actor, he says, he's seen many a friendship develop. "In my marketing for the dinner theater, I use the term 'fun for grown-ups,'" says Rabine. "People who come really enjoy talking and laughing amongst themselves."
On this Thursday, as dessert is served, the diners in the nearly full house are certainly enjoying themselves. Servers present senior-sized slivers of cheesecake striped with blood-red raspberry coulis. The light-looking cake is deceptively filling, with a dense, creamy body and a heaping mound of whipped cream on top. It doesn't have a strong flavor personality, but lacks the unpleasant acid of many cheesecakes. One 82-year-old Albany JCC member downs it to a shaky rendition of "Happy Birthday."
After a 15-minute bathroom break, the entertainment improves as the lights dim and Skin Deep's musical introduction plays. Slowly, the gabby audience falls silent. No one onstage will provide competition for the JCC's collective singing pipes. Rabine says Lake George's dinner theater is the smallest in the country. While the "intimate" room guarantees that no audience member is more than 30 feet from the stage, its acoustic difficulties prevent Lake George from presenting musicals, the bread and butter of most dinner theaters.
Instead, Rabine chooses to direct straight plays with small casts. They're always comedies, he says, because he wants to keep things light for a crowd that may not normally be theatergoers. "I try to shy away from making it exclusive," he says. Recent shows have included the 2004 regional theater premiere of Steve Martin's period comedy The Underpants. Last year, the dinner theater inflamed some of its more conservative regular customers by building its season around Our Son's Wedding, a humorous dramatization of a couple's reaction to the impending marriage of their gay son.
With only one show a season, Rabine has to pick carefully. By the howls of laughter and coos of satisfaction from the audience, it's clear Skin Deep was a good choice.
It's an apt one for a post-meal performance, too. Food is a central theme in the play, which focuses on an overweight Forest Hills dental hygienist named Maureen Mulligan and her search for love. Her suitor, Joseph Spinelli, whom we first meet in the basement of his Bensonhurst restaurant, is a chef-owner, and more than a little pleasantly plump himself.
Maureen takes some time to reach the realization that she must learn to love herself before allowing Joseph into her life, and her food-focused journey is at times laugh-out-loud funny. When Maureen opens up to Joseph about having been left at the altar by a past love, she admits that she kept her entire wedding cake and ate it herself in grief. "Was it a good cake?" asks her date.
"Yeah," she responds. "And I ate it, too! Myself. All of it. From a bakery in Bensonhurst, as a matter of fact. Maggio's."
"Maggio's. I know Maggio's. Must've been a great cake," he agrees excitedly.
After the first act ends — with Maureen's intimacy issues causing her to shun Joseph — the lights go up, and the stage manager performs an unusual set transformation. She hits the stage and strews food wrappers across the prop couches and counters, making Maureen's domicile look like a convenience store hit by a tornado.
The centrally positioned, uncurtained stage gives audiences the uncommon treat of exploring scenic designer Anthony Krivitski's handiwork at close range, as if we're snooping in Maureen's home. The devout Catholic's refrigerator is decorated with Jesus magnets, as well as photos of her meddling sister and brother-in-law, supporting characters Sheila and Squire Whiting. Her toaster oven is in bad repair after years of overuse. The spoils of her overeating include empty pizza and doughnut boxes, along with a less expected container of Goya yellow rice.
The play's final scene turns into a slamming-door farce, as Sheila and Joseph both incorrectly assume Maureen has begun carrying on with Squire. All the while, Maureen waits for a delivery of four overstuffed bags of food from Lucky Dragon Chinese Restaurant. In the final moments of the show, Joseph and Maureen share their first kiss, to sighs and applause from the house. The audience has clearly been transported and is rooting for the normal, amiably funny pair, brought to vivid life by Emily Mikesell and Stephen Pelletier, both big-city pros.
Some might worry that the days are numbered for such an afternoon of eating and entertainment. But Rabine sees his medium as a living entity. "I wouldn't be here if I wasn't sure it had a future," he says. "I think there's a real future for what we are doing as compared to other professional theaters."
Maybe Rabine's got the right idea. Combining expanding foodie culture with the performing arts could be just what traditional theater needs to survive.