Jeb Wallace-Brodeur
Big Picture Theater and Café
Dinner and a movie? You can get 'em both — under one roof — at Waitsfield's Big Picture Theater and Café. Five years ago, owner Claudia Becker purchased the ailing cinema at the northern edge of the Mad River ski town and transformed it into a local-food mecca and community center. Chef Amanda Astheimer, a New England Culinary Institute grad, runs the kitchen. She draws from a broad range of culinary traditions — think salad niçoise, coconut curry soup, fish tacos and spanakopita — but composes her dishes using ingredients from close to home: local cheeses, meats and eggs; Vermont-made syrup and preserves; and produce from the café's own Small Step Farm.
In the morning, lots of locals stop by to pick up coffee — and maybe a signature maple-glazed doughnut — on the way to work. The lucky ones linger for an omelette, flapjacks or huevos rancheros. Come lunchtime, a lively crowd noshes on creative salads and sandwiches such as a croque monsieur or curried chicken. The drinks come with a twist, too: Try a house-made mocha milkshake or pomegranate soda.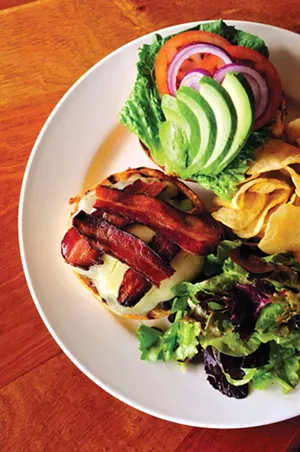 Jeb Wallace-Brodeur
Big Picture Theater and Café
When night falls and the marquee lights up, the small wooden bar serves up a full selection of spirits, local beers on tap and wines by the glass. Then a spinach salad dusted with Boucher blue cheese, hazelnuts and cranberries might lead to a strip steak smothered in a cumin-flecked chimichurri sauce.
A glass case stacked with pies and cakes beckons diners still hungry for maple-glazed-doughnut bread pudding or a sinful, sticky mound of donut chunks topped with whipped cream.
Best of all? You can eat — and drink — in either of the theaters, at tables along the wall. And Big Picture's film features are as varied as the food. You'll never settle for popcorn and a Coke again.