Jeb Wallace-brodeur
Randy George making pizza at Red Hen Baking
The season for dining outside in the Green Mountain State is short, lovely and popular in normal times. During a pandemic, al fresco dining is especially desirable — even mandatory in some locations. Here are two outdoor eating excursions to try.
Red Hen Baking
961 Route 2, Middlesex, 223-5200
A series of signs leads people approaching from the west to the recently launched Friday evening pizza at Red Hen Baking in Middlesex.
A set of pink hearts on black posts rises from a field near the bakery-café. The word "HUG," carved in wood and taller than a person, stands as a sculptural piece on the perimeter of the field. And on Route 2, in front of the blue sign that welcomes people to Middlesex, is a new one: Artist Dennis French's rendering, in pink and red, states: #ICAN'TBREATHE. He also made the hearts in the field.
"The artistic side of our mind is where we're going to save ourselves," said Russ Bennett, a designer/builder/sculptor and co-owner of the Camp Meade property, where the bakery, an art gallery and other businesses are located. "[French's] work has a nice feel to it; it's not too weighty."
Signs about congregating safely in a pandemic are posted by the outdoor oven, built by stone artist Thea Alvin behind Red Hen. One of them reads, in black block letters: "Your MASK is your admission ticket to the green."
The green is a 1.4-acre expanse that's transformed on Friday evenings, from 4 to 8 p.m., into an al fresco pizza place. Randy George, who co-owns Red Hen with his wife, Eliza Cain, bakes wood-fired pizzas with chef Rob Booz. The couple's teenage daughters take orders and payment at a table by the outdoor kitchen.
In addition to pizza, the menu includes salad made with local greens, as well as housemade ice cream sandwiches. Lost Nation Brewing of Morrisville serves beer at an outdoor bar.
"Part of our mission at Camp Meade is to help provide the tools for community," said Bennett, who owns the property with Alan Newman (a founder of Magic Hat Brewing) and Middlesex resident Mike Pelchar. "We want to make the green space be like the town park."
Creating community is a tricky proposition during a pandemic, when public health officials recommend that people maintain a suitable distance from each other and refrain from gathering in crowds. Bennett's experience in creating community includes making festival spaces for Phish shows, such as Lemonwheel, the August 1998 event that drew about 60,000 people to Limestone, Maine.
These days, providing a place for people to gather calls on both "science and art," according to Bennett. It involves "keeping people together in safe family groups and apart physically," he wrote in an email. A key element is for people to be safe and feel safe, he stressed.
The night we ate pizza at Camp Meade, I counted 15 paces between our table and the closest one — a good 20 to 22 feet. The grass is marked with circles 10 feet in diameter where families can eat together. The grounds offer a play structure for kids and other sculptural elements.
961 Route 2, Suite B
Barre/Montpelier
Middlesex, VT
802-223-5200
Baked Goods and Soup 'n' Sandwich
The impulse, before and after eating, is to explore the green. Visitors can check out Bennett's tall yellow pencil sculpture and the big stone chimney, a vestige of the Civilian Conservation Corps barracks from the 1930s. Diners can head to the edge of the property and its steep drop-off to the Winooski River, or walk to the tree tagged with a knitted banner around its trunk that reads: "Karma is not a rumor."
"I want to thank them," Bennett said of the anonymous guerrilla artists. "That's exactly the kind of energy we want to have show up."
At Camp Meade, the energy is easygoing and welcoming, but Bennett said he doesn't want the place to become "too enticing." (Last Friday, the third pizza night, he planned to have security personnel on-site to help ensure people's safety.)
"The thing we're most concerned about is doing the right thing for the community," George said.
Pizza and beer is often the right thing, and the pies that emerge from Camp Meade's oven are blistery and flavorful, characterized by a light, springy crust.
The dough, made with a natural levain and a little yeast, is a modified version of Cyrus Pringle bread dough, George said. That's one of the signature loaves made at the bakery, which George and Cain founded 21 years ago in Duxbury. The couple moved Red Hen to Camp Meade in the fall of 2007 and added a café. It offers an array of baked goods along with soups, salads, sandwiches, beer, wine and local cheeses.
The café is currently closed for in-house dining, but Red Hen built a window for takeout service on its east-facing wall and added online ordering.
The pandemic "has prompted us to do things that we never thought we would do but had talked about," George said, referring to website and window service.
By the first week in July, Red Hen will also offer pizza nights on Saturday and Sunday in order to accommodate more people safely.
"We can't be a victim of our own success," George explained. "The way to deal with that is to add other days."
Dedalus Wine Shop, Market & Wine Bar
388 Pine St., Burlington, 865-2638
James Buck
Grilled oysters and Kasekrainer sausage at Dedalus Wine Shop, Market & Wine Bar
Zach Yindra started his job as executive chef at Dedalus in mid-March, just as Gov. Phil Scott closed restaurants to help stem the spread of the coronavirus.
"Life is strange," Yindra said.
The 31-year-old chef had recently moved to Winooski from southern Vermont, where he was executive sous chef at the Equinox Golf Resort & Spa in Manchester. At Dedalus, Yindra immediately "pivoted" — the word du jour for restaurants — and started making more prepared foods for Dedalus' market, which remained open as an essential service.
In the wine and cheese shop, a refrigerated case holds items from Yindra's kitchen: housemade sausages, pickled vegetables, caponata, Bolognese sauce and more.
With the lifting of restrictions on restaurants, Dedalus has expanded its options. Last weekend, indoor dining at 25 percent capacity opened at the Pine Street restaurant. The patio is also open for diners. (Reservations are required for both.)
People seeking a more casual atmosphere can order from Dedalus' grill-and-go menu and eat at a picnic table on the front lawn. Diners get a street view to the west and a garden view to the north.
On a recent evening, we walked up the patio steps, found the menu posted on a chalkboard, and ordered a selection of small plates and two glasses of wine from an employee at the host stand. We carried our wine, served in disposable cups, to one of the tables and sipped it while waiting for our name to be called, signaling our food was ready.
The meal was packed in to-go containers and set in paper shopping bags. (This was convenient for taking home leftovers and the excellent buttermilk tart with rhubarb jam that we saved for dessert.)
The service method is simple, pleasant and contact-free — though someone had their gloved hands on the dozen grilled oysters that drew me to Dedalus. Shucking is a high-contact activity. (Yindra said he washes his hands about 30 times over an eight-hour shift.)
The oysters are cooked on a wood-fired grill, which the chef said is standard in the mid-Atlantic coastal region and the South.
"The temperature and texture change is what it's all about," said Yindra, who grew up in Lewes, Del. "It's a little twist of where I'm from."
The grilling cuts the slime and adds a smoky tinge; it was an intriguing rookie experience for a raw-oyster devotee, and worth repeating.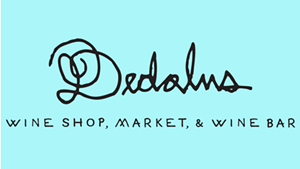 388 Pine St.
Burlington, VT
802-865-2368
Wine Bar and Specialty Food & Drink
Yindra serves the oysters with blood-orange hot sauce, made by sautéeing jalapeños and onions, adding blood-orange purée, and straining the mixture. A little splash lends plenty of heat; we used some for dunking our grilled flatbread.
The housemade sausage that Dedalus sells in its market is featured on the grill-and-go menu and was a highlight of our meal. The Kasekrainer is stuffed with Shelburne Farms cheddar. The sausage snaps, and the cheese squirts when you bite it. Served with a smear of grain mustard and eaten on a slender wooden skewer, it's the perfect street food.
Yindra's experience includes cooking at Blue Hill at Stone Barns in Westchester County, N.Y., a preeminent and influential farm-to-table restaurant. Working there was the "most memorable" professional gig he's had so far.
"It was an unbelievable experience," said Yindra, who started as an intern at Blue Hill and was invited to return as a cook. "I was really, really lucky — they liked me."
In his new, COVID-19-era position at Dedalus, Yindra called the constant handwashing, glasses fogging up due to his mask, the discomfort of face coverings in a hot kitchen and the challenge they impose on customer relations "trivial stuff." His primary concern is maintaining the safety of staff and guests, he said.
Yindra plans to update the menu at least once a week, prioritizing seasonal and local ingredients. His interest in working with local producers includes purchasing flour from Elmore Mountain Bread, which he uses for baking daily focaccia.
"I'm grateful to be working," Yindra said. "I'm really happy to be open, and I'm happy that people are in the shop."