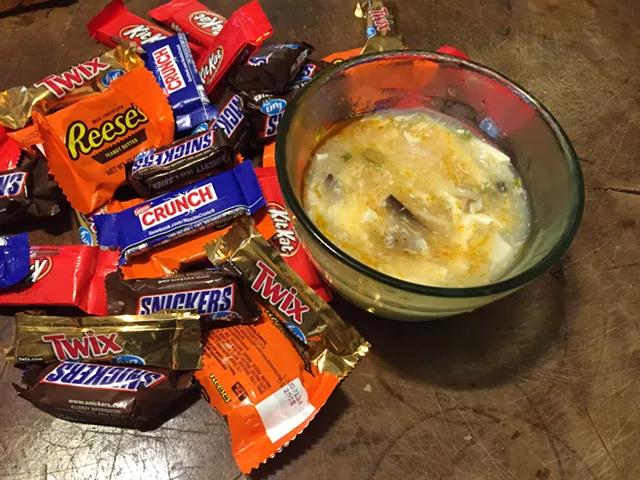 SALLY POLLAK
Halloween treats and hot and sour seafood soup.
On Halloween, there was a lot of cheap food in front of me — little Snickers bars and two-stick Kit Kats, mini Twix in shiny foil and baby Nestlé Crunch bars in their blue wrappers.
I could've eaten 24 little Crunch bars for $3, or a pint of hot and sour seafood soup for $4.25. I decided to go for the soup.
As goblins and black cats began to prowl my neighborhood, I hopped in the car and beat a path south to
Zen Gardens
— a Chinese restaurant that has been hidden off Shelburne Road near
Palace 9 Cinemas
for 11 years. It's worth scoping out.
I had called ahead to order the soup and steamed vegetable dumplings to go. My order was ready and waiting for me in less than 15 minutes. At the pickup counter, I helped myself to a mini Krackel and Mr. Goodbar, knowing the neighborhood kids would soon wipe me out.
By 5:45 p.m. I was on our stoop with a big wooden bowl full of sanctioned junk food for giveaway, and my little Halloween jackpot: a bowl of spicy seafood soup.
The hot and sour seafood soup is only available for two people — $8.50 a quart — or $4.25 for a meal's worth. Adding the veggie dumplings ($6.50), flavorful bundles stuffed with bok choy, still kept my Halloween supper under $12.
The broth-based soup, with egg for oomph, is filled with shrimp, scallops, black mushrooms, tofu slivers and crunchy bamboo shoots — plus drops of chili oil shimmering on top. I almost felt guilty handing out Reeses's peanut butter cups to fairies and linebackers while I slurped the night's real treat.
The soup comes with one of God's great gifts: crispy noodles and bright-orange duck sauce, a glorious combination of salt, fat and tang — the perfect antidote to Halloween candy.
Dining on a Dime is a weekly series featuring well-made, filling bites (something substantial enough to qualify as a small meal or better) for $12 or less. Know of a tasty dish we should feature? Drop us a line: food@sevendaysvt.com.