SALLY POLLAK
Multi-colored lunch at Stone Soup
Before I took my first bite of lunch at
Zabby & Elf's Stone Soup
in downtown Burlington, I counted the number of colors on my plate. I quit this exercise at 14, and I'm sure there were a few hues I failed to tally: the muted green poblano peppers hidden under variegated lettuce leaves; the browns and greens of my olives; the tomatoes buried beneath spanakopita — a spinach pie that held three-colors-in-one.
I paid about 50 cents per color on the plate set before me — a rainbow assortment of food that cost $7.90, $8.61 with tax.
Mixing colors, flavors, textures and food groups is one of the pleasures of eating at Stone Soup, where the kitchen sets out a creative and healthy set of dishes and ingredients from which to make a plate. I had four shades of red in my meal: deep maroon of beets, bright-red roasted baby tomatoes cooked with chicken mole, rounds of pickled onion, red-leaf (purple) lettuce. The color orange made three appearance: shredded carrots, golden beets, cardamom-orange apricots.
The number of colors — 17 or 18 — roughly matched the number of minutes I spent in the restaurant. No, I wasn't rushing or rushed. In fact, I had plenty of time to do all I needed to do: schmooze with the counter people, survey the selections and load up my plate, get a fork and a glass of water, photograph my food. Eat.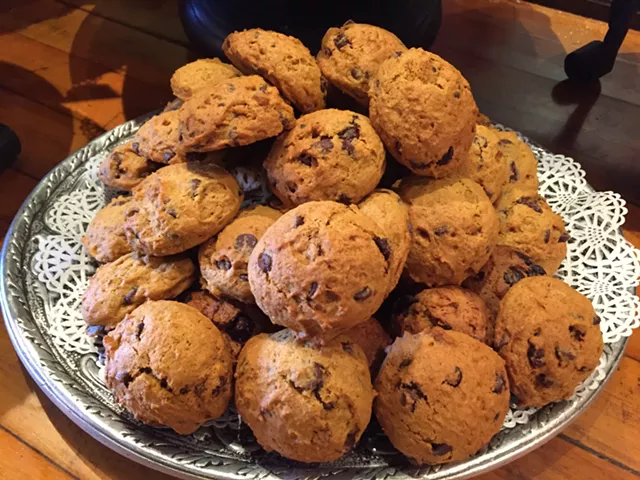 SALLY POLLAK
Pumpkin-chocolate chip cookies at Stone Soup
On my way out I added two colors to the palette of my meal: amber and dark brown. These are the tones of the pumpkin-chocolate chip cookies piled on a plate on the counter. One cookie is $1.25, bringing the cost of lunch to about $10.
Dining on a Dime is a weekly series featuring well-made, filling bites (something substantial enough to qualify as a small meal or better) for $12 or less. Know of a tasty dish we should feature? Drop us a line: food@sevendaysvt.com.