Sally Pollak ©️ Seven Days
Dinner from Stone Soup
Normalcy — sort of — returned to College Street in Burlington last week in the form of sweet potatoes, kale and brown rice.
The mainstays of the hot bar at
Zabby & Elf's Stone Soup
are back in action after a six-month moratorium. The cafe's trio of basics made their comeback along with sandwiches, soups, muffins and bread — and the changing array of items in the hot and cold bars.
The un-normal part is that this last category of food is no longer self-serve, which was Stone Soup's pre-pandemic way. In the new system, a staffer fills your plate for you. A Plexiglas shield — probably the prettiest in town — guards the food and the people, and separates one from the other.
(Ever been tempted to snitch a crouton or an olive when you serve yourself at Stone Soup? Sorry, that game is over.)
The new system at Stone Soup works two ways: You can guide a staffer and tell them what you'd like — three chicken wings, please, some curried cauliflower and chickpeas and those seared Brussels sprouts! How about some salad and cottage cheese, a spoonful of pickled beets, a hit of roasted mushrooms and dried apricots.
Or you can opt for a chef's tasting plate: $10 for small, $15 for large. Specify vegan, vegetarian or omnivore, and let a Stone Souper pick your food for you.
I'm always pleased to relinquish responsibility, so I chose the second option when my daughter and I stopped at Stone Soup for dinner last week. Though the dining room is open at reduced capacity, with off-limit tables marked by arrangements of flowers and stones, we took our meals home.
Sally Pollak ©️ Seven Days
Hanging plants in the open window at Stone Soup
"We're working hard to create products that work in this setting, but still serving the food everybody has been used to," co-owner Tim Elliott told me before the September 9 reopening. "You need to have trust in your server."
As it happened, co-owner Avery Rifkin was on duty the evening we stopped in and I trust him (and everyone else) to feed me. I chose the small plate ($10) to qualify for
Dining on a Dime
, and had $2 left for a chocolate cookie. Rifkin loaded me up with food I've been missing for six months: chicken wings, kale salad, cucumber salad, mac and cheese with vegetables, beet hummus, a thick slice of whole wheat bread.
Stone Soup's reopening coincides with Rosh Hashanah, which starts this Friday at sundown. If I could pick a word to describe the marking of the Jewish New Year at Stone Soup, normal is
not
the word I'd select. The café's candlelit celebration is one of a kind. (At least I've never seen anything like it in a restaurant.)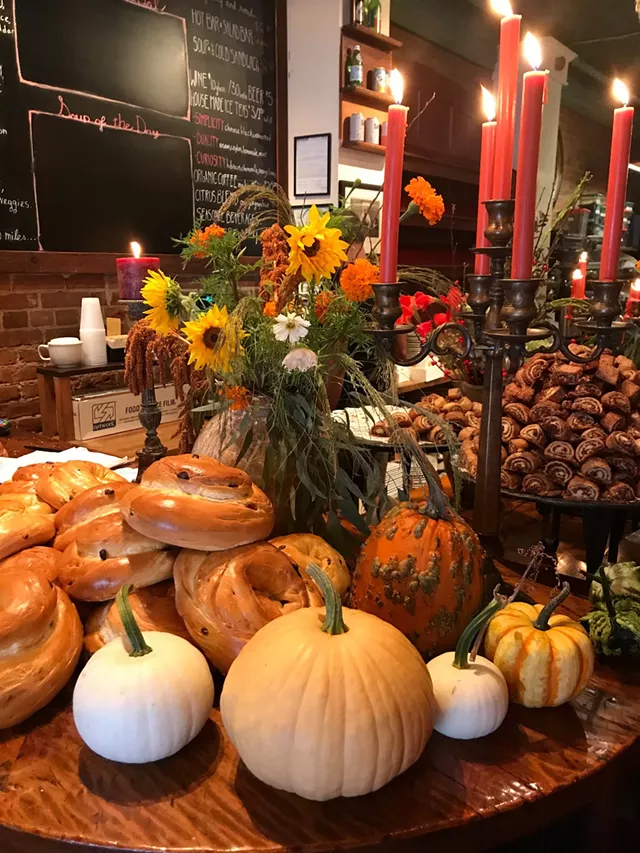 Sally Pollak ©️ Seven Days
Rosh Hashanah at Stone Soup in 2019
Rifkin said he'll start working at 7 a.m. Thursday on his Rosh Hashanah preparation, and he'll be at Stone Soup straight through until Friday afternoon. Though the café opens at 9 a.m. these days, people are welcome to come in earlier Friday morning, he said.
Rifkin will bake 150 to 200 loaves of round challah, the only week of the year the challah is round. The baker will make rugelach, mini-babkas, apple cake and honey cake. The counter will hold candles, flowers, pumpkins and gourds, along with baked goods.
In years past, apple slices and pieces of cake were set out for people to help themselves. They were placed near a tiered stack of rugelach, an annual engineering marvel.
Who knows what the presentation will be this year. But I have high hopes that Rosh Hashanah at Stone Soup will be — as usual — not normal.