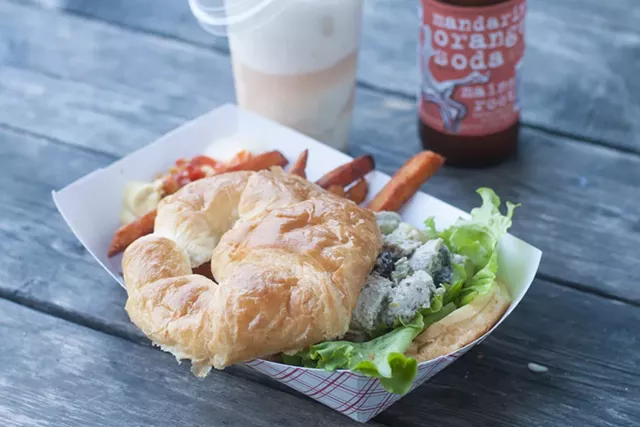 Hannah Palmer Egan
Chicken salad sandwich at Whippi Dip
In the upper Connecticut River Valley, everyone goes to
Whippi Dip
. Located in Fairlee village, the longtime snack bar is favored by groups from nearby summer camps, where counselors use it as a bribe (
Be good campers, and maybe we'll go to Whippi Dip later
). Locals use it for a quick, cheap lunch or dinner (almost everything is priced $3 to $10) or evening ice cream.
And, while the service varies from speedy to deathly slow, the food is fresh, thoughtfully crafted and, by snack-bar standards, relatively healthy. Sure, there are the usual burgers — made with local beef, turkey or black beans — fried seafood and ice cream. But Whippi Dip's
menu
also offers tacos ( pork, beef, fish or veggie), breakfast burritos, salads (Mexican, Asian or garden) and sandwiches stuffed with house-smoked brisket or pulled pork.
Last night, I went for a puffy croissant from the specials board. It cradled crisp lettuce and cool cubed chicken breast tossed with red grapes (these added a sweet pop of moisture), sage and just enough mayo to marry the flavors but not make things heavy.
That rang in at $7.62 — including a $2 up-charge to swap crispy sweet-potato fries for chips. That felt like a decent deal since eating just half of it filled me up. But, since the evening was unbearably hot and sticky, I finished with a creamsicle float. That's a serious scoop of
Kingdom Creamery
vanilla ice cream doused in Maine Root mandarin orange soda, for $2.98. I left happy, cool and stuffed.
And by morning, I already craved another ice-cream soda.
Dining on a Dime is a weekly series featuring well-made, filling bites (something substantial enough to qualify as a small meal or better) for $12 or less. Know of a tasty dish we should feature? Drop us a line: food@sevendaysvt.com.