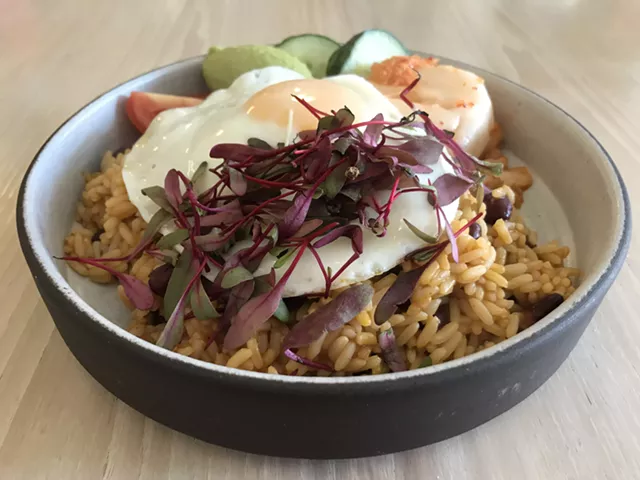 Sally Pollak
Rice bowl at Vergennes Laundry by CK
The choice was between three cider donuts dusted with cinnamon sugar and a rice bowl. I eyed the former and picked the latter.
These brunch options at
Vergennes Laundry by CK
are $12 each, tax and gratuity included. The donuts, $4 apiece, were mighty tempting, but I thought I should start my Sunday with a little nutritional balance. As it turned out, I was rewarded with a creatively delicious meal built in a bowl.
A fried egg, garnished with microgreens, topped a bowl of rice and kidney beans. The rice was sautéed with achiote paste, coloring it a pale orange and flavoring it with a touch of nuttiness. Tomato wedges, cucumber slices and kimchi were set around the bowl's perimeter, lit up by a scoop of lusciousness: avocado pureed with onion, cilantro, lime juice, salt and pepper. The spoonful of avocado, thick and smooth, served as a paste to be apportioned with each bite. The rice bowl is here to stay, said Christian Kruse, 34, chef-owner of the restaurant.
"I've taken it off the menu one time," Kruse said. "And I was told [by customers] not to ever again."
Kruse grew up in Westford and graduated from
Rice Memorial High School.
He became interested in cooking when he lived on Church Street and watched the action in the open kitchen at the
New England Culinary Institute
restaurant that was on the Marketplace. He then enrolled at NECI.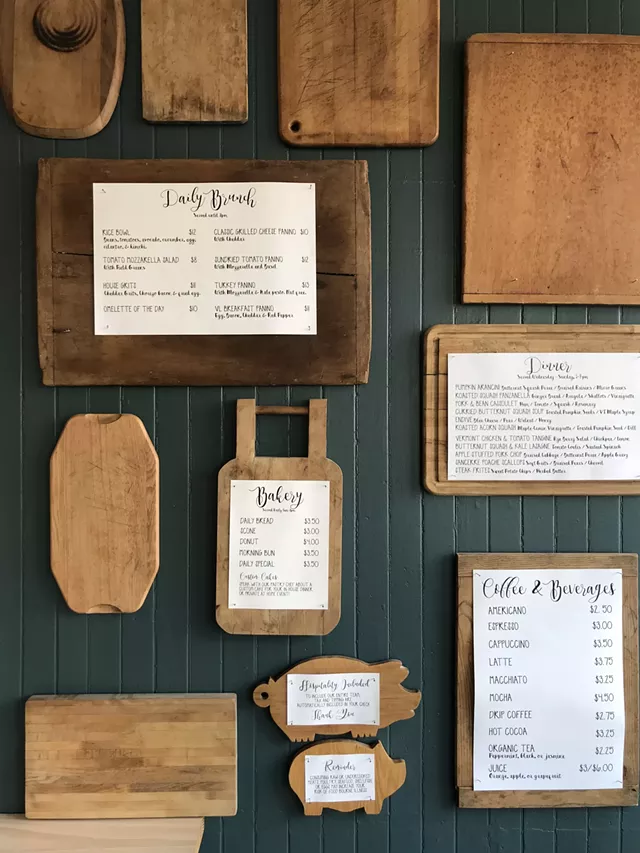 Sally Pollak
Menu board at Vergennes Laundry by CK
Kruse purchased Vergennes Laundry in the fall of 2017 from Julianne and Didier Murat, who ran the bakery and café for seven years. He spent a month renovating the space before opening his restaurant last December. He changed the name slightly — from Vergennes Laundry to Vergennes Laundry by CK — and the offerings more than that.
Sally Pollak
Cappuccino at Vergennes Laundry by CK
Though the café still serves baked goods, coffee and espresso drinks in the morning, as well as more substantial meals, Kruse added dinner service five nights a week. Like the breakfast/brunch menu, dinner prices include tax and tip; a three-course dinner is $39, dishes are available a la carte, too.
The former executive chef at
Basin Harbor Club
, Kruse is cooking at both ends of the day. He arrives at Vergennes Laundry by CK at 5 a.m. and is typically there until 10 or 11 at night.
"The labor pool of cooks is tough in this area," Kruse said. "There are a lot of restaurants, and we're all fighting for the small amount of cooks that are available."
There's another reason Kruse spends so much time in the kitchen: "I love what I do," he said.
Dining on a Dime is a weekly series featuring well-made, filling bites (something substantial enough to qualify as a small meal or better) for $12 or less. Know of a tasty dish we should feature? Drop us a line: food@sevendaysvt.com.