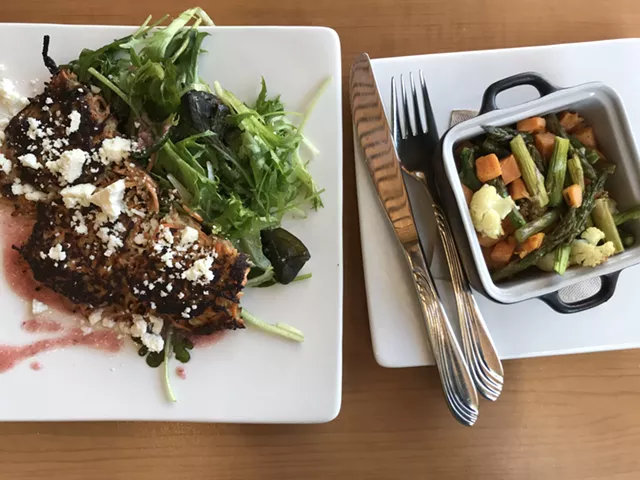 Sally Pollak
Carrot fritters and roast vegetables
A voluntary trip to the hospital is not a bad thing. Such an outing comes with benefits if the destination is the Garden Atrium café at the
University of Vermont Medical Center
.
Cost and personal choice are two of the pluses. Local and fresh are two more. With a longstanding commitment to sourcing local ingredients, UVMMC purchases food from more than 70 regional farmers and producers, according to its website.
But let's start with cost. Some hospital trips — let's say for a mammogram or a tetanus shot — include a mystery about the price of the service. Even after the bill arrives.
At the Garden Atrium, prices are listed on a blackboard. And they're low. I got three carrot fritters dressed with feta and a tangy cranberry vinaigrette and served with a side of greens for $4.25. My side of roast vegetables was $1.25. The only thing cheaper was the free parking because I was in and out in an hour.
Let's move to choice. There was plenty. I was tempted by the soup of the day – mushroom, bacon and kale for $2.95. New England crab cakes ($6.25) came on arugula sautéed with maple-brined bacon, and served with a side of pickled root vegetables and remoulade. Ravioli ($7.25) had everything you'd cook it with at home — roasted red peppers, spinach, garlic, white wine, shallots and more — plus stuff you'd want at home but wouldn't have (artichokes and mascarpone). I'm stilling thinking about the passed over red pepper and white bean hummus ($3.75) with olive tapenade, dill and toasted naan. The list goes on.
Sally Pollakl
Raised-bed gardens at UVMMC
Options extend to the dining area where seating includes a big chair with attached desk-top that faces raised-bed gardens, spots around the gas fireplace in the center of the room or traditional dining at a table. Wherever you sit, meals are delivered.
Many trips to the hospital are inconclusive and this one was, too. The lingering question concerns the third vegetable in my side of roasted veggies. The menu listed carrots, cauliflower and asparagus but I'm pretty sure the orange food in my bowl was sweet potatoes. For $1.25 and lots of garlic, who cares?
Dining on a Dime is a weekly series featuring well-made, filling bites (something substantial enough to qualify as a small meal or better) for $12 or less. Know of a tasty dish we should feature? Drop us a line: food@sevendaysvt.com.