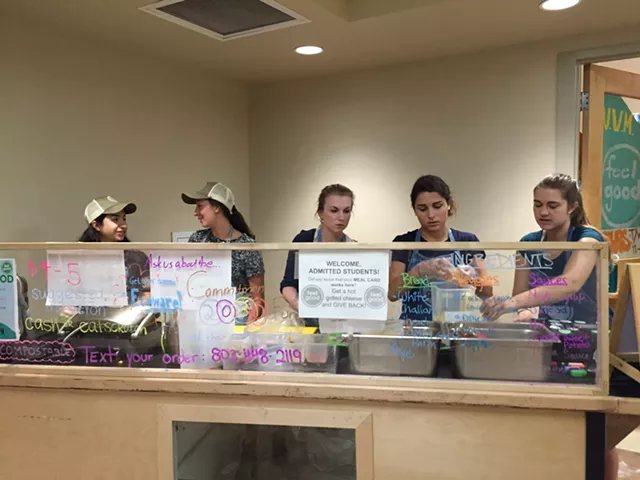 Sally Pollak
Sandwich makers at UVM FeelGood
It's hard to find a $4 or $5 sandwich in downtown Burlington. In fact, the price is often double that, or more. But if you head uphill to the
University of Vermont
, you'll find a little sandwich outpost that is pay-by-donation with a suggested price of $4 to $5.

UVM FeelGood
makes one kind of sandwich, and it happens to be the best kind: grilled cheese. The eatery is an all-volunteer, student-run lunch counter on the ground floor of the
Dudley Davis Center
. It makes grilled cheese sandwiches in a panini press — and donates all proceeds to
Commitment Fund 2030
, a poverty-relief organization that distributes money to four nonprofits.
People pay what they choose and can customize their grilled-cheese sandwich with ingredients including hot sauce, pesto, apple slices, maple syrup and onions. Open three days a week for lunch, UVM FeelGood raises about $13,000 a semester, according to treasurer Sara Fergus.
When I showed up on Wednesday afternoon, five young women behind the counter were volunteering their time: taking orders, collecting money, prepping and grilling sandwiches. The students thanked each customer with enthusiasm and good cheer, no matter what the person paid.
"Can I do $3?" one customer asked.
"Awesome!" came the reply.
Sally Pollak
Grilled cheese sandwich from UVM FeelGood
Although I'm a fan of what FeelGood calls the "Plain Jane" — grilled cheese with no embellishments — I decided to try the weekly special. "Savoring Summer" came with carrots, onions, peppers and zucchini, little chunks of vegetables atop the cheese and between two big slices of whole wheat bread.
The café uses crumbled cheddar rather than slices to makes its sandwiches. As a grilled cheese aficionado, I wondered how well the cheese would melt. But this proved to be a needless concern: The cheese was melty, the bread toasty but not greasy, and the veggies didn't tumble out as I scarfed down the sandwich on a concrete-slab bench outside the Davis Center.
UVM FeelGood uses local ingredients and receives donations from area businesses.
Klinger's Bread Company
in South Burlington and
Red Hen Baking Co.
in Middlesex give bread to the nonprofit. The cheese is from
Shelburne Farms
, which provides the café with about 40 pounds of cheddar every two weeks during the school year at or below cost, according to the farm.
I love the packaging used by FeelGood — a little brown paper bag with the edge of the sandwich peeking out, tempting me. You can't beat the frill-less dining atmosphere, either, eating outside on a mid-September day at UVM, watching students parading past. I was pleased to donate downtown prices and pay $10 for the experience and cause.
Dining on a Dime is a weekly series featuring well-made, filling bites (something substantial enough to qualify as a small meal or better) for $12 or less. Know of a tasty dish we should feature? Drop us a line: food@sevendaysvt.com.