Sally Pollak
Salad bowl at Tomgirl Kitchen
The
South End Art Hop
begins on Friday, September 6. A couple of days before the festivities I stopped for lunch at
Tomgirl
Kitchen
in the
Soda Plant
on Pine Street. The building will be the site of art exhibits this weekend, but a set of vivid colors — purple, orange, green, pink and yellow — was on display at Tomgirl before the show began.
Red cabbage and beets, carrots and pickled squash, kale and cucumbers, radishes and bell peppers, were the source of the rainbow atop Tomgirl's counter. They formed the ingredients of a make-your-own salad bowl for $10.95, though its actual construction was performed by a pro behind the counter.
All I had to do was point to my choice of grain, the four veggies I wanted, my protein pick, and select any add-on seeds that struck my fancy. Before my eyes, a salad took shape on a bed of arugula and kale, topped with a scoop of black rice and spoonfuls of local cucumber, cabbage, beets and pickled squash.
I chose avocado for my protein and said yes to hemp seeds, sunflower seeds and dried apricots. With a few squirts of cilantro-lime-curry dressing, lunch was served. I ate at a picnic table outside the Soda Plant.
Some businesses in the building were getting ready for Art Hop, including special pickle prep at
Pitchfork Farm & Pickle
, and chit-chat at
Brio Coffeeworks
about the
Latte Art Throwdown
to be held there on Saturday, September 7.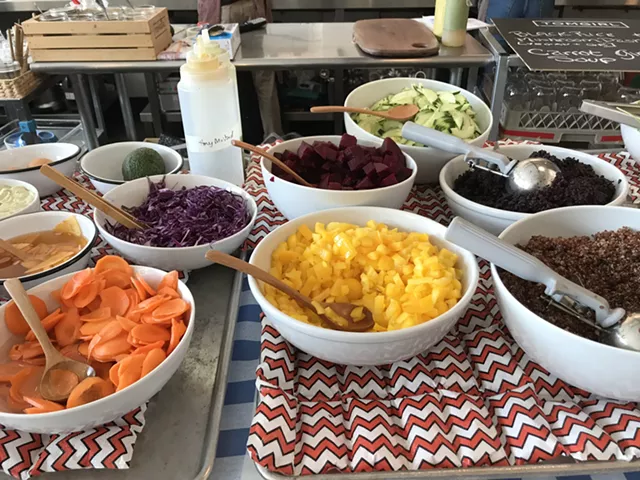 Sally Pollak
Salad bar at Tomgirl Kitchen
Over the weekend, Tomgirl will team up with
Co Cellars
, a drink biz in the Soda Plant, on an Art Hop peach mimosa, according to Tomgirl owner Gabrielle Kammerer. Co Cellars is a hot company to pair with: A joint venture of
ZAFA Wines
and
Shacksbury Cider
, Co Cellars was recently named one of the
100 greatest places in the world to eat and drink
by
Time
.
It's a small room with a bar, some benches and barrels, and glass vessels that hold "just fucking fermented juice," to borrow ZAFA's motto.
As a longtime Pine Street walker — and Bob Dylan fan — I can attest that the street has changed over the years from a dining "Desolation Row" to a foodie "Positively Fourth Street." Now it's broken into the world's top 100.
Dining on a Dime is a weekly series featuring well-made, filling bites (something substantial enough to qualify as a small meal or better) for $12 or less. Know of a tasty dish we should feature? Drop us a line: food@sevendaysvt.com.