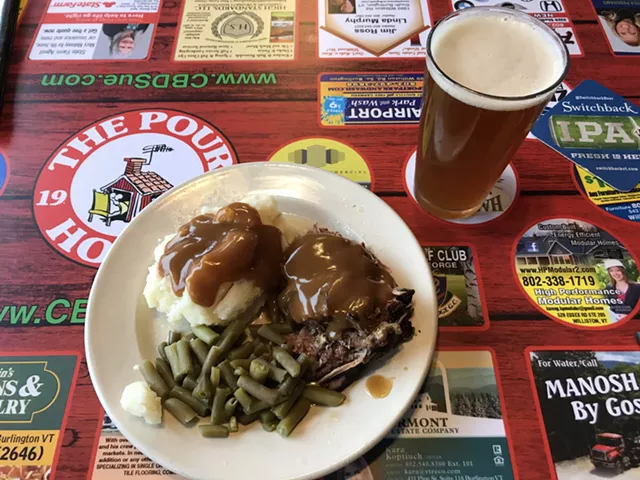 Sally Pollak
Pot roast and beer at the Pour House
On a recent afternoon at the Pour House in South Burlington, the televisions were playing sports highlight reels: Kobe Bryant slam-dunking on one screen, football players slam-slamming on another.
I read my menu – grilled chicken salad ($9.95), beef and chicken nachos with the works ($11.95), open-face roast turkey sandwich with mashed potatoes, gravy and vegetable ($10.45), deep-fried, beer-battered cod, fries and cole slaw ($10.95) – and had a mini-epiphany: The Pour House offerings are a Dining on a Dime highlight reel.
I'd gotten a sense of this from the
Pour House's Facebook
page, which lists daily specials. But I wasn't aware of the breadth of the $12-and-under options until I showed up for a late lunch. The soup/sandwich deal ($10.45) caught my eye, but it was beat out by Yankee pot roast with mashed potatoes and green beans ($10.95).
My meal was set before me so quickly — on a red table decorated with ads — that I'd had just one sip of Switchback before the food came. The tender hunk of slow-roasted beef and mound of potatoes were covered in gravy; the beans were diner-style, cut short and cooked soft.
I studied the ads as I ate, including a centerpiece teaser for CBD splashed in a green that matched my beans. Product placement for this fad has gone too far, I thought, when you're hit up eating comfort food in a sports bar. I checked out the sports memorabilia on the wall, including a poster of Muhammed Ali from his float-like-a-butterfly days. Did the Louisville-born champ eat Yankee pot roast?
After I ate, I talked with the couple at the next booth, Pamela and Ellsworth Lake of Jericho. Pamela, a retired seamstress, told me she and her husband eat at the Pour House about once a month, when she gets a craving for the turkey club sandwich. The Lakes share the classic triple-decker sandwich and split an order of fries. With two draft beers, the meal comes to $21.
The quality of the sandwich is matched by the service and the atmosphere, the Lakes said. "It's amazing," Pamela said. At $11.45 with chips, the turkey club makes the highlight reel.
Dining on a Dime is a series featuring well-made, filling bites (something substantial enough to qualify as a small meal or better) for $12 or less. Know of a tasty dish we should feature? Drop us a line: food@sevendaysvt.com.