Jordan Barry
Invitation to Pierogi Mondays by Syp Brand Pierogi
The best story pitch I've ever gotten might be the hand-drawn invitation that arrived on my desk from Miranda Syp. A note on the back read, "Hello! My name is Miranda Syp of
Syp Brand Pierogi
, LLC. I'd like to invite you to my next Pierogi Monday."
I'm a sucker for pop-ups
and
for pierogi, so this one was a no-brainer. As a bonus, these pierogi prices align quite nicely with the parameters of Dining on a Dime.
Syp has been making her "little pockets of love" since 2009, when she was living in Barre and received a grant from the Central Vermont Community Action Council. Working out of the L.A.C.E. community kitchen, Syp made pierogi for pop-up dinners and sold them wholesale and at farmers markets.
Courtesy of Miranda Syp
Miranda Syp at Barrio Bakery
When she moved to Burlington, Syp continued the business by
popping up
at the now closed Cobblestone Deli and Café on Battery Street in 2012.
Now, pierogi lovers can find Syp at
Barrio Bakery
. Since June, she has been taking over the café on the first Monday of the month — serving potato-cheddar pierogi in place of pastries and cold brew.
At the pop-up, a plate of six pierogi is $9, and a plate with salad is $12. Both options come piled with sour cream, onions and
Pitchfork Farm & Pickle
sauerkraut. The salad is dressed with a bright, tangy vinaigrette, which Syp said is an homage to her childhood visits to her Polish grandmother in France.
"My grandmother was a potato farmer in Poland, but she moved to France before the war because of a potato famine," said Syp. "The plate I serve is sort of a French-American-Polish fusion, which really represents who I am."
Jordan Barry
Pierogi plate with salad at the Syp Brand Pierogi pop-up
The pierogi are filled with potato and Vermont cheddar, instead of the farmers' cheese that Syp's grandmother would have used. More than just fitting into Syp's geographic life story, the sharpness of the cheddar is a perfect complement to the sweetness of the onions and the sour zing from the sauerkraut that tops them.
The salad is worth the extra $3, both to contrast the heartiness of the pierogi and to really understand Syp's culinary point of view. With both on the plate, it's a filling — and delightful — dinner.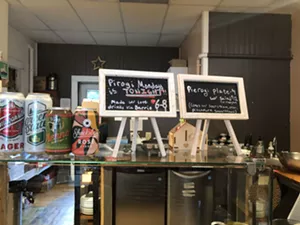 Jordan Barry
Pierogi Monday pop-up at Barrio Bakery
People seemed to agree, as there was a steady line all night and Syp had sold out fully by 7:45 p.m. "I felt like I had to educate people about pierogi when I started, but people know about them now," she said.
Syp is looking forward to increasing her pop-up nights at Barrio to include both the first and the third Mondays of the month, from 6 to 8 p.m. starting in October.
Beyond that, she wants to keep things small and stick with pop-ups. A conversation with a customer at the most recent pop-up reinforced her focus on bringing people from the neighborhood together.
The customer mentioned the Polish "bar mleczny," or "milk bars." These cafeterias are subsidized by the state, offering low-priced menu items that draw in people from every social category for an egalitarian, affordable meal. Now
that's
dining on a dime.
Dining on a Dime is a weekly series featuring well-made, filling bites (something substantial enough to qualify as a small meal or better) for $12 or less. Know of a tasty dish we should feature? Drop us a line: food@sevendaysvt.com.