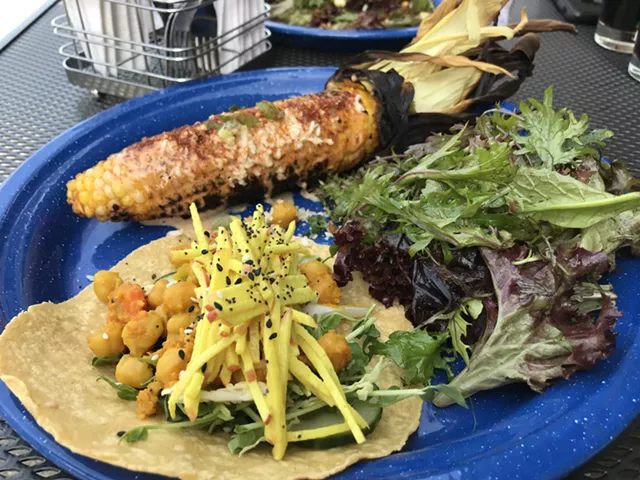 Sally Pollak
Grilled corn and a chickpea taco at Stone Corral Brewery
The server at
Stone Corral Brewery
in Richmond used perfect timing when he spoke these words to me: "The tyranny of choice."
He was looking at me with a smile as I studied the menu, trying to choose what to eat with my grilled corn on the cob ($4). I felt the pressure, but kept reading the list. When I selected the last thing on the menu, a taco called Ganesh to Meet Yah, he was kind enough to affirm my choice with a quiet "Yay!"
The name of the taco meant nothing to me, but its ingredients were irresistible: curried vegetable chickpeas, cucumber, apple, Napa cabbage and pea shoot slaw, toasted sesame, coconut yogurt dressing. With a green salad, this beautiful assemblage totaled $7.
The melding of flavors and textures was terrific. The food filled a plate that I measured with my iPhone: a diameter of two phones, or close to a foot. The prep cook deserves a loud shout-out: the apple slivers were as uniform as matchsticks, with a speck of color — the skin — at each end.
We ate on the patio, where three Chittenden County brewers sat at a nearby table and a young family filled another one. With our glasses of dark lager, Stone Corral's Black Beer, the early evening supper was a calling card for summer in Vermont.
Sometimes a reporter can ask one too many questions, and I went over the mark when I asked our server if he had coined the phrase "tyranny of choice."
It turns out he heard it on a TED Talk, delivered by a shrink. But I prefer to imagine the words originate with a curly-haired kid in a Richmond taproom. If he didn't invent the line, he knew just when to steal it.
Dining on a Dime is a weekly series featuring well-made, filling bites (something substantial enough to qualify as a small meal or better) for $12 or less. Know of a tasty dish we should feature? Drop us a line: food@sevendaysvt.com.