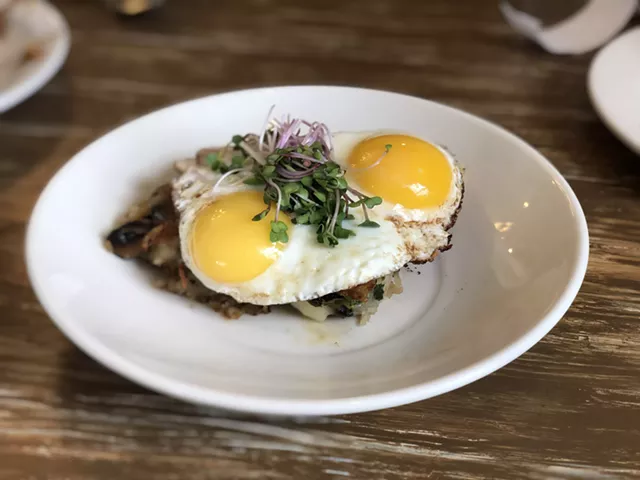 Jordan Barry
Veggie-stuffed hash special at Starving Artist Café
You don't hear much about "full artists," but after stopping for lunch at South Burlington's
Starving Artist Café
, I think it may be time to flip the trope.
Starving Artist Café is part of
Davis Studio
, which was founded in 2003 by director Teresa Davis. Located inside a stately tan house with white columns on Shelburne Road in South Burlington, the studio offers classes and camps focused on the arts for creative folks of all ages, from drawing and painting to jewelry making and fused glass work. On a weekday in August, every room was full of young artists putting the right side of their brains to work.
Jordan Barry
Service counter at Starving Artist Café
The café itself has been open for three years, and offers counter service for breakfast and lunch during the week and a full-service weekend brunch. Walking through the front door feels like entering someone's home, with a maze of cozy, art-covered rooms vying for attention.
My dining companions (two writers from the
Seven Days
arts team, appropriately) and I made a wrong turn trying to find the café's service counter and took a detour through the bustling dining room before spying the "order here" sign — we brushed it off as trying to engage the creative side of our brains, too.
Finally in the right place, we grabbed menus and tried to decide between the aptly named breakfast and lunch offerings. Was I in the mood for Monet's Garden Omelette, Matisse in Morocco, or Vincent Van Goghgurt?
Always pro-breakfast (which is served all day at the Starving Artist), I ordered one of the day's specials: a vegetable-stuffed hash with sunny-side-up eggs and cheddar ($12). One coworker went for a sandwich with bacon, cheddar, maple-and-bourbon onion jam ($10). The other opted for a classic grilled cheese ($6) with a cup of tomato-basil soup ($3.50).
We grabbed water and coffee from the self-service station and headed into the gallery room to find an open table. The walls were covered in food-related
Jordan Barry
From left: Bacon, cheddar, maple-and-bourbon onion jam sandwich; veggie hash special; grilled cheese and tomato-basil soup
art, upon which we feasted our eyes while we waited for our meals to arrive.
At the far end of the long, open room, young artists returned to their tables. We braced ourselves, ready for the noise level to go way up.
We must have been channelling our own post-lunch behavior back in our school days, though, because this was a quiet, focused group. The instructor told us this was the Advanced Drawing Camp, full of talented, diligent artists in middle and high school. Impressed, we tried to keep
our
voices down so we wouldn't distract them from their work.
The chef brought our food to the table, and my hash could have been a Cézanne still life. The eggs' bright-yellow yolk and perfectly crisped edges popped on top of a hefty pile of hash, sprinkled with microgreens for color and crunch. The hash was a mix of potatoes, spinach, mushrooms and sweet cherry tomatoes, bound together with Vermont cheddar. I poked the tines of my fork into the yolks, letting them drip down into the crispy hash. We didn't have to worry about keeping our voices down any more; none of us said a word while we chowed down.
Feeling full and inspired, we bussed our dishes and headed toward the door. On the way out, I noticed a group of chefs in a side room. These were slightly smaller than the chef who had prepared our lunch, but decked out in colorfully painted aprons and chef hats. It was the Artsy Chef camp, for 8-12 year olds.
For these campers, food is the medium instead of oils and acrylics. The artists create edible landscapes and fantastical centerpieces like pineapple alligators and eggplant owls, as well as decorative cupcakes and precise bento boxes. If preregistration weren't required (and adults were allowed), I would have stayed there all afternoon.
Dining on a Dime is a weekly series featuring well-made, filling bites (something substantial enough to qualify as a small meal or better) for $12 or less. Know of a tasty dish we should feature? Drop us a line: food@sevendaysvt.com.