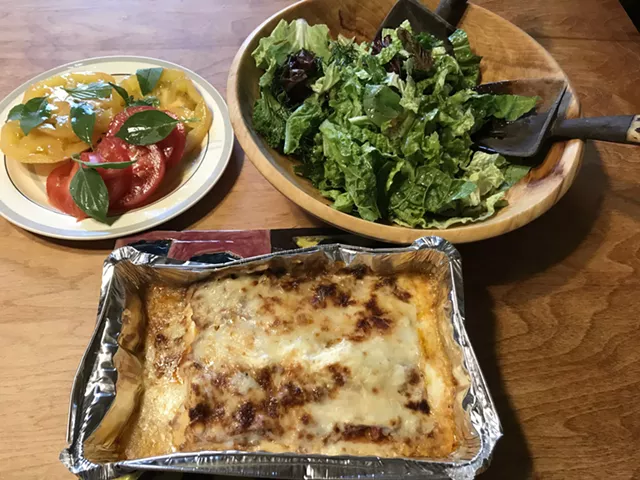 Sally Pollak ©️ Seven Days
Shelburne Farms lasagna with salad
It's about two miles from the visitor center at
Shelburne Farms
to the inn and gardens on Lake Champlain — maybe two and a half miles, depending on the path you take and where you turn around.
But who's marking the distance when a walk across the farm — past grazing Brown Swiss cows and the milking barn — is a double win: a stroll at one of the most beautiful places in Vermont and a shopping trip rolled into one.
Yes, a shopping trip. You can take a walk at Shelburne Farms while a staffer at the visitor center packs your online food order for curbside pickup. If you're an impulsive type, you can phone in your order on arrival at the parking lot, go for a walk and come back to get your food.
The farm's seven-acre market garden produces organic vegetables that during normal summers are prepared and plated for diners at the Inn at Shelburne Farms. The inn, along with all farm buildings, is closed for the season due to the COVID-19 pandemic.
This summer, produce and herbs are available for purchase outside the farm store: Swiss chard, beets, peppers, cucumbers, eggplant, mint, thyme, cabbage, carrots, onions, leeks, lettuce, beans and more. The store also sells prepared foods from the inn's kitchen.
We were super psyched to discover that the restaurant kitchen that typically turns out expensive dinners for in-house diners is offering excellent meals at very reasonable prices.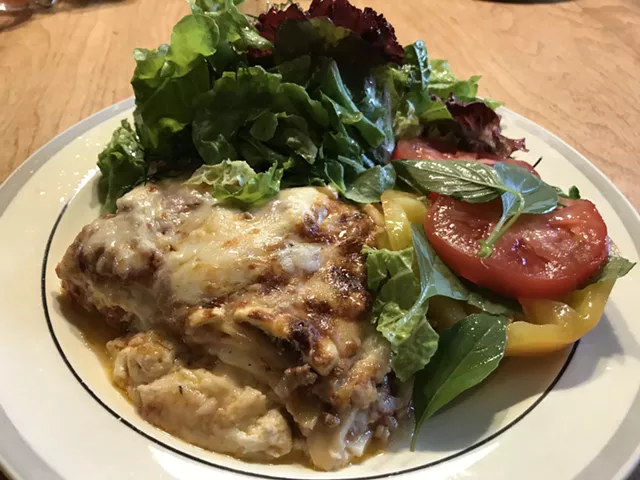 Sally Pollak ©️ Seven Days
Shelburne Farms lasagna with salad
Our favorite is the beef lasagna, rich and classic made with beef raised on the farm, tomatoes, cheese and Bechamel sauce. A $12 lasagna feeds two. (I spend more money on ingredients when I make my own lasagna, though it fills a big pan.) Shelburne Farms also makes vegetarian lasagna for $11. Both come frozen and need to be defrosted and warmed in the oven. We eat ours with salad and bread; dinner is both a treat and a bargain.
We've also had the macaroni and cheese ($8), and have heard good things about the squash blossom fettuccine ($5).
These days, when the garden harvest is bountiful and beautiful, it's easy to look past the prepared meals. But a late afternoon walk turns into a one-night vacation when it ends with dinner-in-a-bag.