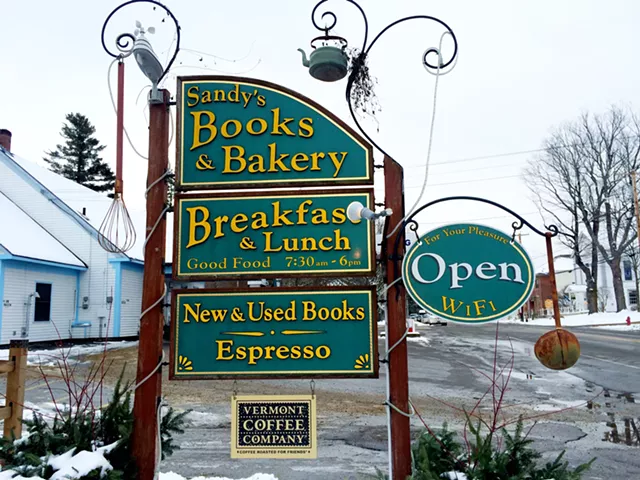 Julia Clancy
Sandy's Books & Bakery
I wandered into
Sandy's Books & Bakery
at 30 North Main in Rochester for the first time last spring. I was on a hunt for
The Gift of Southern Cooking: Recipes and Revelations From Two Great American Cooks
— a landmark culinary tome by Edna Lewis and Scott Peacock. And I'd heard through the grapevine that this two-story house decked in tea lights had a bountiful book selection.
I didn't find the book, but I did discover a go-to eating stop for journeys that take me over Bethel Mountain Road. The draw, other than a veritable treasure trove of new and used books, is that the fare at Sandy's is made from scratch, easy on the wallet and steeped in local products.
Discovering Sandy's Books & Bakery began with running into Peacock at the
Craftsbury General Store
a month or so earlier. Peacock, the James Beard Foundation Award-winning southern chef, was grabbing a sandwich before
a talk with the famed food writer Ruth Reichl
at
Sterling College
. At the time, I didn't know I was waiting for my turkey sandwich next to one of the most noted chefs in southern cooking; I grew up reading
The Gift of Southern Cooking
like a much-loved bedtime story. Somehow, we started chatting about biscuits; he said he loved to make them. I asked if his were any good.
I realize, in retrospect, that I had just asked Scott Peacock — co-author and longtime friend to a matriarch of traditional southern cuisine — if his biscuits were any good.
Once I finally realized where I recognized Peacock — "Scott?" called a store employee when his sandwich was ready — I began my quest for
The Gift of Southern Cooking
. (For special books, like this one, I prefer to go on a treasure hunt to local shops instead of jumping the gun and ordering online.) Sandy's Books & Bakery was the first stop on my docket. Though I left without the book, I walked out the door fully satiated, having discovered the small menu of daily rotating goodies behind Sandy's front door.
Julia Clancy
Sandy's Books & Bakery
On that first trip, I nestled in a corner table between two book shelves — one labeled "Peace and Justice," the other "Cats." I tucked into a crusty grilled cheese dunked in homemade tomato soup. Then I browsed a section titled "Wild Edibles" with an espresso and a fat hermit cookie fragrant with clove and cinnamon.
Pastries at Sandy's usually fall within the $1.50 to $3 range, and a quiche, salad, soup or sandwiches rarely surpasses $10. In short: More often than not, I can take myself to breakfast or lunch at Sandy's for less than $12, with room to spare for a treat.
On my most recent visit, I sank into a plump armchair by a section labeled "Planes, Trains and Automobiles" and watched as falling snow blanketed two Adirondack chairs out front. I lingered over a steaming bowl of white bean soup with sausage, sun-dried tomatoes and fresh rosemary ($5.95), taking my time on the crusty wedges of homemade bread and local butter served alongside.
With my remaining budget, I left with a to-go box for later: a supremely boozy rum ball rolled in almonds ($2) and one Black-and-Gold ($2), a dark cocoa cookie boosted by the bite of black pepper.
Julia Clancy
Rum ball, hermit and Black-and-Gold from Sandy's Books & Bakery
As I left, I inhaled the deep aroma of the fresh pot of coffee burbling behind the counter. I stowed my to-go box, donned my gloves and suddenly remembered a quote from Edna Lewis: "The smell of coffee cooking was a reason for growing up ... nothing haunted the nostrils all the way out to the barn as did the aroma of boiling coffee."
I reminded myself to return soon for a cup.
Dining on a Dime is a weekly series featuring well-made, filling bites (something substantial enough to qualify as a small meal or better) for $12 or less. Know of a tasty dish we should feature? Drop us a line: food@sevendaysvt.com.