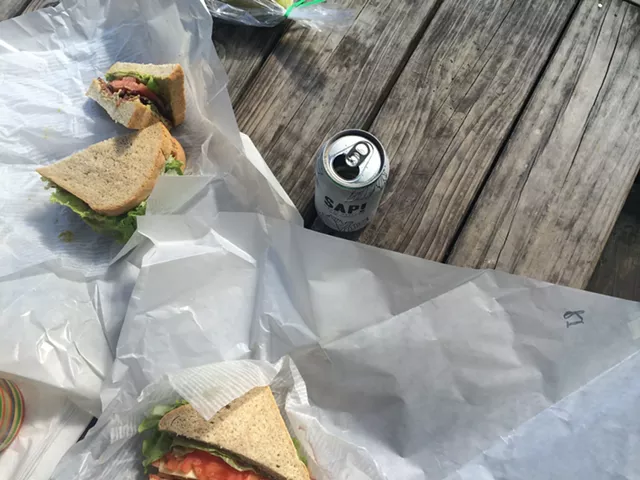 Julia Clancy
Sandwiches on the patio at the Warren Store
In October, the Lincoln Gap is lit with fuchsias and oranges and all those shades of yellow that make Vermont a destination for leaf-peeping. Sedans and pick-ups crowd the entrance to Mount Abraham, a hiking destination sitting smack in the middle of the gap's serpentine pathway from Bristol to Lincoln to Warren. Visitors and locals alike pull off to the intermittent roadside rest stops to snap photos of the changing foliage.
Over the mountain, the gap drops you off near the
Warren Store
, a building that housed a stagecoach inn and boarding house when it set up shop in 1839. After stints as a post office, a hardware store and a library, the space expanded its role as a jack-of-all-trades and became the town's general store and deli. It's a good idea to arrive ravenous.
Since the mid-20th century, the Warren Store has been the focal point of a community that ranges from multigenerational locals to out-of-staters visiting
Sugarbush Resort
and the
Mad River Valley
. It accommodates a wide scope of needs, from toilet paper to bug spray to pricey wool slippers to local milk.
More to the point for a hungry leaf-peeper, the store's personnel includes an experienced pastry team and kitchen staff that turns out made-from-scratch fare. It's hefty enough to fuel a trip to the mountains, and affordable enough to meet the Dining on a Dime goal: a full meal for less than $12. It only sweetens the deal that virtually everything at the Warren Store is made in-house and from mostly Vermont products — from sandwich bread to mayonnaise to molasses cookies the size of dinner plates.
For breakfast, the most expensive item on the menu is a $7.50 bagel sandwich smeared with cream cheese and piled with smoked salmon, onions, tomatoes and capers. A burrito stuffed with local eggs,
Green Mountain Smokehouse
bacon,
Cabot
cheddar and housemade salsa will run you $5.75, leaving extra cash for a large coffee and a pumpkin whoopie pie or seven-layer bar for later. The Reutzler, known locally as "the breakfast bomb," is $3.75 for an English muffin with local ham, eggs, cheddar, tomato and a swath of that homemade mayo.
Arrive at lunchtime and you'll find yourself at the deli counter, probably debating between the enormous sandwiches or a couple of sides to-go. Beside two antique, wood-paneled coolers stocked with craft beer and cider, a glass-domed display case is filled with hot and cold dishes made that morning. It might be broccoli salad,
Misty Knoll Farms
chicken wings sticky with honey sauce, herbed tabbouleh, or figs stuffed with local chevre and blue cheese.
Homemade sandwich bread is supplemented with loaves of brown rice millet and honey oatmeal from
Vermont Gluten Free Bakery
. Everything is less than $8.75, so you might as well save room for dessert.
Julia Clancy
Cider float and a molasses cookie
On one warm October afternoon, I took my lunch outside to the Warren Store's patio, a sunny side deck lofted above a creek dotted with rock-skippers. There was even a man with a fishing rod. I started on my behemoth of a sandwich — roasted turkey, lettuce, tomato, cheddar and cranberry mayo on whole wheat — as my friend tackled her BLT with avocado on white. Each sandwich was $7.50 — well below our $12 budget — so we each got a
Sap! Maple soda
, a molasses cookie and a cider float to split.
What's a cider float, you ask? It consists of dark local cider topped with pumpkin-spice ice cream from
Kingdom Creamery of Vermont
. If you think apple cider is too watery for a scoop of ice cream, then, like me, you guessed wrong. A Warren Store cider float is the exception.
With our $20 lunch for two, we sat on that patio and feasted.
Dining on a Dime is a weekly series featuring well-made, filling bites (something substantial enough to qualify as a small meal or better) for $12 or less. Know of a tasty dish we should feature? Drop us a line: food@sevendaysvt.com.