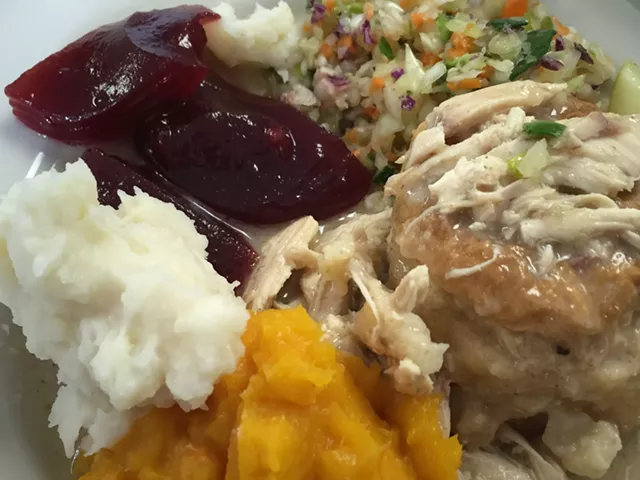 SALLY POLLAK
Chicken pie supper in Richmond
Pop-up suppers rarely — if ever — achieve the kind of numbers that were put up Wednesday evening at the
Richmond Congregational Church
. The church fed 600 people at its annual chicken pie supper, a community event that has popped up every autumn for 70 years.
The meal is a traditional fall supper of chicken and gravy on a biscuit, mashed potatoes, squash, cole slaw, cranberry jelly, plus cottage cheese and a dill pickle slice. The main course is served by a cadre of male churchgoers; diners help themselves, family-style, to the side dishes.
Members of the congregation cooked 88 chickens for the savory pies, baked about 100 dessert pies, and ran through 300 pounds apiece of potatoes and squash, said Morgan Wolaver, a member of the organizing committee.
"It's one of those iconic events," he said. "You could probably eat only chicken pie for the month of October if you make the [church] circuit."
Jackie and Bill Wintersteen, who have lived in Richmond for 56 years, walked to the supper from their home in the center of town. It was their 40th chicken pie supper at the Richmond church, the Wintersteens said, adding that they attend four or five church suppers every fall.
"It's a dinner all made," said Jackie Wintersteen, a retired kindergarten teacher. "And it's a tradition." The squash is her favorite part of the meal, but only if it's not too watery, Wintersteen said. Squash, however, belongs only with the main course and not at the end of the meal — when diners choose between pumpkin and apple pie.
"I would never order pumpkin pie," she said. "It has to be apple."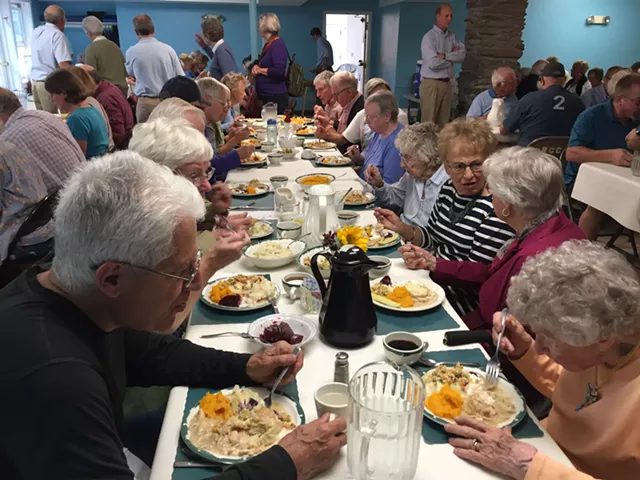 SALLY POLLAK
Chicken pie supper at Richmond Congregational Church
At three 30-minute seatings, diners are ushered to long tables where they are seated with family and friends — and sometimes next to strangers. I struck up a conversation with a Norwegian man who was in Vermont to visit his daughter and her family. He applauded the meal — with the exception of the cheddar cheese served with apple pie.
A few seats down, a 4-year-old from Williston chitchatted with her dining neighbor, a woman she met at the meal. The girl's father, Jamie Polli, focused on his food. Seconds were offered as part of the $12 meal ($6 for kids), and Polli indulged.
"I'm surprised I didn't get thirds," he said.
Outside the church, the Rev. Katelyn Macrae greeted guests as they arrived, including one woman who squawked like a chicken as she neared the church. Macrae leads the 140-member congregation that was formed in 1801. A dozen years later, in 1813, the Congregational church joined with four other Protestant denominations to found the Round Church in Richmond.
"My favorite is apple pie with a cube of cheddar cheese," said Macrae, a native of Maine. "It's so Vermont."
SALLY POLLAK
Time for apple pie
Dining on a Dime is a weekly series featuring well-made, filling bites (something substantial enough to qualify as a small meal or better) for $12 or less. Know of a tasty dish we should feature? Drop us a line: food@sevendaysvt.com.