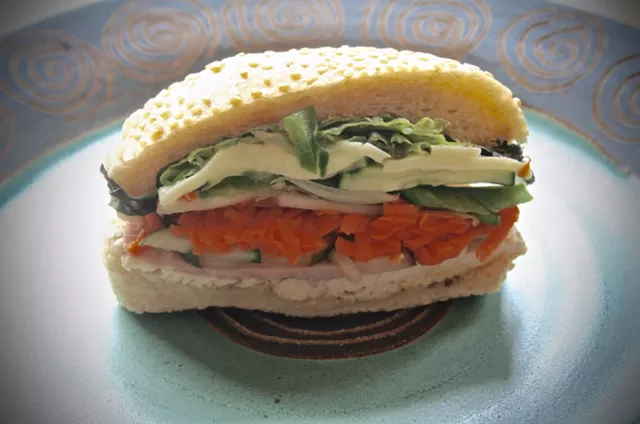 Suzanne Podhaizer
Ham, turkey and cheese sandwich
For a town of 902 people, Worcester has some big things going for it. Located on Route 12 between Montpelier and Morrisville, the burg is famous for its July 4 celebration — which features exceptional fireworks — and it boasts a robust community lunch. Worcester is home to
Kettlesong Farm
and
Good Heart Farmstead
(where I reside), among other agricultural operations. And, it's got a gas station that offers grocery items from India.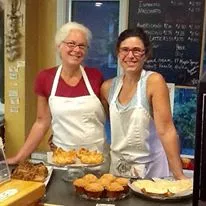 Post Office Café
Betsy Gladding and Leslie Sabo
In addition, Worcester is where you'll find the
Post Office Café
, owned by Betsy Gladding and Leslie Sabo. There, you can mix and match all kinds of inexpensive meals to suit the mood of the day.
For instance, you could have Vermont Artisan tea, a piece of potato and garlic-scape quiche, and a gooey maple bun. Or, you could get a sausage, egg and cheese breakfast sandwich and a cappuccino. Or, if you're in a hurry, you can grab a container of soup (with housemade stock) and a salad such as fire-roasted gazpacho or sesame noodles from the cooler. Any of these combinations will run you less than $12.
But my favorite meal on a "dime" is the sandwich, made on homemade baguette or a plain or seeded roll. For protein, eaters can choose hummus or local turkey, ham or cheddar. You can also mix-and-match to your heart's desire. I get mine with both meats and cheese, plus lettuce, onions, housemade pickles, Sriracha mayo, mustard and sprinkles of salt and pepper. It's hard to beat at $7.50.
Dining on a Dime is a weekly series featuring well-made, filling bites (something substantial enough to qualify as a small meal or better) for $12 or less. Know of a tasty dish we should feature? Drop us a line: food@sevendaysvt.com.