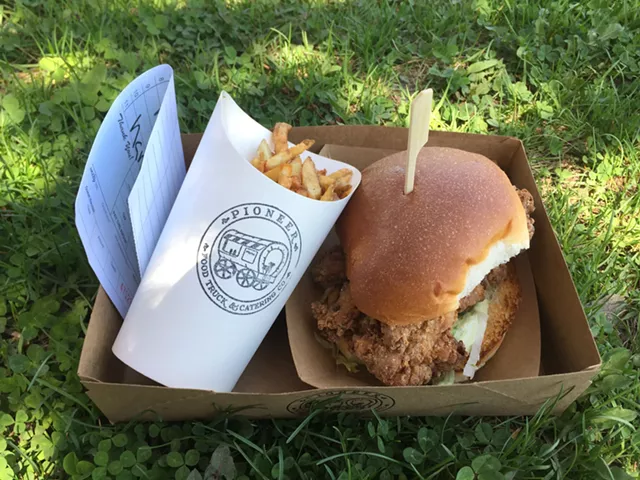 Hannah Palmer Egan
Fries and a chicken sandwich from Pioneer Food Truck & Catering Co.
In March,
Seven Days
previewed the Pioneer Food Truck & Catering Co
. With acclaimed chef Jean-Luc Matecat and his partner, restaurant veteran Lindsay Taylor, behind the wheel, it promised to be one of this spring's more exciting mobile openings.
Last Friday, May 4, Matecat and Taylor made their Burlington debut outside the Maltex Building on Pine Street. On Wednesday, May 9, I wandered over for a taste.
The brief menu — just three main plates and two sides — varied from Asian (the $9 drunken noodles sold out before I could order them) to Mexican (a colleague reported good things about her $10 carnitas burrito), with an all-American fried chicken sandwich ($9) in between. Fries and a side salad were each $4.
If the individual plates seem informal, Matecat has a way with flavors that is at once grown-up and playful.
My chicken sandwich was polished and perfectly executed, served on a pillowy bun; the meat was encased in seriously crunchy, deep-amber breading and slicked with lovely tarragon aioli. A touch of peppered honey and bread-and-butter pickle chips hinted at sweetness. All this came together in a beautiful and refined way.
I'll be honest: A fried chicken sandwich is not usually my go-to order. But I'm still thinking about the dish — craving it, even — and I would get it again. And the fries — crisp shoestrings scattered with herbes de Provence — were salty and perfect, just right for a warm and sunny May afternoon.
All of which is to say: Thank goodness for food truck season.
Dining on a Dime is a weekly series featuring well-made, filling bites (something substantial enough to qualify as a small meal or better) for $12 or less. Know of a tasty dish we should feature? Drop us a line: food@sevendaysvt.com.