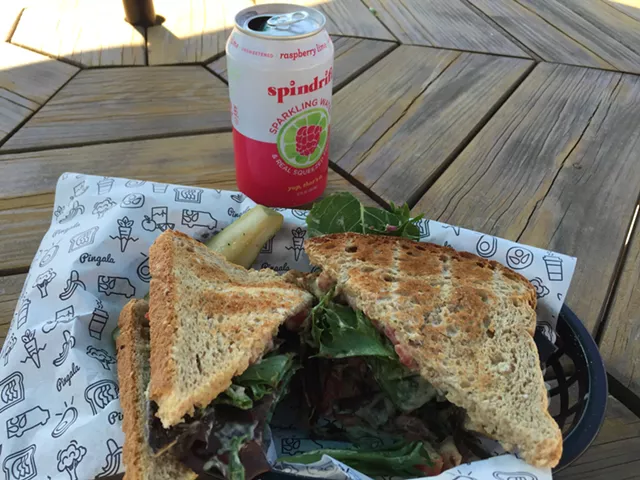 Sally Pollak
ELT at Pingala
Kismet, the sign on the building announced — and my date with destiny came none too soon.
I'd been driving and walking around one of Vermont's least appealing landscapes: Taft Corners and environs. I was looking for Pingala Café, the Williston branch that opened in June.
By the time I found it — housed in a building called Kismet in one of a series of shopping development off-shoots — I was starting to think my fate would preclude an ELT. That's Pingala's "world-famous" eggplant BLT, minus the B ($8.95).
Once I found the building, it was easy to locate Pingala. The eatery is in a stationary replica of a food truck parked in the lobby. Customers order and pick up food at a window-like cutout on the side of the faux truck and, when finished, bus their things to a dish tub set between headlights, where the grill would be.
The ELT is made with eggplant in place of bacon, plus tomato, scallion, lettuce and dill tahini on multigrain toast.
Yum.
It was a sunny day in the suburbs, and I ate my sandwich at a picnic table by the parking lot. Mounds of dirt and the whine of a power saw suggested that sprawl was still creepin'.
But the sandwich was interesting and tasty enough to hold my attention: It had crunch, it had glop (plenty of dill tahini sauce), it had flavor and raw veggies. The ELT also had an element of mystery: What process transforms eggplant into bacon?
After my meal, I asked the women staffing the truck how the eggplant became a pork-product substitute. They told me the vegetable was sliced thin, marinated, dehydrated and kept in a sealed container until needed.
On any given day, bacon and eggplant might vie for being my favorite food. They come together at a pretend food truck in the vestibule of Kismet.
Dining on a Dime is a weekly series featuring well-made, filling bites (something substantial enough to qualify as a small meal or better) for $12 or less. Know of a tasty dish we should feature? Drop us a line: food@sevendaysvt.com.