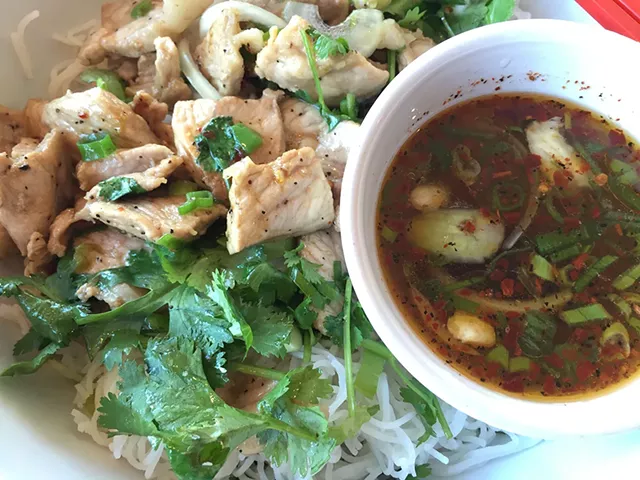 There was some concern when, earlier this summer, Dharshan Namaste Asian Deli co-owners Thanh Pham and Bishnu Gurung changed the name of their New North End noodle shop and market to Pho Taó.
Many locals relied on the spot for weeknight takeout — a few dishes could easily feed a whole family for less than $30, which can be a stretch even when you're making dinner at home, depending on what's cooking.
Rumors swirled that new owners were coming in. Would they change the menu? Would they adjust prices?
Short answers: No, no, and no.
Pham and Gurung still own the place — Pham continues to cook as often as he ever did, particularly since
closing his Winooski restaurant
last summer. The menu? Same: mostly Vietnamese, with Nepali accents. Portions? Still larger than life. Prices? Reliably dirt cheap — few plates top $9.
Last week, I stopped by to check in, just to make sure. The sign out front has been changed to Pho Taó but, on the door, white letters still read "Dharshan Namaste Asian Deli." Inside, the Asian market is empty (Pham says he plans to reopen), but the restaurant is unchanged.
I ordered a "small" (read, very large, especially at $6.75) bowl of Vietnamese Hot & Spicy noodles with pork. I sipped a Coke and listened to Pham slap-dashing on the grill in the kitchen.
At first glance, this dish looks plain — unimpressive, even. Thin, undressed rice noodles cling together. Pale cuts of pork are scattered with just cilantro and pepper. To the side of the bowl, a small cup of broth.
But don't be fooled: That broth is flavor country, and the noodles and meat are really just delivery vehicles. The pungent, fish-saucey liquid is riddled with scallions and chiles, and is strong enough that it's wise to dip stuff into it, rather than pour it over. Tossed into the noodles, shreds of lettuce add crunch and sliced onions provide punch, for a meal that most resembles cold noodle salad — just perfect for the few warm days we have left.
Dining on a Dime is a weekly series featuring well-made, filling bites (something substantial enough to qualify as a small meal or better) for $12 or less. Know of a tasty dish we should feature? Drop us a line: food@sevendaysvt.com.