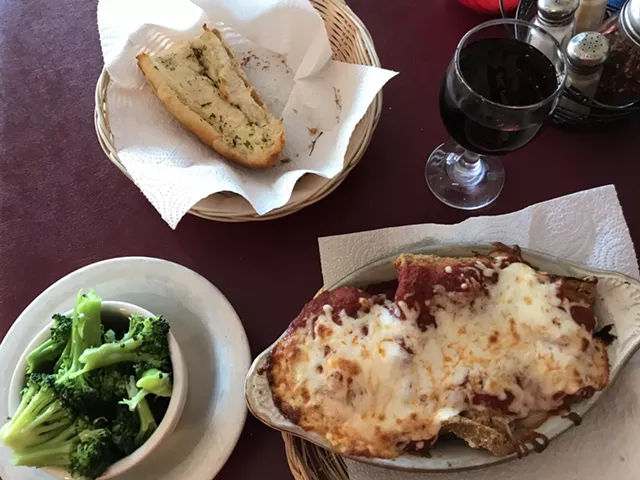 Sally Pollak
Eggplant rollatini at Papa Frank's
Before the rotary or the brewery or the hip restaurants came to town, there was
Papa Frank's
. The Italian restaurant and pizzeria opened in 1984 on West Center Street in Winooski.
The casual eatery, with sloped wooden floors and a side-street view, serves generous portions of pasta with housemade marinara and meatballs, antipasto salads and Italian specialties including lasagna, chicken Parmesan and manicotti.
Moe Paquette, the owner, has worked at Papa Frank's for 28 of its 34 years. He knows his crowd. "You can come in with your kids and not worry if they make a mess," Paquette said. "Or come in with your college friends and still have a couple of bucks to go downtown."
I went in alone and watched a family eat pizza and make a big, happy mess. I was pleased to find that on my $12 budget, I could order anything on the menu (with the exception of larger pizzas). The possibilities — spaghetti and clam sauce, linguini with tomato sauce and sausage, eggplant Parmesan — made me so happy that I decided to splurge on a glass of wine.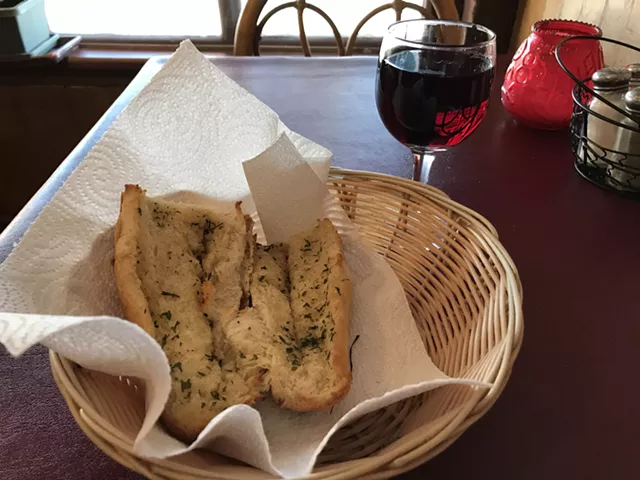 Sally Pollak
Garlic bread and wine at Papa Frank's
It's hard for me
not
to order eggplant Parm if it's on the menu. But to change things up, I asked my server, who was friendly and fast, for eggplant rollatini. The $9.95 meal, bubbly and fragrant in a casserole dish, came with a side of steamed broccoli and a basket of garlic bread. The rolled eggplant was filled with herbed ricotta, covered with marinara sauce and mozzarella, and baked to a delicious whole.
I ate to my satisfaction and left with half my dinner in a box for another day. I vowed to return the next time I wanted to make a big, happy mess, or to leave with a few bucks in my pocket for a night on the town.
"Being affordable is our niche," Paquette said. "You couldn't high-scale it here if you tried."
Dining on a Dime is a weekly series featuring well-made, filling bites (something substantial enough to qualify as a small meal or better) for $12 or less. Know of a tasty dish we should feature? Drop us a line: food@sevendaysvt.com.