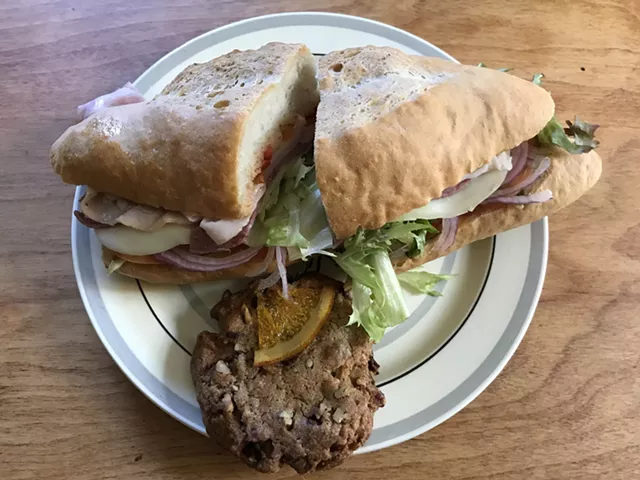 Sally Pollak
Otter Creek sub
The home opener of the
Middlebury College
football team is six weeks away. It's time to start pre-gaming for Panthers football.
No, I don't mean drinking beer in the back of your car or grilling sausage at the stadium parking lot. I'm talking about an anticipatory trip to
Otter Creek Bakery,
a lunchtime oasis not far from the college football field. The café's Otter Creek sub ($9.50) — akin to an Italian hoagie — and chocolate chip/walnut/orange cookie ($2.50) together form a top-notch, filling meal.
Eating the sub on a fall Saturday in the bleachers of
Youngman Field
, where the Panthers play, is a sublime event. The games are free, the stands face east to the mountains and the sandwich fits snugly in your lap. If the action unfolding on the field in home-team blue doesn't grab you, look up and out at the golds and reds of the autumn hills.
When it's not football season — and that's about 10 months of the year — I seek out reasons to go to Middlebury and environs so I can stop at the bakery for its eponymous sandwich. A recent walk on the
Robert Frost Interpretive Trail
in Ripton presented such an opportunity.
The Otter Creek sub is the best version of an Italian hoagie I've come across in northern/central/western Vermont. And I'd been on the prowl for this classic sandwich since I moved to Burlington from Philadelphia, home of the hoagie, almost 30 years ago.
The key is the long Italian roll the sub comes on (called French bread on the restaurant's menu board). The bread is soft enough to absorb the sub's juicy zing — a merging of herbed Italian oil, diced hot peppers and slivered pickles — but firm enough to hold the sandwich together. Who wants a hoagie filled with smoked turkey, salami, ham, provolone, onion, lettuce and tomato that will fall apart in the bleachers?
Otter Creek Bakery was founded by married couple Ben and Sarah Wood 32 years ago. For 30 of those years, it's been in a little storefront at 14 College Street, where the deli case displays housemade pâtés, salads and cheeses, and sweets including cookies, cakes, tarts and pastries.
The business is now for sale. I hope the new owners, whoever they may be, will learn from the Woods how to bake chocolate chip cookies with a sliver of orange, and how to stack a sub to satisfy a football fan from Philly.
My daughter, though she will pass on the football games, inherited my fondness for Otter Creek subs. In fact, she's turned into an even more passionate devotee.
"What do you like about Otter Creek subs?" I asked her before writing this piece. "I won't quote you."
"Everything," she answered.
I changed my mind and quoted her.
Dining on a Dime is a weekly series featuring well-made, filling bites (something substantial enough to qualify as a small meal or better) for $12 or less. Know of a tasty dish we should feature? Drop us a line: food@sevendaysvt.com.