Hannah Palmer Egan
Double bacon cheeseburger, Mountain View Snackbar of Barre
Summer may be just beginning, but Barre has already gained two new snack bars.
On May 2,
the Snack Shack
— that's the place with the big pink creemee cone at 515 North Main Street — returned after several seasons' closure. It's now open Tuesday through Sunday from 4 to 9 p.m. And on April 28, owners Ted and Alicia Colletti launched snack bar service at
L&M Diner
at 240 North Main Street, open Tuesday through Sunday from 2 to 9 p.m.
Snack bar service at the diner?

Yes. The Collettis own the
Mountain View Snack Bar
s in Morrisville, Stowe and Hardwick. Usually, their Barre diner closes at 3 p.m. Now, the diner "closes" at 2 p.m., at which point staff from the Mountain View Snack Bar of Barre take the reins.
When you go, grab a seat wherever and order from the servers at the counter — from a paper Mountain View Snack Bar of Barre menu, which is also posted in laminated papers and pegboard signage behind the counter. When your food is ready, they'll bring it out to you.
The menu is 100 percent snack bar, and Mountain View regulars will recognize much of the fare from the other locations. Find burgers ($3.25-5.25) made with frozen patties (double them up for an extra $1.75), topped with gooey American cheese and thin-sliced bacon, or chili, mushrooms and Swiss, fresh veggies or "the works" — with fries and sliced pickles — for $2.75 more.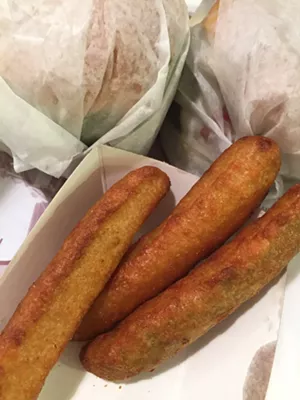 Hannah Palmer Egan
Fried pickles, Mountain View Snack Bar of Barre
As you might expect, there are also hotdogs, corndogs, bacon dogs ($2.25-3.50), BLTs ($4.99), Reubens ($6.99), lobster rolls ($9.99) and fried-clam baskets ($4.50). Last week, I enjoyed one of the finest Philly cheesesteaks ($6.99) I've found anywhere in Vermont, and the beer-battered pickles ($4) were totally crunch-tastic.
Next time, I might go for jalapeño poppers ($4.99), because I'm a total sucker for them. Or maybe chili cheese fries ($4.50), because that sounds super-yummy right now, too.
Of course, it wouldn't be a snack bar without ice cream. There's a long list of specialty sundaes ($4.75-9.99). If the Kitchen Sink — three scoops over a brownie and whole banana, hot fudge and butterscotch sauces, whipped cream, nuts, crushed Oreos and a cherry — is too much for you, you can get comparatively pared-down sundaes studded with Reese's Pieces, peanut butter cups or apple pie. Or go for a banana boat ($5.50-6.50), with or without strawberries or pineapple, or a simple shake or float ($3.50-5.75). There's fried dough ($3.50), too.
If eating inside still feels more like eating at a diner than a snack bar, our server said picnic tables are in the works. But on a 95 degree May day last week, my friend and I were grateful for the shade of indoor seating — and AC.
Hannah Palmer Egan
"Poutine," AKA gravy-cheese fries, Mountain View Snack Bar of Barre