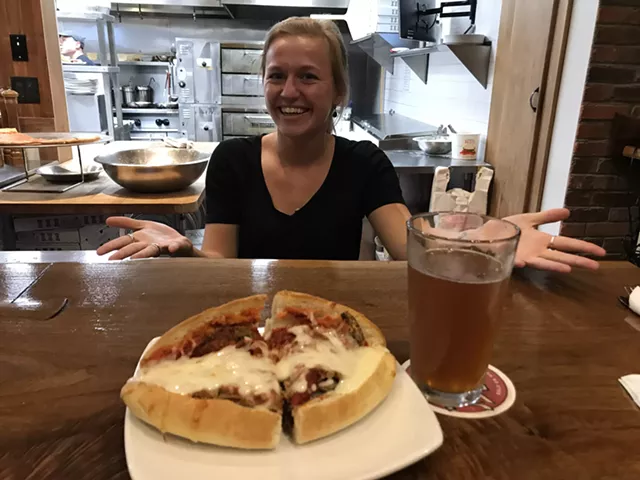 Sally Pollak
Sara Rooke serves an eggplant parmesan hero at Mimmo's
I thought about bringing my own crosswalk to
Mimmo's Pizzeria & Restaurant
, the new restaurant in our South End neighborhood, but I remembered
the city frowns upon DIY safety measures
.
Instead, I ran across Shelburne Road — praying mid-dash there was no car on the far side of the Jeep Cherokee I couldn't see past. I made it.
I was surprised to find a full parking lot at Mimmo's at 7 p.m. on a Tuesday. The dining room was full, too, pulsing with a happy-sounding crowd. I found a seat at the end of the bar, where I was treated to a favorite view: cooks at work.
I watched the pizza guy spread ricotta on rounds of dough, and saw a line cook salt the ingredients in her sauté pans. The highlight of the show was flames shooting from a pan of penne alla vodka, a dramatic blaze produced by chef-owner Domenico Spano. He opened his first Mimmo's in St. Albans in 1995, naming it with the nickname his mother gave him more than four decades ago in Torrito, Italy.
I turned away from my view of the spiffy kitchen to look down at the menu, and chose on an eggplant parmesan hero ($9.25) and a pint of Switchback. While I waited for my food, two women who work at the restaurant, which
opened a month ago
, raved about working at Mimmo's. They said they're treated like they're part of the family.
Lindsey Lowell, a delivery driver, said Spano gave her money from his pocket when she was "stiffed" on a catering delivery. He solicits and listens to input from employees, she said. "He takes everyone's ideas," Lowell said. "I love it here."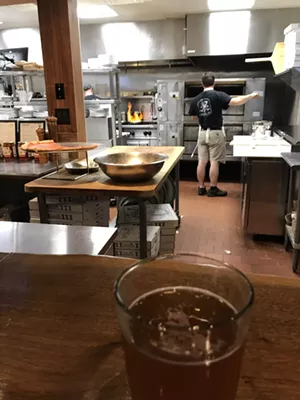 Sally Pollak
Penne alla vodka ablaze in the Mimmo's kitchen
My server, Sara Rooke, graduated last spring from St. Michael's College, where she majored in international relations. "I love people," she said.
Rooke delivered my sandwich with a flair worthy of the little package of classic Italian-American flavors — garlic, parmesan, breading, red sauce — piled on my bread. She stopped by to talk as I ate my meal, making me feel like I was part of the family.
"I'm a broke college student and I would love to dine on a dime, or even a nickel," Rooke said. "Can you do a nickel for me?"
When there was a lull in the kitchen action, Spano came out to the bar and we talked for a bit. He told me he left his home in southern Italy — where his father farmed olives, grapes, almonds and legumes — at age 14 to live with relatives in Long Island.
"I cried when I left," said Spano, who learned English at high school in New York. "But I wanted to make a future."
At his new restaurant, he's back in the kitchen — prepping, cooking, mopping, training — after years of mostly office work managing his restaurants in St. Albans and Essex. Spano plans to throw a grand opening party on Saturday, October 19, three days before his 49th birthday.
"I just can't help myself," Spano said of his decision to open a third Mimmo's. "I love building crews and restaurants. It gives me gioia di vivere."
Dining on a Dime is a weekly series featuring well-made, filling bites (something substantial enough to qualify as a small meal or better) for $12 or less. Know of a tasty dish we should feature? Drop us a line: food@sevendaysvt.com.