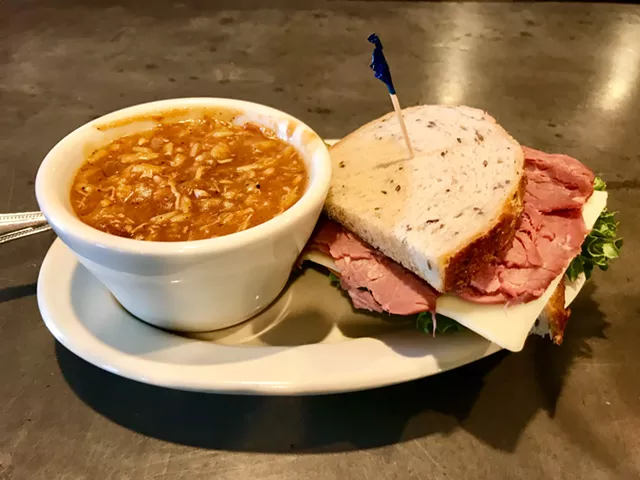 Sally Pollak
Soup and sandwich at Maxi's
In the half hour that I sat at the lunch counter at
Maxi's Restaurant
in Waterbury, I went from being called "sweetie" to "sweet pea." To top it off, the waitress who brightened my day with these easy-flowing endearments was named Angie! (If there's a better song than "
Angie
," I can't think of it right now.)
Angie did everything else right, too, with an assist from the sandwich maker who made my roast beef on rye with Swiss cheese. (If there's a better cheese than Swiss, I can't think of it right now. Why doesn't anyone in Vermont make it? HMU if you do.)
But let's back up.
Maxi's, at the roundabout off I-89 Exit 10 in Waterbury, was buzzing when I walked in at 12:30 p.m. on Thursday. The tables were full, so I took a seat at the long concrete counter.
The hostess brought me a menu and took my drink order: seltzer and cranberry juice. Maxi's has a full bar and local beers on tap, but the little kid eating a stack of pancakes at a nearby table kept me on the straight and narrow.
I scanned the menu, took a sip of my soda, and the server appeared.
"Hello, sweetie," she said. "What can I get you?"
I ordered a cup of soup and half a sandwich, an $8.25 special.
As she headed to the kitchen with the ticket, my waitress told me: "My name's Angie, if you need anything."
Soon she was back with the goods: thick, spicy chicken gumbo with rice, sausage, and some green peppers and onion. The rare slices of roast beef on my sandwich came with the classics: lettuce, tomato, cheese and horseradish mayonnaise. I asked for just a little mayo, and that's what I got.
As I finished eating, a man took a seat a few stools away. He placed his order and Angie remembered it was the same thing he got the last time he ate lunch at Maxi's.
"Yup," the customer replied, smiling. "And the time before that, and the time before that."
Curiosity got the best of me and I asked the man what he orders at Maxi's. I learned from the diner, Ryan Foster, that it's the Jess wrap: chicken tenders, cheddar cheese, lettuce and barbecue sauce in a flour tortilla. Foster subs out the side of fries for mac and cheese made with gouda.
"It's just delicious," he said. But Foster told me there's another reason he likes to eat at Maxi's. "It's a friendly environment," he said. "You always see friendly faces."
Angie saw that I was ready to go. "Be right there, sweet pea," she said, before dropping off my check.
I felt like I'd gotten a promotion.
Dining on a Dime is a weekly series featuring well-made, filling bites (something substantial enough to qualify as a small meal or better) for $12 or less. Know of a tasty dish we should feature? Drop us a line: food@sevendaysvt.com.