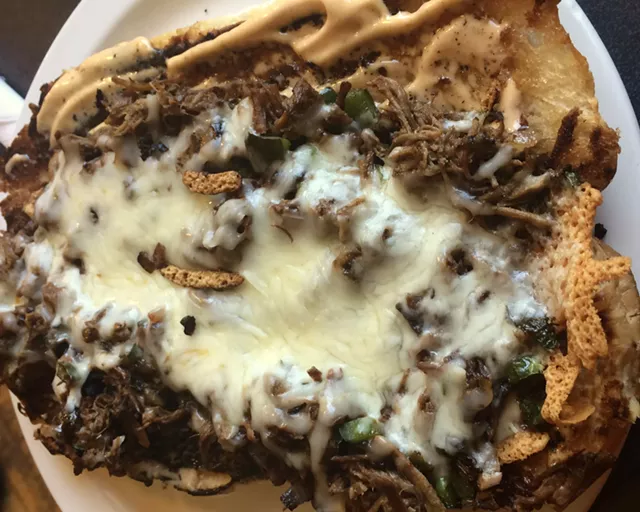 Suzanne Podhaizer
The Firebird at the Firebird Café
At the
Firebird Café
, on Pearl Street in Essex Junction, both breakfast and lunch are served all day. That means you can have a pork burrito laced with tomatillo sauce at 8 a.m., or snuggle up with a maple-slathered stack of buttermilk pancakes and a cup of
Vermont Coffee Company
brew in the afternoon.
I arrived on a Friday morning to find the place packed. Nevertheless, the friendly staffers seemed relaxed as they diced a mountain of tomatoes into salsa-sized bits, cooked omelettes and cheerfully delivered plates piled with hearty portions of food.
For Dining on a Dime, the rule is to find meals — not merely treats or snacks — that cost less than $12. At FC, nothing on the menu costs
more
than that. The fish tacos and smoked salmon Benedict, each ringing up at $10.95, are the priciest things on offer.
And so, with 40 items from which to choose, I went with the restaurant's eponymous sandwich: the Firebird. It arrived quickly — a mass of spiced, shredded beef mixed with poblano chile and onion, piled on a darkened grinder roll and topped with gooey melted cheese. (The best part, aside from the affordability, was the presence of those crispy, crunchy bits of broiled cheese around the very edges of the sandwich.)
Slathered with the smoky chipotle sauce that sits on all the tables, this sandwich was a flavorful, nearly overwhelming meal. After eating all I could, I still brought two-thirds of it home with me.
Dining on a Dime is a weekly series featuring well-made, filling bites (something substantial enough to qualify as a small meal or better) for $12 or less. Know of a tasty dish we should feature? Drop us a line: food@sevendaysvt.com.