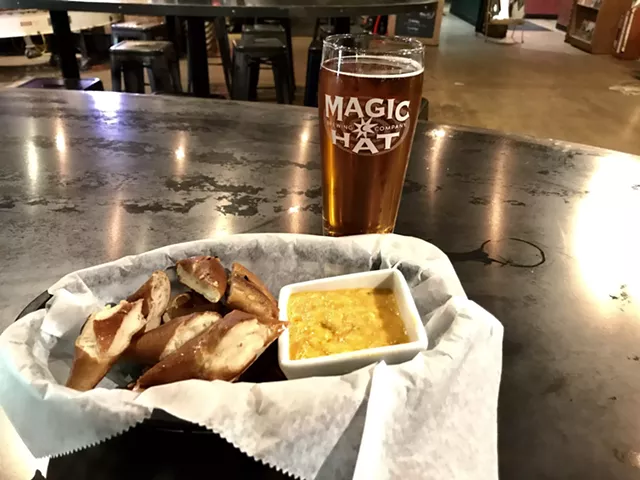 Sally Pollak
Magic Hat #9
No. 9, No. 9, No. 9, No. 9, No. 9, No. 9, No. 9.
I knew what I wanted before I walked in the door of the
Magic Hat
taproom in South Burlington, a beer bunker called the
Artifactory
.
Too much time had passed since I drank a Magic Hat
#9
in its long-neck amber bottle with the psychedelic orange label that says it all: # 9. (That first mark is a number symbol, not a hashtag; the label was designed pre-hashtag: #artwork.)
At the Artifactory, #9 flows from a tap. For this refreshing and alluring ale, the tap is identified by an orange lever in the shape of a 9. The taproom — part merch machine, part neighborhood bar — has old #9 bottles on display. You can ogle the classic vessel, a handsome relic in the age of 16-ounce cans, while you drink. I ate hot pretzel pieces and a side of a cheesy-beer dipping sauce with my #9. Supper for one.
With the pretzels polished off, I took my beer on a self-guided tour of the brewery, paying homage at a flashy # 9 emblem and soaking in the flavor of a sign announcing "Low Key."
Sally Pollak
Artifactory sign
My brewery stroll, which took about three minutes, peaked at a lookout over the production floor, still but for one forklift moving in reverse. Back in the taproom, I took my last sips of #9 and listened to a couple of Bob Marley songs. Low Key. Then I paid my $12.60 tab and left.
The next day, I called Magic Hat cofounder Alan Newman to ask him something I'd been wondering for about 20 years. What's #9 refer to?
"It was referring to my car, which was a Fiat X1/9," he told me. "I tried to name it X9 and the X couldn't be trademarked. We just dropped the X."
The 1 "just didn't make sense," Newman added, when I pressed him on that number. So he called the beer #9.
In the beer-naming game, it's a beauty.
Sally Pollak
Tap for Magic Hat #9
Newman, 72, who sold his share of Magic Hat in 2010, said if I want to make up a story about the origin of the beer's name, I have his permission.
But a little orange Fiat sports car as the driving force behind #9 is good enough for me. I won't reinvent the story — is it a scoop? — but I'll dress it up: I imagine Newman driving around Burlington in his X1/9 listening to the Beatles' "Revolution 9" on the radio. When the song was over, I bet he cranked up the volume and played "Revolution."
Magic Hat launched #9 in the summer of 1995, when the brewery was on Flynn Avenue in Burlington. The beer was made to be seasonal, Newman said, but his bar accounts had other ideas.
"They said if we stop selling #9, they'd throw us out," he said. "So we made it year-round."
Dining on a Dime is a weekly series featuring well-made, filling bites (something substantial enough to qualify as a small meal or better) for $12 or less. Know of a tasty dish we should feature? Drop us a line: food@sevendaysvt.com.