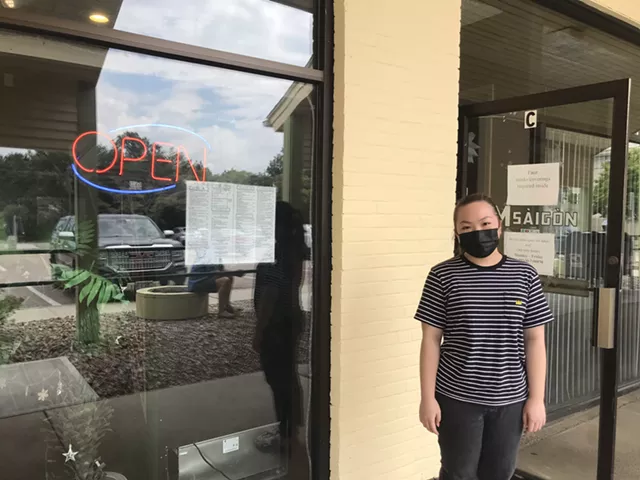 Sally Pollak ©️ Seven Days
Chantalle Nguyen
My daughter and I are typically winter customers at
M-Saigon
restaurant on Shelburne Road, where we're fond of the pho with tofu and vegetables and drunken noodles with chicken.
So I hadn't been thinking about the Vietnamese restaurant in Burlington's South End until I went to the post office the other day and noticed the neighboring restaurant in the strip mall is open. The right spot for
Dining on a Dime
, I thought.
But the noodle dish is $12.95, just over this feature's $12 price limit. And it's summer — I wasn't in the mood for soup.
How lucky for us that considerations of price and season pushed us to look anew at the menu. My daughter chose grilled lemongrass honey chicken with vermicelli ($11.95). I got chicken dumplings ($5.95) and lemongrass tofu banh mi ($4.95). For $22. 85, before tax and tip, we shared a very good and satisfying meal for two.
(Unsolicited tip advice: Tip at least 20 percent, like the good old days of restaurant dining, picking up food to-go or buying a beer at an outdoor bar. If a business, like Lawson's Finest Liquids, is collecting money for a local nonprofit rather than accepting a gratuity, contribute a comparable amount.)

Back to our regularly scheduled content: The generous portion of vermicelli at M-Saigon was served with a medley of vegetables — cucumbers, bean sprouts, daikon, carrots and shallots — and crushed peanuts. The dish came with two pieces of grilled chicken.
I probably hold sandwiches to the highest standard of any food group, and the banh mi was terrific. Served on a housemade baguette, the sliced tofu was garnished with cilantro, a crunchy wedge of cucumber, pickled daikon and carrots. The restaurant held the house mayo at my request and added sweet chili sauce (their idea). It was hard to believe this hoagie-sized banh mi, with ingredients we're not likely to pull from our refrigerator, cost $4.95.
M-Saigon closed in mid-March in compliance with Vermont's coronavirus shutdown order. The restaurant reopened on July 6, according to Chantalle Nguyen, daughter of chef/owner Khoi Nguyen.
Seven Days/File ©️ Seven Days
Banh mi
A 20-year-old psychology major at the University of Vermont, Nguyen will balance restaurant work with soon-to-start fall classes. Her studies and her job are altered due to the pandemic: Classes will be online and M-Saigon is open for takeout and curbside business only.
Nguyen was in elementary school in 2008, when her parents opened the restaurant. Her favorite items on the menu are crispy pork banh mi and grilled lemongrass pork on vermicelli, she said. As a new fan of the tofu sandwich, I'm planning a return trip for the Nguyen-recommended pork one ($4.95).
"I grew up eating this food," Nguyen said. "A lot of the food that is on the menu we cook at home on a regular basis, for regular dinners."
M-Saigon is open Monday through Friday 11:30 a.m. to 7 p.m.
Dining on a Dime is a series featuring well-made, filling bites (something substantial enough to qualify as a small meal or better) for $12 or less. Know of a tasty dish we should feature? Drop us a line: food@sevendaysvt.com.