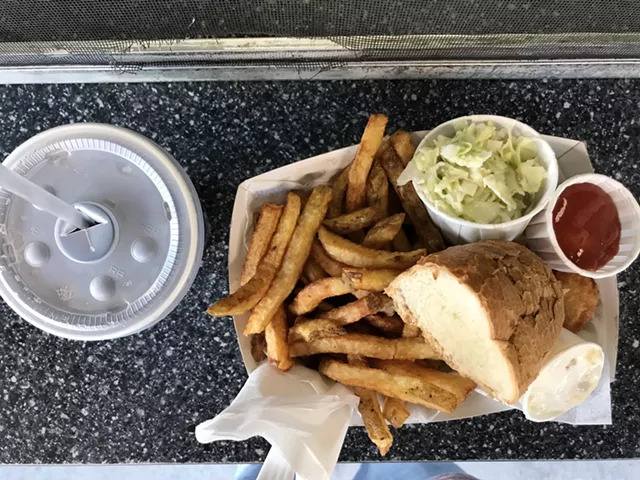 Sally Pollak
Scallop basket at Joe's Snack Bar
When my daughter was little, one of her favorite books was
Where Does Joe Go?
The delightful picture book by Vermonter
Tracey Campbell Pearson
imagines the places where Joe — the proprietor of Joe's Snack Bar — might go in the off-season.
Joe's Snack Bar
, of course, has real-life roots in Jericho, where it was founded in 1950 by Joe Rotunda. He owned the local IGA store and opened a snack bar, where he made hard ice cream, next to his shop. Joe's son, Joe Jr., took over Joe's and ran it with his partner in business and life, Marilyn Kozlowski, for 35 years. Kozlowski, 67, has owned and operated it since Joe's death eight years ago.
We loved the book about Joe's in part because we loved the snack bar, too. Each summer we'd make the pilgrimage from Burlington for onion rings, hot dogs, creemees, chicken nuggets and fried clams.
Last week, I returned to Joe's Snack Bar after an absence of several years. I was more than happy to come upon its familiar and welcoming setting: benches on the front porch to wait for your food; a loudspeaker that calls your number when your order is ready; picnic tables with umbrellas in the grassy side yard. Add to this scene thick milk shakes, hand-cut fries that spill from their container, and friendly people on both sides of the counter.
The downside: a menu with too many things that sound enticing. So I sought the assistance of other customers on the porch when I couldn't decide what to order. Cassidy Knight, a 20-year-old college student from Westford home for the summer, advised me to get scallops. "My mom gets the scallop basket and I get the clam basket and I always take a few of hers," she told me.
Her mother, Lynn Knight, has been eating at Joe's for 43 years. "The food is pretty much the same," she said, recalling with fondness her childhood meals.
"If you know in your mind what you like at Joe's, you can get it and it hasn't changed," Lynn , 55, said. She used to work in the restaurant business and said "Joe's is the cleanest restaurant I have ever been in."
Sally Pollak
Joe's Snack Bar
The scallop basket is a $9.25 offering of deep-fried summer goodness: four breaded and fishy nuggets with fries to match; crunchy cole slaw and a squishy roll, with tartar sauce and ketchup for dipping. Four is the perfect number of deep-fried anything, and my scallops were a perfect balance of crispy coating and flaky fish.
A couple of days after my meal, I talked by telephone with Kozlowski. She told me she first worked at Joe's in high school. Now she runs the snack bar with a dozen high school and college kids and a staff of five women. The restaurant makes its own Michigan sauce, chili, cole slaw, spaghetti sauce and more, and smokes its own roast beef.
The other day, a four-year-old girl ate at Joe's and brought her copy of
Where Does Joe Go?
, Kozlowski said.
Then she answered the mystery. She and Joe went to Florida when the snack bar closed for the season.
Dining on a Dime is a weekly series featuring well-made, filling bites (something substantial enough to qualify as a small meal or better) for $12 or less. Know of a tasty dish we should feature? Drop us a line: food@sevendaysvt.com.