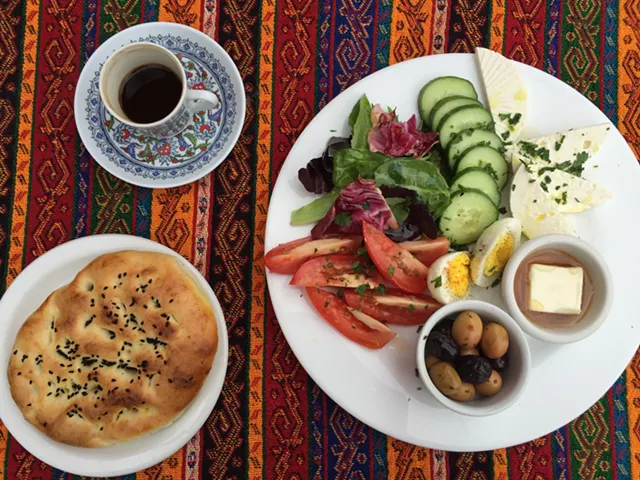 Sally Pollak
Mediterranean breakfast plate at Istanbul Kebab House
Maybe the city was experiencing a collective brew-fast hangover Sunday morning, but Burlington was slow to rouse.
At
Istanbul Kebab House
, where I ventured for the restaurant's new breakfast, I was for a time the only person at a sidewalk table — or even out on lower Church Street. Waiting for my food and a friend, I thought of the Kris Kristofferson song "Sunday Morning Coming Down."

(There's nothing short of dying/half as lonesome as the sound/Of a sleeping city sidewalk/Sunday morning coming down.)


Resurrection, I thought, might come in the form of my Middle Eastern breakfast.
"How's the Mediterranean breakfast plate?" I asked the server.
"Perfect," she said, setting down a shot of Turkish coffee, sludgy and rich.
"I'll have one, please," I replied.
I had high hopes for this meal — I'd rather eat supper leftovers for breakfast than the standard morning fare — but this was quite the endorsement. And it turned out to be true to the food.
The $10.95 special is a beautiful and substantial array of sliced tomato and cucumber with chopped parsley, as well as Turkish white cheese drizzled with olive oil, hard-boiled egg dusted with paprika and pepper (cooked on the soft side and bright yellow), black and green olives, a tumble of greens, and Turkish bread.
The touch of sweet on the plate is a ramekin that holds honey and a pat of soft butter. You can choose to spread honey or butter on your bread, or a bit of each with one knifeful.
Perfection on a Sunday morning sidewalk.
I lingered for a second cup of coffee — this time the American version in a mug — after my friend joined me. And I was reminded of another verse of Kristofferson's song.
(On the Sunday morning sidewalk/Wishing Lord that I was stoned/Cause there's something in a Sunday/Makes a body feel alone.)
I thought of walking a couple blocks to another Burlington breakfast place for a CBD-infused truffle. Instead, I had one more drip of honey — this time with cheese and cucumber on my bread — and watched the sidewalk come to life.
Dining on a Dime is a weekly series featuring well-made, filling bites (something substantial enough to qualify as a small meal or better) for $12 or less. Know of a tasty dish we should feature? Drop us a line: food@sevendaysvt.com.