Melissa Pasanen
The new Bacon Loretta sandwich offered by Farmers & Foragers food truck
Who could ignore an email promising "other level bacon deliciousness"? I already had plans to be at the University of Vermont around lunchtime last Thursday, so I made my way to the
Farmers & Foragers
food truck parked, with several others, on University Place above the green. I had to try the Bacon Loretta, F&F's brand-new sandwich offering.
I hit a snag when I saw on the full menu description that it included the only ingredient I avoid if possible: green bell peppers. But I got over myself when I understood that they were a critical part of the whole package.
And, I have to admit, they work very well in this messy, satisfying $8 sandwich. The Loretta combines four thick slices of perfectly cooked
North Country Smokehouse
bacon with dollops of housemade roasted garlic and sage aioli, melted provolone and a generous scattering of diced sweet onion, tomato and green pepper. It all adds up to a perfect balance of salty, fatty, creamy, crunchy, bright flavors and textures that the best dishes achieve, whether a food truck sandwich or high-end restaurant entrée.
It turns out that this sandwich has a story, too. Adam Korn, who had sent the email, recently relocated to Vermont, but is originally from the northern suburbs of Chicago, as is the Bacon Loretta. The sandwich was invented at a legendary greasy spoon called
Sarkis
, where it's often ordered topped with a fried egg and accompanied by cheesy hash browns.
Korn described the diner and its most famous sandwich as having a "cult following." He and his friends even rented out the place for their pre-prom dinner.
"I think the story goes that Loretta was a regular who ordered a specialty BLT," Korn explained in a follow-up email. "It evolved from 'BLT Loretta's way' to Bacon Loretta. Could be legend, but that was the story."
When Korn moved to Vermont, he kept badgering his friend and food truck co-owner, Sol Bayer-Pacht, to try out the sandwich on his menu. Finally, last week, he prevailed by making an example for Bayer-Pacht and his partner, Lauren Johnson, to try.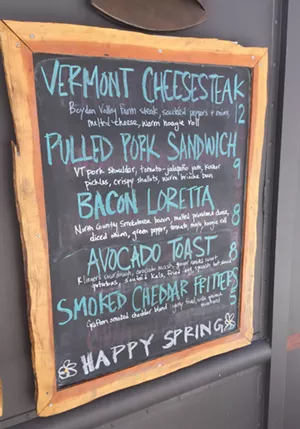 Melissa Pasanen
The menu board at Farmers & Foragers food truck featuring old and new favorites
Bayer-Pacht admitted that, while the Bacon Loretta sounded fine in concept, "it didn't jump out to us" — until he and Johnson tasted it.
It also filled a niche; during the truck's winter and spring lunch schedule at UVM, he said, "We're always thinking about things for students looking for substantial lunches at a reasonable price."
To stay true to their mission of high quality ingredient-sourcing, F&F upped its Bacon Loretta game with regional bacon and their own homemade mayo.
It's not clear yet whether the Bacon Loretta will become a Farmers & Foragers menu staple or just a special on rotation. Early signs suggest it will appear fairly regularly through the end of April at UVM (Monday to Thursday, 10 a.m.-3 p.m. or so), and on Thursday nights starting April 5 at
Foam Brewers
. (Check Farmers & Foragers' website or
Facebook page
for the weekly schedule.)
"It out-sold our cheesesteak on its first day," Bayer-Pacht said of the Bacon Loretta with some surprise, noting that the Philly icon is the truck's signature item. He attributes its beginner's success to social media hype, a cool name and, of course, bacon.
Dining on a Dime is a weekly series featuring well-made, filling bites (something substantial enough to qualify as a small meal or better) for $12 or less. Know of a tasty dish we should feature? Drop us a line: food@sevendaysvt.com