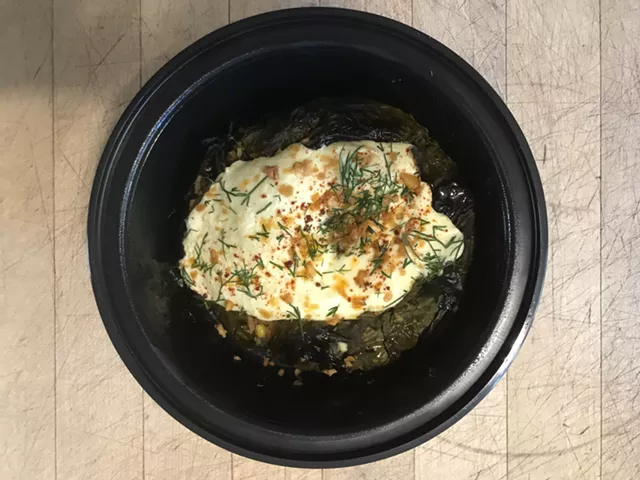 Sally Pollak ©️ Seven Days
Eggplant and corn grape leaf pie
Some food is made to be eaten, not photographed, and I'd throw
Honey Road
's eggplant and corn grape leaf pie into that category.
It's not that there's anything wrong with the picture of this food. But sound effects would serve a better purpose here than a photograph: The sound of me OMGing when I took my first bite. (And without a photo, we can all start eating faster.)
Still, if I remember correctly — and I'm no Donald Trump (eggplant, corn, dill, grape leaf, labne) — it was a
photograph on Instagram
that alerted me to Honey's Road inventive dolma. The price ($12) was a draw. The ingredients, which I can still rattle off (eggplant, corn, dill, grape leaf, labne, lots of it!), clinched it. Plus jasmine rice. (Try
six
items next time, prez.)
A mound of vegetables is always going to excite me. When eggplant is part of the mix, sweet local corn is featured, and the meal is set on a grape leaf, it's enough to make me leave home for the takeout window. (BTW, is a grape leaf a fruit, a vegetable or just a wet vine?)
For us uninventive types who think a stuffed grape leaf is supposed to look like a cigar, what a revelation to come across one in the shape of a hockey puck. Slap shot. Score.
Dining on a Dime is a weekly series featuring well-made, filling bites (something substantial enough to qualify as a small meal or better) for $12 or less. Know of a tasty dish we should feature? Drop us a line: food@sevendaysvt.com.