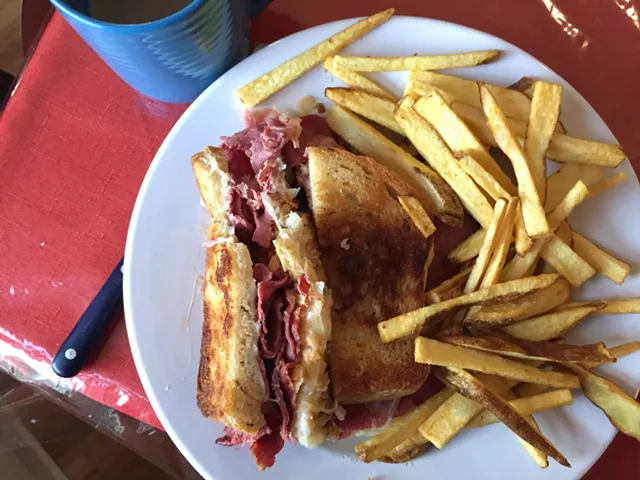 Hannah Palmer Egan
Corned beef Reuben at Hattie's Kitchen
In South Strafford,
Hattie's Kitchen
opened this past May, replacing Café 232, which had occupied the white clapboard building at 232 Route 132 since 2013.
Inside the restaurant's dining room, a breakfast of two eggs, bacon and buttered toast will set you back $6.35. At lunch, a cheeseburger with crisp, hand-cut fries costs $7. And for dinner — served Thursdays, Fridays and occasional Saturdays — a meal of pot roast, baked ham or eggplant Parmesan runs around $10.
The affordable price point is no accident, says co-owner/cook Pat Hackett, who closed her Quechee sweet spot, Vermont Homestyle Bakery, to open the café. "I think [restaurants at this location] have always kind of struggled," she says, noting that Strafford's 1,100 or so full-time residents can't sustain a restaurant on their own. When Hackett moved in, she says, many locals told her that sticker shock prevented them from frequenting earlier restaurants in the space.
So, the cook has made a point to get the word out via local listservs and community boards, hoping to pull business from nearby Norwich, Thetford, Sharon and South Royalton. And she builds value into every plate, making each item from scratch using as many local ingredients as her budget allows (occasional farm-to-table dinners embrace a more heavy-duty locavore approach).
Last week, a lunchtime Reuben — $7.95, or $10.45 if you replace chips with just-cut, golden yellow fries — was easily two meals. Sauerkraut gave lift to hefty folds of corned beef. Between slices of homemade rye, griddled to a buttery crunch, these melded seamlessly with a skim of Thousand Island dressing and gooey Swiss.
Hackett makes white and multigrain breads, too — often some 20 loaves daily — along with sweets such as German chocolate cake, seasonal fruit pies, sticky buns and muffins. In the morning, many locals swing through for coffee (brewed strong with beans from White River Junction's
Mountain Grove Coffee
) and a pastry en route to work.
With coffee priced at about $2 and a fresh, saucer-sized cinnamon roll for $3, it's hard to imagine a sweeter workday breakfast.