Julia Clancy
Breakfast at Happy Valley Orchard
Happy Valley Orchard
's trees are already heavy with fruit. Settled on Quarry Road just off-route from Middlebury to Ripton, the orchard is a local pit stop for folks seeking bushels of apples for the pantry, sugar pumpkins for a pie or a few bottles of cider to sip under the nearby Northern Spy trees.
Branches are flush with traditional picks like McIntosh, Red Delicious and Empire, along with heirlooms and lesser-known varieties such as Spitzenburg, Newtown Pippin, Winesap and Vermont Gold. A blend of varietals is pressed into Happy Valley's fresh and unfiltered apple ciders — the sweet, dark juice tastes different on every visit.
At five bucks for half a peck of apples, it's the height of "dining on a dime" possibilities: homemade applesauce, apples baked with oatmeal and butter, slices dusted with cinnamon and eaten on the back porch while the weather is still not too cold.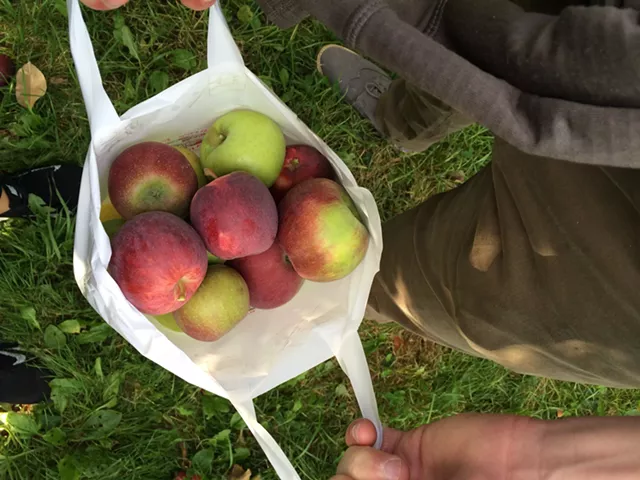 Julia Clancy
A half-peck of apples at Happy Valley Orchard
But 'tis the season for cider donuts, and Happy Valley's are dense, delicately fried and deep with warm traces of cinnamon and allspice. When the orchard opens at 9 a.m. and those donuts are still hot, the smell alone could wake a bear from hibernation. At $4 for a half-dozen, it's a breakfast treat — both inexpensive and belly-warming — that doesn't stress my wallet.
It's breakfast today, tomorrow and, assuming I don't share my loot, the next day, too. Stale donuts can be toasted and dunked into coffee, or baked with an egg yolk and cream for a donut-bread pudding. (But who has stale donuts?)
Breakfast goes up a notch with a sip of that aforementioned apple cider, heady and refreshing whether ice cold or mulled with spices. Then again, I could take my paper bag of cider donuts back to Middlebury to revel in my coffee options.
Otter Creek Bakery
,
Carol's Hungry Mind Cafe
and the
Middlebury Natural Foods Co-op
all brew from Addison County roasters such as
Bud's Beans
and
Vermont Coffee Company
. I might head to Exchange Street to visit VCC's café and roastery. I'll lighten my dark roast with
Monument Farms Dairy
(used at each of these coffee spots) and savor my still-warm cider donut, watching the town begin its day.
At most, my all-local breakfast is now $8. That's for six donuts, a large coffee and a tip for the cashier.
Vermont, I like you.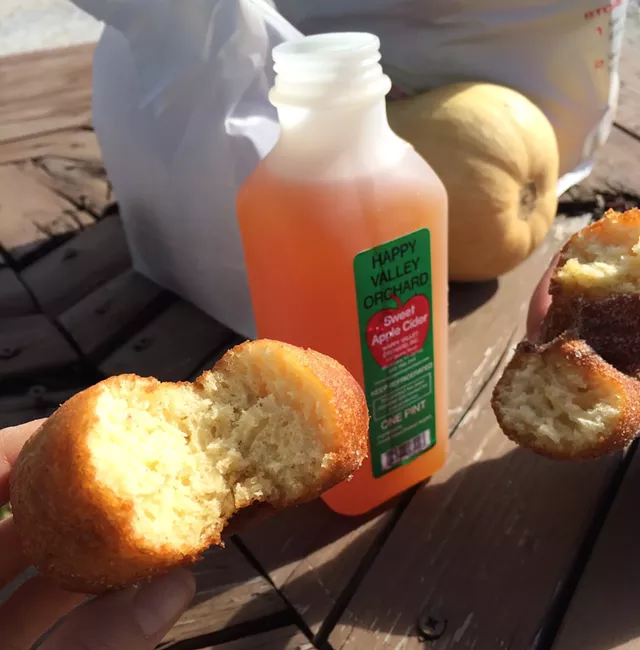 Julia Clancy
Cider and cider donuts at Happy Valley Orchard
Dining on a Dime is a weekly series featuring well-made, filling bites (something substantial enough to qualify as a small meal or better) for $12 or less. Know of a tasty dish we should feature? Drop us a line: food@sevendaysvt.com.